CALL TODAY!
(518) 668-9463
Please say that you found us on
Saratoga.com!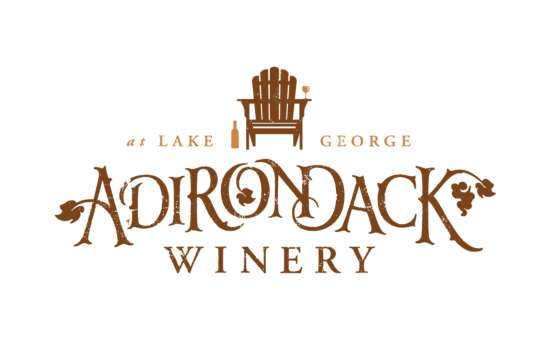 Adirondack Winery
285 Canada Street
Lake George
,
NY
12845
The premier winery of the Adirondacks! Visit us in the heart of Lake George for great wines & memorable times! Sample hand-crafted, award-winning wines & keep your souvenir glass. Open year-round with special winery events held throughout the year.
The Premier Winery of the Adirondacks since 2008!
Experience our large selection of locally hand crafted, award winning, fruit infused and varietal wines... with a touch of Adirondack Nostalgia!
Enjoy a Wine Tasting Session with us for Great Wine and Memorable Times! During a tasting room visit, you get to taste several wines of your choice for a nominal fee & keep our souvenir wine glass! Gourmet cheese, fine foods, delectable chocolates, unique souvenirs & gifts are available too!
Our Tasting Room is open year-round with special winery events offered throughout the year. Adirondack Winery has consistently been named as a top winery, attraction and shop on Trip Advisor, Best of Lake George, and the Post Star's Best of the Region – visit to find out why!
If you can't make it to the Tasting Room, Adirondack Winery wines are available at wine and liquor stores across New York State!
*Reservations are required, only for groups of 8+.
*Group party packages and custom labeled wine services are available for special occasions.
OUR STORY:
A Love of Wine and Family has brought us back to our roots in the beautiful Adirondacks to share our award-winning, locally handcrafted wines with friends new and old. From our family to yours, thank you for being a part of our story and for letting us be a part of yours!
OUR MISSION:
At Adirondack Winery, our mission as a small, family-owned business is to provide our customers with delicious, award-winning, quality wines that are all hand-crafted locally. We provide an unparalleled selection of wines with something to satisfy every palate, from unique, fruit-infused wines to traditional white and red varietals and more!
Our ultimate goal is for Adirondack Winery customers to hold us close to their hearts as the best, most memorable winery they have ever crossed paths with.
Our top values are our customer relationships, providing an awesome wine experience, loving local, making continuous improvements, and having passion for our wine making!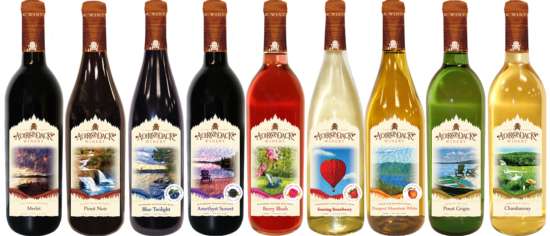 Click on the thumbnail images to see the larger version








Print More Information
Directions & Map
Always get confirmation of the business location.
Reviews & Ratings
Peggy
from Syracuse, NY wrote on

Monday, March 10, 2014 at 2:39 PM
This was my fourth trip to the winery and have enjoyed all the wines they served. $5 for 7 tastings & you keep the glass, $8 for the same but larger glass. Every person that has served me has been knowledgeable about the wines and very friendly.
Coupons & Specials
Adirondack Winery Coupons & Specials
Winery Room Packages at 3 Great Lake George Area Hotels!
Three great hotels, all located close to Adirondack Winery, are offering winery room packages that include delivery of a wine gift basket to your room and other great package items!
The Georgian Resort is located very close to Adirondack Winery in Lake George Village, on the Lake side. Book a "Stay Wine & Dine" Package. Call: (518) 668-5401
The Sleep Inn (off Exit 19, just down the road from the Great Escape)Book the "Adirondack Winery Romance Package." Call 955-3000 for reservations.
Heritage Lake George - (located just down the road from us in the village). Book a "Stay Wine & Dine" Package. Call 1-800-883-2653 for Reservations.
Expires: No expiration Date
Code: Saratoga.com-305

Upcoming Events
When: Sun, Apr 26, 2015 at 12:00 PM to 3:00 PM
Where: Adirondack Winery, 285 Canada St, Lake George, NY 12845
Join us for our 2nd Annual Spring Bridal Event on Sunday, April 26th from 12-3pm! Did you know that Adirondack Winery provides a variety of wedding services? Come see how we can incorporate your favorite wines into the most important day of your life! Come see our selection of timeless gifts and favors that will provide memories for a lifetime! SHOWCASING OUR: Custom-Labeled Wine, Bachelorette Party Packages, Gift Baskets, Wine-Themed Gifts & Favors! We will be offering some EVENT-EXCLUSIVE DISCOUNTS that day, so if you've been thinking about our custom-labeled wine for favors or our bachelorette party packages, you won't want to miss this event! We will also be joined by some of our preferred wedding vendors including our favorite florist, North Country Flowers. Purchase a Bridal Event Ticket and Receive: A custom-labeled mini bottle of wine to take home! A wine tasting session, including 7 of our custom-label wine options A dessert sample FIRST LOOK at some of our newest custom label design options featuring our brand new logo! Access to EVENT-EXCLUSIVE DISCOUNTS on custom-labeled wine and bachelorette party bookings! An entry into our "Mini-Moon Wine Basket" Giveaway! Basket includes 2 Upper Hudson Valley Wine Trail Passports, 4 "mini" (187ml) bottles of wine, 2 Adirondack Winery logo glasses & a bottle stopper (over a $100 value!) Enjoy the opportunity to ask questions and work with our Custom-Label Designer to create the perfect custom-label wine favor for your bridal shower, rehearsal dinner or reception!
When: Sat, May 9, 2015 at 11:00 AM to 5:00 PM
Where: Adirondack Winery, 285 Canada St, Lake George, NY 12845
Cheers to Mom! Samples of local wines and cheeses ~ Upgrades for all Moms ~ Fee for tastings.
When: Sat, Jun 27, 2015 until Sun, Jun 28, 2015
Where: Festival Space at Charles R. Wood Park
Cost:
$20 in advance, $25 at the gate
Take your taste buds on an unforgettable journey as you are introduced to over 30 NY State craft beverage producers and food vendors, with the beauty of Lake George as your backdrop! The Adirondack Wine & Food Festival will be the first of its kind in Lake George, and you won't want to miss it! The Festival will showcase some of the best wineries, breweries, distilleries, gourmet food vendors, crafts and food trucks the region has to offer! With admission, you'll receive a commemorative wine glass to be used throughout the event to sample craft beverages! As a designated NY Farmer's Market, the Festival offers the perfect opportunity to try before you buy. Whether it's your new-found favorite bottle of chardonnay, cheddar cheese, or chocolate fudge… each vendor will have their products available for you to purchase and take home with you! The Adirondack Wine & Food Festival has partnered with the SUNY Adirondack Foundation as their beneficiary and a portion of the proceeds from all ticket sales will benefit the Foundation. The students of the SUNY Adirondack Culinary Arts Program will be at the Festival showing off their skills and offering cooking demonstrations for attendees all weekend long!