Adirondack Winery
285 Canada Street
Lake George
,
NY
12845
Adirondack Winery is the region's premier Winery! A wine tasting includes a souvenir glass. 35+ wine types hand-crafted locally. Gourmet cheese, foods, chocolates, wine slushies, and unique wine-related gifts and accessories also available.
ADIRONDACK WINERY IS the region's premier winery, with its Tasting Room located in the heart of beautiful Lake George, New York.
"Selection is our Specialty; Taste is our Priority"
Mission Statement
At Adirondack Winery, our mission as a small, family-owned business is to provide our customers with delicious, award-winning, quality wines that are all hand-crafted locally. We provide an unparalleled selection of wines with something to satisfy every palate, from unique, fruit-infused wines to traditional white and red varietals and more! Our ultimate goal is for Adirondack Winery customers to hold us close to their hearts as the best, most memorable winery they have ever crossed paths with.
Value Statement
We will accomplish our mission by adhering to the following values:
Customer Relationships:
- We treat our customers as we would good friends, combining accurate, timely, dependable and exceptional customer service with a friendly rapport and welcoming atmosphere.
Wine Experience:
- We invite our customers to join us in our journey through wine enjoyment, providing a wine tasting experience that is relaxing, fun and educational. We are proud that we foster many non-wine drinkers into wine learners and then wine lovers through this experience; Becoming as much a part of the customers' lives as they are of ours.
Love Local:
- We aim to support our local area. We do this through sharing the beauty of the Adirondacks with visitors from all over via the local photography on our labels; by providing a wine experience that brings customers back to the region time and time again; and by donating to local charitable causes.
Continuous Improvement:
- We are dedicated to the continuous growth and development of our people and business. We are consistently working to improve our wines and customer experience, as well as working to increase the availability and awareness of Adirondack Winery's products and services to the general public.
Wine Making Passion:
- Adirondack Winery believes that great wine-making starts with a passion for wine. We have successfully translated our passion into a business we love and are proud of. We take pride in selecting the best ingredients and using a traditional, hands-on approach to wine making that is guided by our talented winemaker every step along the process. It is our dedication to quality and process that results in our outstanding, award-winning wines that can be enjoyed by everyone!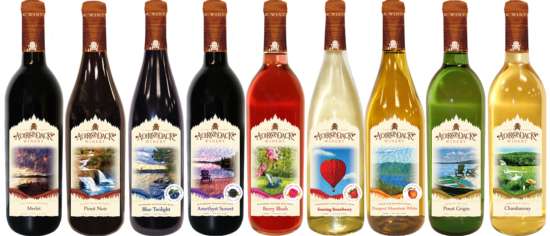 Click on the thumbnail images to see the larger version





Print More Information
Always get confirmation of the business location.
Peggy
from Syracuse, NY wrote on

Monday, March 10, 2014 at 2:39 PM
This was my fourth trip to the winery and have enjoyed all the wines they served. $5 for 7 tastings & you keep the glass, $8 for the same but larger glass. Every person that has served me has been knowledgeable about the wines and very friendly.
Adirondack Winery Coupons & Specials
Winery Room Packages at 3 Great Lake George Area Hotels!
Three great hotels, all located close to Adirondack Winery, are offering winery room packages that include delivery of a wine gift basket to your room and other great package items!
The Georgian Resort is located very close to Adirondack Winery in Lake George Village, on the Lake side. Book a "Stay Wine & Dine" Package. Call: (518) 668-5401
The Sleep Inn (off Exit 19, just down the road from the Great Escape)Book the "Adirondack Winery Romance Package." Call 955-3000 for reservations.
Heritage Lake George - (located just down the road from us in the village). Book a "Stay Wine & Dine" Package. Call 1-800-883-2653 for Reservations.
Expires: No expiration Date
Code: Saratoga.com-305

When: Today until Thu, Dec 18, 2014 at 11:00 AM to 5:00 PM
Where: Adirondack Winery
Each year Adirondack Winery supports the Big Brothers, Big Sisters of the Southern Adirondacks by collecting donations for their annual Holiday Toy Drive! Bring an unwrapped gift for a boy or girl in need (ages 6-18) to their Tasting Room this this Holiday Season and enjoy FREE Wine Tasting Session on us!