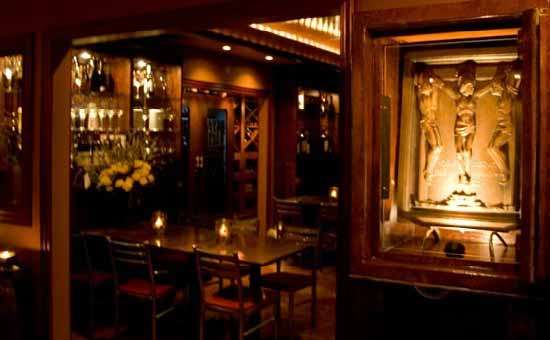 Chianti il Ristorante
18 Division St
Saratoga Springs
,
NY
12866
Situated in the heart of beautiful downtown Saratoga Springs, Chianti Il Ristorante serves sophisticated, authentic Northern Italian fare in an elegant setting.
Aesthetically inspiring, its rustic walls, hard wood floors and green onyx bar invoke the authenticity of conventional Italian architecture while still remaining slightly modern. The culinary philosophy at Chianti is based on a respect for tradition. With artisan breads and pastas, housemade sausage and braised meats it is culinary craftsmanship at its best. Our guests have the chance to savor fresh food, from a selection of expertly-sliced carpaccio, to a variety of wild fish, to risotto that is made only with Vialone Nano rice grown exclusively in Italy's Venetto region.
Chianti's warm, intimate atmosphere is also the perfect setting for private events. With seating for up to 32 guests our beautifully appointed and private La Porta Santa Room comes fully equipped with a screen and projector. Bordered by our extensive wine collection and featuring a large window that offers a rare viewpoint of Chianti's bustling kitchen area the La Porta Santa Room provides an ideal venue for small gatherings, celebrations, rehearsal dinners, corporate events and private cooking classes.

When you host a private event at Chianti, our knowledgeable staff will assist you in the selection of a unique menu complemented by wines from our award winning wine list. At Chianti, we are dedicated to creating the perfect setting, distinctive experience and authentic cuisine to best suit your individual taste and that of your guests.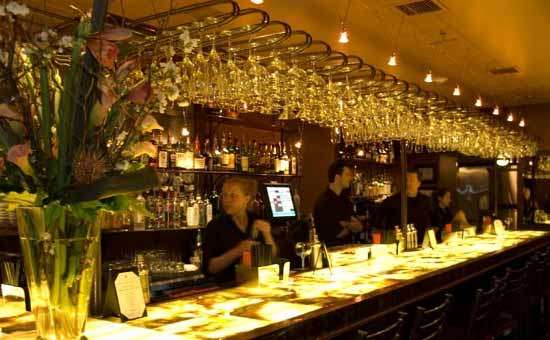 Click on the thumbnail images to see the larger version








Directions & Map
Always get confirmation of the business location.
Videos
Reviews & Ratings
Coupons & Specials
Chianti il Ristorante Coupons & Specials
The Best Happy Hour in Saratoga
The Best Happy Hour in Saratoga just got better. Every evening until 6:00 pm enjoy $3 Bottled Beer, $5 Wines by the glass, $5 Signature Cocktails and an expanded $5 Piattini Menu.
Expires: No expiration Date
Code: Saratoga.com-1373

(Available at the bar only. No coupon necessary)
Early Seating and Sunday Menu
Eat Early and often at Chianti Ristorante | 3-Courses for $19 available every day until 5:30. A Cena Per Primi Menu (The First to Sit) is a plentiful 3-course menu for $19 available everyday until 5:30 and All Night on Sundays. Three-Courses including antipasti, entree and dessert selections. Sundays also offer All Night Happy Hour at the bar featuring $3 Bottled Beer, $5 glasses of House Wine, $5 Specialty Cocktails, and $5 Piattini small plates.
Expires: No expiration Date
Code: Saratoga.com-2648

Upcoming Events
When: Sat, Apr 4, 2015 at 11:00 AM to 2:00 PM
Where: Forno Bistro
On April 4th & 11th from 11am - 2pm DZ Restaurants will be hosting a Job Fair at Forno Bistro in Saratoga Springs. We will be hiring for FOH and BOH positions at all our restaurants and will be interviewing candidates on the spot. As an exciting and innovative restaurant, we value and look for certain qualities in an employee: we love to have applicants who share our passion for the foodservice industry, and our desire to work in a professional, innovative, atmosphere. DZ Restaurants encourages employees to grow and develop their skills and personality while they work with us. We have a rigorous training program of both classroom and dining room work. We offer continuing education in food, wine, and customer service to all of our restaurant employees. Interested applicants should bring a resume and wear business casual attire to the fair at 541 Broadway in Saratoga Springs. For more information call DZ Restaurants at 518-583-1142.