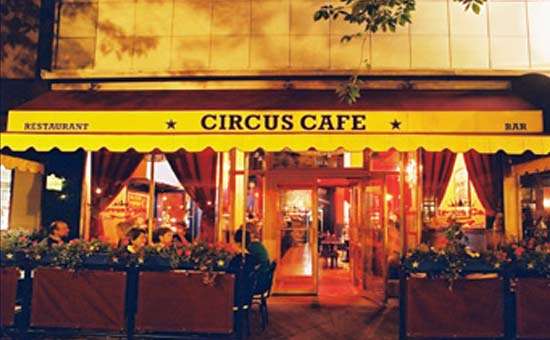 Circus Cafe
392 Broadway
Saratoga Springs
,
NY
12866
Voted Saratoga's Best Family Friendly Restaurant of 2015. The #1 Destination for food and fun in Saratoga Springs!
Escape to a place where the food is excellent and the atmosphere festive. Weekly events include: open mic, karaoke and trivia. Serving lunch and dinner 7 days a week. Late night bar, patio dining, private back room, plus on and off premise catering.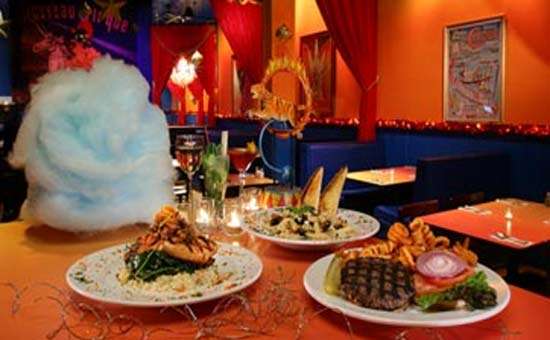 Click on the thumbnail images to see the larger version


Upcoming Events
No events listed for this business.
Is this your business? If so, login to add your events!
Directions & Map
Always get confirmation of the business location.
Videos
Reviews & Ratings
JKM1010
wrote on

Saturday, February 22, 2014 at 11:37 AM
I recently went to Circus Café for the first time recently with a few friends and we had a great time. Our server was fun, upbeat, and had a great sense of humor! The food was delicious and arrived at our table promptly. The scorpion bowl was the best we had ever had and the other cocktails we ordered were just as delicious. We will definitely be back soon for another ladies night out!
Amy
from Albany, NY wrote on

Saturday, February 22, 2014 at 11:23 AM
My family and I dined at Circus Café on a Saturday night before seeing a movie at the wonderful new Bow Tie Cinemas. We had a great time! It was a Saturday night and we did not have a reservation so we had to wait about 20 minutes for a table of 4, which is understandable and our hostess was obviously very busy but still warm and communicative. Our server promptly greeted us with popcorn and waters. My husband and I ordered cocktails (which were delicious – Key Lime Martini and Classic Manhattan) the kids got chocolate milk and apple juice. Our oldest son LOVED his cheeseburger so much he has been asking to go back since last Saturday (we live about 45 minutes away so we go to Saratoga about once a month), our youngest son thoroughly enjoyed his chicken tenders and French fries. I ordered the Vermont Cheeseburger with apple, bacon and cheddar – amazing! My husband ordered the Yankee Pot Roast, there was soo much Pot Roast he actually had to bring home a " doggy bag" which the kids found hysterical since he always tells them to clean their plates. We had a great time overall, thanks so much to everyone at Circus Café for providing such a wonderful experience for my family we will definitely be back for our next outing!!
Julie
from West Park, NY wrote on

Monday, February 17, 2014 at 4:27 PM
I have never been so disappointed in my whole life. We had been here last year during our winter weekend get away and were so happy and looking forward to a nice time at the Circus Cafe again. It was a horrible experience. We were seated 1/2 an hour after our reservation because none of the kids working there knew how to move along the camped out patrons that were just taking up space, after 20 minutes of sitting at the table, I had to ask for someone to wait on us, and then after 10 more minutes- had to ask again. I tried to speak with a manager, but there didn't seem to be one. I was just told that it was a busy night, but the place was not filled and I hostess and bartend, so I know how things work. No one cared that we were having a horrible time and waited 30 minutes for a glass of water. The kids burgers came out burned and they 'eat. I asked for them to be removed from the check, but they werent. My girls, 5 and 8, said they didn't like this place anymore and can we go somewhere else next year. Its so disappointing to me because the food and drinks are pretty good, but the service was by far the worst I have ever experienced in my 40 yrs of life. I am an avid supported of small business and I certainly hope the the owner of this place gets a manager or speaks to the staff because the experience really did lessen our vacation. And, I think having Trivia night on a holiday weekend was a bad idea, as I watched a lot of people be turned away because the staff was "saving" tables for trivia at 6:30 even though trivia didn't start until 8.
Circus Cafe
responded on Tuesday, February 18, 2014 at 1:02 PM
This is Melissa, one of the managers at Circus Café. When we read your review we were alarmed and immediately took action by speaking to our staff and even going so far as trying to contact you via phone or email. That is when we realized that no reservation was made for your party therefore we were not able to call and have since used information from your receipt to try contacting you. I sincerely apologize if you did not enjoy your most recent experience at Circus Café. Please know that we are known for having excellent customer service and for going above and beyond to ensure each guest thoroughly enjoys the food and service. After speaking with the staff they were surprised when reading your review as it was never brought to anyone's attention that your daughters did not like their burgers and that you had tried speaking with a manager. Because it was a holiday weekend both myself and the two owners were actively on the floor checking on tables and assisting the staff. Regarding your comment about trivia please understand that trivia is a very popular weekly event and we have many guests like yourself come to Saratoga for winter weekend getaway and specifically come to Circus Café to have dinner and play trivia with their families. Again I sincerely apologize if you felt your experience was not up to par and truly wish it was brought to our attention at the time as we would have been more than happy to do what it would have taken to make sure everyone had an enjoyable evening. We hope you decide to try us again the next time you visit Saratoga as we would love to show you and your family a true Circus Café experience.