Longfellows Hotel & Conference Center
Catering to your every need
500 Union Avenue
Saratoga Springs
,
NY
12866
This beautiful Saratoga Springs resort is attached to a wonderful gourmet restaurant. Located near the racetrack, the resort is a short driving distance from town, with amazing suites! Discover excellent food, great wine list and wonderful ambiance!
Longfellows Hotel & Conference Center - Comfortable Surroundings and State-Of-The-Art Facilities
Longfellows Hotel and Conference Center is located just one mile east of the Saratoga Race Course near Saratoga Lake off of Exit 14. The hotel was lovingly restored from its original life as a dairy barn and is renowned for its warmth and old-world charm, including a cozy tavern with a fireplace where you can relax and shed the stresses of the day. Guest rooms are spacious and gracefully decorated in elegant tones guaranteed to soothe the most harried traveler! Cable TV, high speed Internet access and luxury baths with Jacuzzis are part of the standard pampering amenities that guests are provided. Romance and relaxation packages are available for special, unforgettable weekend getaways. Longfellows is the perfect location for weddings, corporate gatherings, or private parties of any kind. Our picturesque setting is the stuff dream weddings are made of, and our professionals will work with you to attend to every detail. The conference center is equipped with state-of-the-art technology to ensure the success of any presentation, with access to most business services as well. No matter what the occasion or event, Longfellows is the perfect destination for your stay in beautiful Saratoga Springs, New York.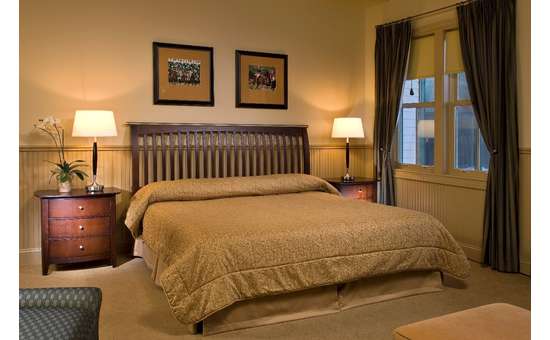 Click on the thumbnail images to see the larger version











Print More Information
Coupons & Specials
Longfellows Hotel & Conference Center Coupons & Specials
Upcoming Events
When: Wed, Oct 19, 2016 at 6:00 PM to 8:30 PM
Where: Longfellows Restaurant & Hotel, 500 Union Avenue, Saratoga Springs, NY 12866
Please join us for our 4th Annual Evening of Autumn of Giving Event, a fundraiser to help support the ATC Community Fund Lend-a-Hand Grant program. We hope you can make it!
When: Sun, Feb 19, 2017 at 11:00 AM to 3:00 PM
Where: Longfellows Restaurant, 500 Union Ave., Saratoga Springs
Engaged couples are cordially invited to attend the Longfellows Wedding Show, Sunday February 19, 11 - 3. Meet with a large variety of wedding professionals who will offer their expertise and advice in planning the day of your dreams! Complimentary hors d\'oeuvres, door prizes and more. Admission is free. Longfellows Restaurant 500 Union Avenue, Saratoga Springs Celebrating more than 15 years of hosting wedding shows. Call 406-0505 to register or visit our website.
Directions & Map
Always get confirmation of the business location.
Reviews & Ratings
Bob & Lue
from Valatie, NY wrote on

Tuesday, December 29, 2015 at 2:12 PM
What a great place to stay. We went for my husband's birthday. Friendly staff, clean and newly renovated accommodations.
Dinner was excellent. The sauces on our dinner choices were the best. Our waiter was very pleasant and the drinks were delicious. Can't say enough about
our stay and can't wait to do it again!
boonebaby
wrote on

Sunday, July 27, 2014 at 8:10 PM
very comfortable and reasonable pricing, clean, comfortable, restaurant adjacent. would stay there again.
(note for the breakfast could be more room, very crowded area and not enough choices for food but very good food and coffee)