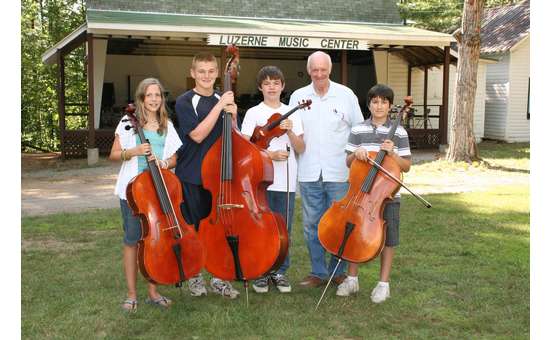 Luzerne Music Center
P.O. Box 35
203 Lake Tour Road
Lake Luzerne
,
NY
12846
Located in Lake Luzerne, NY, the Center offers an 8-week intensive summer music program for top students, ages 10-18, & presents 32 classical concerts for the public: Fri @ 8 pm; Sat @ 7:30 pm; Sun @ 2 pm & Mon @ 8 pm. See Events & luzernemusic.org.
Celebrating its 30th Anniversary, Luzerne Music Center has been a Favorite Home to Gifted Music Sudents and Faculty in a Serene, Lakeside, Adirondack Setting
Dedicated and highly professional instructional staff members provide students with a rich and demanding curriculum. Large ensembles and chamber music, piano, string, woodwind, bass, and percussion are among the programs offered. Professional faculty for 2010 include members of the Philaldelphia Orchestra and NYC Ballet Orchestra, as well as other symphony orchestras, colleges and universities of world renown.
The Center also hosts 32 concerts -- or 4 concerts each week -- by its students, faculty and guest artists every summer. Friday evenings are dedicated to the Faculty Concert Series @ 8 p.m., admission $10 & $5. Saturday evenings feature student recitals at 7:30, admission FREE. Carefree Sunday Afternoons offer up student piano recitals, large ensembles and the Luzerne Music Center Symphony Orchesra at 2 pm, admission, FREE.
The Luzerne Chamber Music Festival takes place in the Center's Performance Lodge every Monday at 8 pm from July 5 through August 23.
The 2010 Festival will open on July 5th with a Benefit Concert by the President's Own US Marine Band Percussion Trio. Other professional artists on the series include members of the Philadelphia Orchestra, NYC Ballet Orchestra, and the Colburn School of Music, as well as the Ying Quartet, Lions Gate Trio, and Low Brass Project.
In addition to spending the summer immersed in music, students participate in lots of other activities. Swimming, boating, canoeing, white-water rafting and hiking are a few of the outdoor recreational pursuits available to our students. Softball, basketball, volleyball, soccer and ping-pong are available as well!
The Luzerne Music Center's Senior Session Chipmunks also play one game a season against the Philaldelphia Orchestra Firebirds -- truly and unforgettable experience.
Luzerne Music Center is definitely a place for music students and faculty seeking opportunities to be both disciplined and creative performing artists, while living in the woods, eating healthy food, and engaging in interesting recreation, conversation and preparation for the future.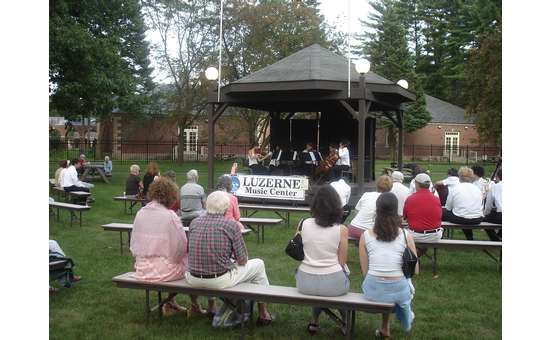 Click on the thumbnail images to see the larger version





Upcoming Events
No events listed for this business.
Is this your business? If so, login to add your events!