2017 Saratoga DBA Fall Festival in Saratoga Springs, NY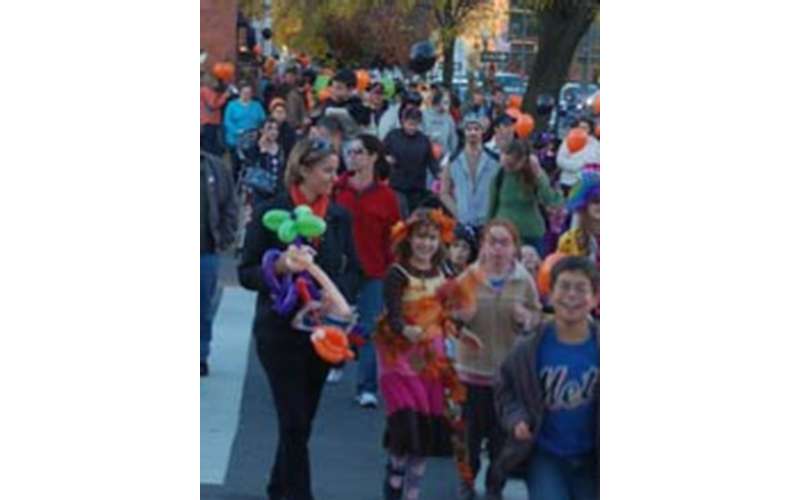 When:
Saturday, Oct 28, 2017 - 10:00 AM to 6:00 PM
Where:
Downtown Saratoga Springs, NY
---
Bring the whole family to celebrate the fall season in beautiful downtown Saratoga Springs with fun and games at the 16th Annual Saratoga Downtown Business Association Fall Festival on Saturday, October 28, 2017, from 10am to 6pm!
Young and old alike will find themselves rediscovering all there is to love about the fall season at this fun-filled free event. Plus, with all of the fun activities planned, this is one event you and your family will not want to miss!
Some of the Fall Festival Activities Include:
Rock Climbing Wall
Music Performances
Magic Shows
Trick or Treating
Petting Zoo and Pony Rides
Photo Booths
Costume Parade
And more!!
Event Schedule
11am - 3pm Coloring Contests on Display: Lobby of the City Center, 522 Broadway. Enjoy the art and creativity of local children.
11am - 3pm Face Painting with Diane McGeary: Druthers Brewing Company, 381 Broadway. Sponsored by SAD.
11am - 1pm Rich Bala: Downstreet Marketplace, 454 Broadway. Get Grooving! Sponsored by Stewarts Shops.
11am - 1pm Cooking Demo: Saratoga Olive Oil Co, 484 Broadway. Jodie Fitz of Price Chopper Kids Cooking Club will be hosting an interactive cooking demo! Learn to make a new fall treat!
11am - 1pm Matthew Boyce Elvis Tribute Artist: Arcade Building, 376 Broadway. Boogie with him! Sponsored by Allerdice.
11am - 1pm Drum 2 Drum: Visitors Center, 297 Broadway. Join in the fun, as children will be allowed to interact with the band and play different drums! Sponsored by Advantage Press.
11am - 1pm Keller & Cannon: Creative Sparks, 43 Phila St. Enjoy some country tunes.
11am - 2pm Sean the Prankster, Magician: Strolling Broadway. Have some tricks with your treats. Sponsored by Gaffneys Restaurant
11am - 2pm Crazy Christine Balloon Creations G. Willikers, 461 Broadway: Have Christine make you a new twisty balloon friend. Sponsored by SAD.
11am - 3pm Cupcake Decorating: The Bread Basket Bakery, 65 Spring St. Decorate a tasty treat!
11am - 3pm Pumpkin Rolling: On Caroline Street at Broadway. Participate or watch all of the craziness as pumpkins are rolled down the hill! Too fun to miss! Pumpkins donated by Vincek Farms. Prizes from Saratoga Strike Zone!
11am - 3pm Pony Rides & Petting Zoo: Collamer Parking Lot. Come meet the Dream Ponies and all of their critter friends! Sponsored by the Adirondack Trust Company
11am - 3pm Rock Climbing Wall: Collamer Parking Lot. Climb to the sky! Owner Operated by Rock Solid Fun Sponsored by Towne, Ryan & Partners, P.C.
11am - 3pm Photocard Day: Division St. Take home a photo memory! Sponsored by Cudneys Cleaners and Impressions of Saratoga.
11am - 3pm Coats for Kids Drop Off & Distribution, Make your Own Halloween Magnet, and Bean Bag Toss: Hosted by Cudneys Cleaners, Division St. Donate to a great cause!
11am - 3pm Free Museum Admission: History Museum, Congress Park. Wear a costume and get into the museum for FREE and see a Ghost tour!
11am - 3pm Alpacas of Breezy Hill Ranch Visitors Center: 297 Broadway: Come meet some fuzzy friends and see goods made from their wool!
11am - 4pm Corn Hole: Impressions, 368 Broadway. Try your luck at this fun fall edition of the popular corn hole game!
11am - 4pm Color a Stinky Dog: Stinky Dog, 488 Broadway. Draw your own stinky dog and win a stinky prize!
11am - 4pm Count the Candy Corn: Circus Cafe, 392 Broadway. Can you guess the closest?
11am - 4pm Free Studio Time: Creative Sparks, 43 Phila Street. All studio fees waived for Halloween themed pieces!
11am - 4pm Face Painting and Hair Chalking: Complexions Spa, 268 Broadway. Get your hair temporarily colored in festive fall colors while enjoying hot apple cider and cider donuts! Plus special Spa Dollars for Mom & Dad to relax later on!
11am - 4pm Custom Pumpkin Painting: Silverwood Gallery, 398 Broadway. A local artist will be decorating pumpkins to take home.
12pm - 2pm Skidmore Circus: Division Street. Performances every half hour - be amazed!
12pm - 2pm Alan Edstrom the Magician: Plum Dandy: 419 Broadway. Be amazed! Sponsored by Mannix Marketing Saratoga.com.
12pm - 3pm Sparkles the Tall Juggler: Strolling up and down Broadway. You wont miss her! Sponsored by Clements Insurance.
12pm - 3pm Pumpkin Painting: G. Willikers, 461 Broadway. So much fun!
12pm - 3pm Rubber Band Shoot Out: Crafters Gallery, 427 Broadway. They meet at high noon.
12:30pm - 2pm Coffee Sack Hop: Visitors Center, 297 Broadway. Join Go Kids in this fun mini race! Hop across the finish line in a coffee bag from Uncommon Grounds!
1pm - 3pm Magic Dan the Magician: Traveling Broadway. Watch out for his tricks! Sponsored by the SSSAD.
1pm - 3pm Seth & the Moody Melix: Ben & Jerrys, 34 Phila St. Dance to some great music. Sponsored by Lifestyles.
1pm - 4pm Cooking Demo: Saratoga Olive Oil Co, 484 Broadway. Patrice Mastrianni of Serendipity Arts Studio will be serving up some Apple Cookies! Too yummy!
1pm - 3pm Pumpkin Painting and Fall Crafts: Gaffneys, 16 Caroline Street. Hosted by the Skidmore Pro-Arts Group & Random Acts of Crafts and the Childrens Museum. Pumpkins donated by Vincek Farm.
1pm - 3pm Craft Activity: Northshire Bookstore, 424 Broadway. Get Crafty with Author Deanna Cook the author of Teddy Bear Doctor!
1pm - 3pm Lifeline Band: The Adirondack Trust Drive Through, 473 Broadway. Sponsored by Saratoga Strike Zone
3pm - 3:20pm Children's Costume Parade: Line up at The City Center, 522 Broadway.
3:30pm Parade Down Broadway to Congress Park: Lead by Drum 2 Drum and the winners of the Fall Festival Coloring Contest! Participating children get a free Ice Cream Coupon from Ben & Jerrys!
4pm - 4:30pm Free Carousel Rides!: For all who participated in the parade! Sponsored by The Department of Public Works.
Other Fun Events
At First Baptist Church
10am - 12pm "DJ Voice:" Song Entertainer for Christ, Angel DeJesus
12pm - 1pm "Saratoga Sound Track Chorus:" a Sweet Adeline a cappella award winning show chorus
1pm - 2pm "Saratoga Sound Track Chorus:" repeat performance
2pm - 3pm "Daniel Pravder First Baptist Church organist: Skidmore College Senior:" gospel and jazz Music
There will also be cookie decorating, BBQ, ice cream, and drinks, a vendor area, and a Treasure Trove Tag Sale
At The Farmers Market
9am - 1pm Taylor's Heroes: activities for children of all ages
9am - 1pm Tune Folk: performing in the market center
9am - 1pm Nathan Knowles: planned for the North lawn
10am Winner of the "Guess the Weight of the Pumpkin" Announced
10:30am - 11:30am Skidmore Accents A Capella Group: on the South Lawn
Boca Bistro will also be offering Festive Food Samples!
Trick-or-Treaters
These are the shops that will be handing out treats during Fall Festival, look for the Trick or Treat Signs:
Aggie Mullany
Boca Bistro
Celtic Treasures
Circus Cafe
Comic Depot
Complexions Spa
Crafters Gallery
Creative Sparks
Cudneys Cleaners
deJonge Jewelers
First Baptist Church
Gaffneys
G. Willikers
Impressions of Saratoga
iRun Local
Lifestyles
Lillian's
Magic Moon
Mountainman
n.Fox Jewelers
Northshire Bookstore
Plum Dandy
Roohan Reality
Saratoga Candy Co
Saratoga Guitar
Saratoga History Museum
Saratoga Olive Oil
Silverado
Silverwood
Spoken
Stinky Dog
The Shoppe
The Pink Paddock
SPoT Coffee
Violets
Vendors of the Farmers Market
The 2017 Saratoga Fall Festival is proudly brought to you by the Saratoga Springs Downtown Business Association and many fine sponsors.
All entertainment is free and open to the public.
For further information, contact the Saratoga Springs Downtown Business Association at (518) 587-8635.
---
Incorrect info on this event listing or page? -- please email
Event times and information subject to change and not guaranteed.