Projects
In honor of the Saratoga Springs Centennial, a number of "signature projects" are underway to revitalize the city and commemorate its 100th anniversary!
Here are some of the projects worth keeping your eye out for: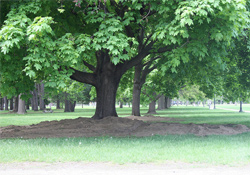 Centennial Trees
This project, organized by Sustainable Saratoga, will result in the planting of at least 100 trees. Each of the trees will be labeled for future generations.
Centennial Park
The intersection of Circular Street and Union Avenue in Congress Park will soon be home to new fountains and a statue of a horse in honor of two of the city's most reknowned features, the springs and the racetrack.
Spirit of Life Restoration
The restoration of the Spirit of Life Statue in Congress Park has been underway since 2011 and is scheduled to be completed in time for its rededication ceremony in June. The restoration is a result of efforts by the Saratoga Springs Preservation Foundation and the city's Department of Public Works.
History of Saratoga Centennial Book
More than 25 individual authors are coming together to compile a definitive history of Saratoga Springs. Local historian Field Horne initiated the project, which is expected to be completed by summer 2015.
High Rock Spring Restoration
High Rock Spring is recognized as the site of the founding of Saratoga Springs and was treasured by the Mohawk people for its healing powers. Located in High Rock Park, the spring will be re-piped so it can actively flow again.