Gardening In Saratoga: First Frost & Last Frost Dates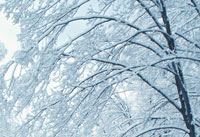 If you are gardening in Saratoga, first frost and last frost dates are crucial factors in maintaining healthy plants and flowers.
September 20 is an estimate of Saratoga's first frost date. First frost is the earliest date that frost can be expected in your area each fall.
May 20 is an estimated last frost date for gardening in Saratoga NY area. Last frost date occurs after the winter has dwindled and is the latest date that frost can be expected in your area.
First frost and last frost vary considerably from year to year, but these frost dates are general estimates for gardening in the entire area. For a more accurate estimate of frost dates in your specific region, you should contact a Saratoga landscaping company or garden services in the area.
Frost is extremely unlikely to occur between the estimated last frost date of spring and first frost of the following autumn season. In Saratoga, the connecting weeks May 21 through September 19 are thus dubbed the "growing season."