Sample Itineraries By Westchester House B&B Guests
These sample itineraries are based on our guests experiences while staying at the The Westchester House Bed & Breakfast over the past 20 years. Each season offers various options on things to do and one attraction may have a multitude of offerings. For example, at the Saratoga Spa State Park there is everything from golfing, hiking, swimming, performing arts, ice skating, cross country skiing and more...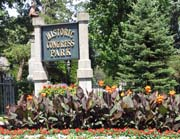 An overview of downtown Saratoga Springs would include a walk along Broadway and side streets of Caroline and Phila, with a wide variety of shops and restaurants. The Canfield Casino, Saratoga Historical Museum, Italian Gardens, Carousel and Mineral Springs are all conveniently located in Congress Park. The Urban Cultural Park across the street in an old trolley station offers an overview of the city architecture and history of the springs. The new Saratoga Arts District off of Broadway offers a variety of artisans and their work.
A short drive up North Broadway leads you past the mansion homes that were built in the 20's and 30's. The street ends at Skidmore College where the Tang Museum offers different exhibits throughout the year. On the opposite end of town is the 2,000 acre Saratoga Spa State Park, with golfing, hiking, swimming, tennis, performing arts (ballet, concerts, festivals), ice skating, cross country skiing, community theater, Dance Museum, Antique Car Museum, Roosevelt bath house, mineral springs and a geyser. East of Broadway, along picturesque Union Avenue is the National Museum of Racing and the famous Saratoga Flat Track. Saratoga Casino Hotel is also located on the east side of town.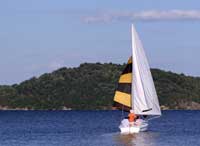 Several miles east of town is Saratoga Lake, offering canoeing, kayaking, and fishing. Further east, approximately 20 minutes, is Schuylerville, along the Hudson River, where lock #5 is located. The locks are still used today to aid boats navigating up and down the Hudson. Revolutionary War history is also nearby at the Saratoga National Park and Saratoga Monument. The visitor's center offers exhibits and a movie. An optional car ride throughout the historical park is available, with stops at actual battle sites. The Saratoga National Cemetery is also located off of Route 4 outside of Schuylerville.
An enjoyable day trip takes you east through Schuylerville, Greenwich, Cambridge, home of the Nuns of New Skete, the Battenkill and eventually to Manchester, Vermont, where there is Colonial architecture and the famous outlet shopping.
Another day trip destination that takes you west into the Leatherstocking region and back to America's pastime is Cooperstown. In addition to the Baseball Hall of Fame, there is the Farmer's Museum and Fenimore Art Museum as well.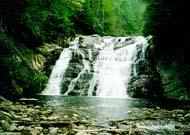 North of the Saratoga region is the Adirondack Park. Glens Falls offers the Hyde Museum, and Lake George offers seasonal recreation of all types and is indeed a destination unto its own. Many of our guests will visit the North Country for specific attractions and events. Revolutionary War history, boat rides around Lake George, Prospect Mountain, Bolton Landing and the Sagamore Hotel are just a few. Two major events that draw thousands is the Lake George Americade Motorcycle gathering in June and the Adirondack Balloon fest held in October. The Adirondack Museum makes a nice day trip (90 minute drive) allowing some time to visit Lake George. And, although it is a long day, some guests have traveled to Lake Placid for the day.