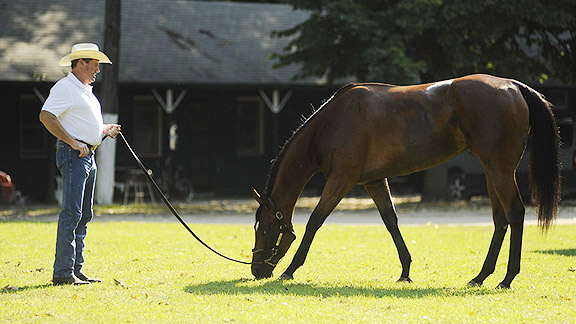 Horsephotos.comorse of the Year Havre de Grace with trainer Larry Jones. BloodHorse.com
Owner Rick Porter of Fox Hill Farm's retired 2011 Horse of the Year Havre de Grace, also known as Grace, on Sunday after a front right ankle injury was detected after a Churchill Downs workout.
A great disappointment for all.
"Owning Grace through her racing career has been the highlight of my time in horse racing. She was a wonderful, wonderful racehorse, and I feel confident she'll be an equally wonderful broodmare. Thanks, Grace, for all you gave us, and here's to a long and enjoyable retirement," Porter told BloodHorse.com.
Havre de Grace, the 5-year-old daughter of Saint Liam, and the 2005 Horse of the Year, was bred by Nancy Dillman in Kentucky with mare Easter Bunnette of Carson City.
Grace logged the 9th win of her 16-race career on March 17th, 2012 when she won the New Orleans Ladies Stakes at Fair Grounds Race Course & Slots. That, her first race, since finishing fourth in the Breeders' Cup Classic Nov. 5th, 2011 at Churchill Downs.
Trained by Larry Jones, seen above, she retired with career earnings of $2,586,175.
Porter selected her name based the old racetrack in the city of Havre de Grace, Maryland. Most remember it from the movie THE STING when it is mentioned by Ray Walston as "Hav-de-GRAW" in the mocked-up betting parlor sting.
The town where I grew up.
Since moving to Saratoga Springs in June of 2010 I've had the privilege to enjoy two meets in which the filly Havre de Grace (pronounced HA'-vur-duh-grays) ran and won! Just hearing that name made me feel especially welcome to Saratoga and reminded me of the wonderful history of the race course where I grew up. And, for Havre de Grace, the filly, when she became the 2010 Horse of the Year, I was estactic. And to be a filly! What more could a thoroughbred horse loving woman from Havre de Grace ask for?
And there is a lot of proud history behind the name Havre de Grace.
My tiny hometown received extra attention due to this magnificent filly. Just hearing her name, brought back a flood of fond memories of Havre de Grace, the city, what it meant to not only me but what it once meant to American racing.
As a horse, Havre de Grace amazed America. And, now, she will bring more to racing by mothering foals. Those horses will undoubtedly become stars, too.
As luck would have it, I bet and won each time I wagered on Havre de Grace. She flew like the wind and, I am not telling you anything you probably do not already know if you follow racing, Havre de Grace ran with the big boys like none other.
The history of her namesake, a picturesque little city, situated at the mouth of the Susquehanna River and head of the Chesapeake Bay in Maryland, is where General Lafeyette marched many times during the Revolutionary war. During one trip Lafayette commented that the hamlet, known as Harner, reminded him of the French seaport Le Havre, the Harbour of Grace, in France. That inspired the local residents in 1785 to incorporate the then bustling port city as Havre de Grace.
Havre de Grace is still a small, quaint tourist area, as of the 2010 census, the city's population was 12,952, under a third smaller when compared to our racing town of Saratoga Springs, which boasts a population of 29,126.
Over one hundred years ago the state of Maryland developed a beautiful race track.
The Havre de Grace Racetrack, which operated between the years of 1912 and 1950, was largely responsible for the increase in tourism in the twentieth century. Some of the most legendary horses of the past century, including Seabiscuit, ran races at the city's famed track. Man O' War, War Admiral, Sir Barton, Seabiscuit, Exterminator, Sarazen, Equipoise, Discovery, Sun Beau, Crusader, and Citation are some of the legends that raced around the oval at Havre de Grace. From 1912 to 1950, a small town at the confluence of the Susquehanna River and Chesapeake Bay in Maryland, served as a center stage for American thoroughbred racing.
I am still perplexed how a prestigious track could close in 1950 just as racing was nearing its peak of entertaining the public. The closing of Havre de Grace, also known as HdG, shows that no venue should be taken for granted. Not even our very own Saratoga Race Course, a historical treasure.
The track was long gone when I moved there with my family. It had been sold years before in order for Pimlico Race Course to take the HdG race dates.
But, there was a reason. Someone who loved thoroughbred racing but also knew as a businessman, Havre de Grace had to go.
During the late 1930s and early 1940s, Alfred G. Vanderbilt II owned and ran Pimlico Racetrack outside Baltimore, and arranged the famous match race between Seabiscuit and War Admiral in 1938. But the race dates at Havre de Grace and Pimlico conflicted.
The Havre de Grace Racetrack operated from August 24, 1912 to 1950. Nicknamed "The Graw." For a time it was owned by the Harford Agricultural and Breeders Association and was also known to be a place where the notorious gambler, Arnold Rothstein, wagered. We all know Rothstein as a historical character now in HBO's BOARDWALK EMPIRE. Havre de Grace attracted all sorts.
In January 1951 the Havre de Grace Race track was sold to Alfred G. Vanderbilt II. And he shut down Havre de Grace Race track so Pimlico would be the only game in the region.
Although Vanderbilt ended racing in Havre de Grace, he did do create a tremendous interest and energy for racing.
Vanderbilt's wealthy mother, Margaret Emerson, of the Bromo-Seltzer family, gave him a 600 acre horse farm in Glyndon, Maryland called Sagamore Farm, for his 21st birthday. Vanderbilt had been hooked on racing since his first childhood visit to the Preakness. His four Eclipse Award champions: Discovery, Next Move, Bed O' Roses and the great Native Dancer proved his horse racing prowess.He was President of Belmont Park and Pimlico at the same time before joining the Navy. After the Second World War, and receiving The Silver Star for bravery, he returned to racing as a war hero he brought his greatest champion, Native Dancer, to the Pimlico track in 1952. "The Gray Ghost" won all 9 starts as a 2-year-old and was named Horse of the Year then and as a 4-year-old.
Alfred G. Vanderbilt continued racing throughout his life and served as Chairman of the Board of the New York Racing Association from 1971 to 1975.
But in fatal business move for the Havre de Grace Race track, Vanderbilt, as the owner of Pimlico Race Course, and Morris Schapiro of Laurel Park Racecourse in Laurel, Maryland, shuttered the Havre de Grace facility and simply transferred the track's racing allotment dates to their own tracks. A fatal blow to the city's tourism.
When opened the Governor stated that "The track will be located directly on the banks of the Susquehanna River in what is considered one of the most beautiful spots in all America. The grounds include 103 acres about thirty-eight miles from Baltimore and forty-eight miles from Philadelphia." Many came from New York, where anti-gambling legislation had completely shut down racing in 1911. Daily attendance peaked at well over 6,000 during the meet. Even with the death of a jockey and a legal battle to ban on-track bookmakers, the first meet at Havre de Grace was deemed a success.
From 1912 to 1950 (with the exceptions of a shut down during World War II), the Maryland track hosted two meets. The spring meet served as one of the key destinations for colts bound for the Kentucky Derby. The fall meet attracted some of the best handicap horses in country for races like the Havre de Grace Handicap.
Racing at Havre de Grace attracted high-class horses, well-heeled owners, and the best trainers and jockeys in the country. According to a local journalist, the track made the small Maryland town "famous".
Considering the current success of boutique meets at Del Mar, Saratoga, and Keeneland, it's hard not to think what might have been had the track survived.
Racetrack with the town of Havre de Grace visible to the right.
The Chesapeake Bay and stable area are visible in the foreground.
September 1927
You Tube-Havre de Grace put herself squarely in the race for Horse of the Year honors in September 3rd, 2011 at Saratoga Race Course, powering into the lead with 200 yards to go and pulling clear to a rousing 1 ¼-length victory over seven males in the 58th running of the Grade 1, $750,000 Woodward. "One minute 39 seconds flat, the filly did it!" The race called by world-enowned announcer Tom Durkin.
So a filly named after a once famous race course takes her bow. And, a little history about a once world famous town that was, the filly that was but in so many regards, a standout winner. And, a girl from Havre de Grace, Maryland saddened that a world champion filly Havre de Grace, has had her last run all due to an unexpected injury, Saratoga!