Just because frost bite is imminent with every walk to the mailbox, doesn't mean you need to turn into Bilbo Baggins. Living in the Northeast has its ups and downs, but learning to take winter's lemons and make them into lemon ice will help you make the most of these S.A.D.-infused months.
Here are ways you can embrace the cold hibernation months without actually having to fear the cold at all.
1. Chowderfest
Part of Winterfest, any local should really know this event by now. There's no excuse not to get out with the crowds. If the socializing doesn't help your slump, the clam chowder certainly will.
2. Lake George Winter Carnival
A little change of scenery and getting out of downtown may help to liven you up. With cook-offs, races, bonfires and snowmobiles on one of the most beautiful lakes in the Northeast, you can't help but smile.
3. Super Bowl parties
Watch the Seattle Seahawks versus the Denver Broncos at a friends house (yes, you have to put on real pants) or at one of the many establishments downtown that will be having their own Super Bowl parties. Try The Saratoga City Tavern or West Side Stadium Cafe.
4. Night tubing on West Mountain
Night tubing on West is a local favorite. Do something different with your evenings after work and suit up (snow suit, that is), tube down then stay for a beer or cider and some wings by the fire at The West End Sports Bar and Grille at the bottom.
5. Learn to ski or snowboard at Gore Mountain camps
Continuing the ski theme, always remember how close we are to one of the best mountains in the region. Exit 26 off I-87 will take you to the highest point in New York, where you can ski, snowboard, apres ski socialize and check out the new Ski Bowl.
6. Go play pool
Instead of bellying up at a bar and wasting the night away, make it a memorable night by challenging some pool sharks (or wannabes) to a game of pool. You'll make friends and pass the time a lot quicker than just sitting around. Saratoga bars that have pool tables: Putnam Den, Parting Glass, The Alley, Saratoga City Tavern, Trotters, Desperate Annie's, Tin N Lint.
7. Cross Country Ski
Instead of the same routine on your YMCA elliptical, take to the outdoors for a serious cardio workout in a beautiful setting. Cross country skiing works your hamstrings, quads and glutes all at once (and if you fall, then your triceps!)
#8 – Warm up with a local soup
We may complain about the Polar Vortex and frigid northeastern winds that are seemingly blowing right through our holiday Patagonias, but there are a few things we adore about winter. Cozy sweaters, crackling fires, the Lake George Winter Carnival, Chowderfest, hot Chai tea and, of course, soups!
Here is the breakdown of our top picks for local soups that keep us warm and satiated.
Get balanced and nurture your creative side at Saratoga Paint and Sip Studio, where you can drink a glass of wine, while creating beautiful art alongside your friends. It's a perfect change for the winter doldrums!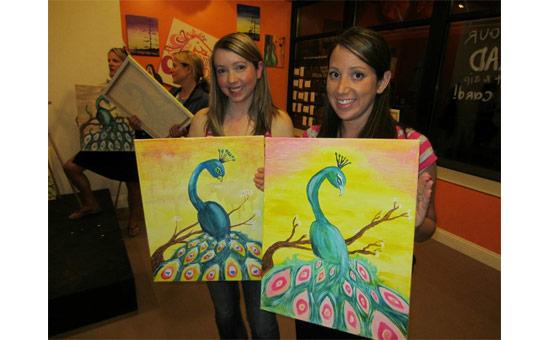 Looking for more things to do on these bleak winter days? Check out the Saratoga.com events calendar. There's always something going on!