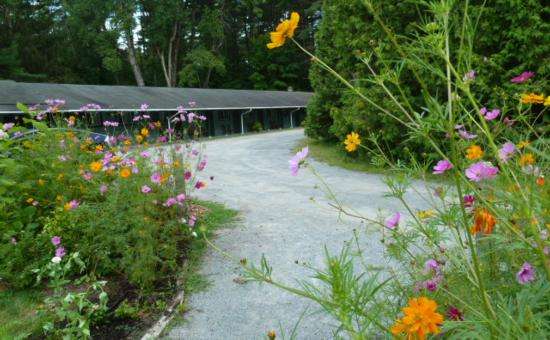 the Saratoga Garden Motel &the Garden Therapeutic Services
434 Church Street
Saratoga Springs
,
NY
12866
Close to downtown, the track and SPAC, our motel offers you a comfortable place to stay and the convenience, just next door, to a place to receive therapeutic treatments such as massage and acupuncture at the Garden House. Call for best rates!
Just north of Saratoga, four minutes to downtown and ten minutes to the Racetrack and Saratoga Performing Arts Center (SPAC), just around the corner from Skidmore College,the Saratoga Garden Motel offers clean, quiet, comfortable and affordable rooms in a rustic Adirondack setting. Each room is equipped with air conditioning, cable TV, WiFi, small refrigerator and a microwave. The efficiency has two queen sized beds with a kitchenette. There is a spacious lawn/picnic area with gas grills available in the summer.
Massage and other holistic services are available just across the driveway at 'the Garden"(Please call ahead for booking).
Rates are variable with the season.
email: bloomingatthegarden@gmail.com
Call for best rates - (518) 281-7547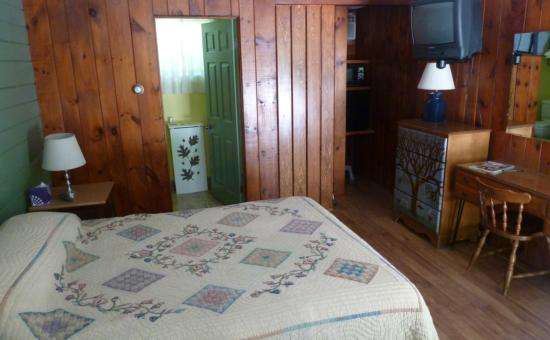 Click on the thumbnail images to see the larger version










Upcoming Events
No events listed for this business.
Is this your business? If so, login to add your events!
Directions & Map
Always get confirmation of the business location.
Reviews & Ratings
Sue & Ed
from Lake City, Fl wrote on

Monday, May 30, 2016 at 4:31 PM
The Saratoga Garden Motel is not your typical "cookie-cutter" motel. With a wonderful Adirondack charm, we found the motel very clean, inviting, and safe. The Garden is on the edge of town, away from the busy traffic, but still minutes to anything in the heart of Saratoga. The staff, Suzanne, Mary, and Mary II were very friendly and attentive to all our needs. My husband surprised me with a massage appointment at the Garden House with the amazing, therapeutic hands of Suzanne. The therapy provided in that one hour appointment and the restful peace we found during our stay the motel made our trip to Saratoga a healing venture. It is GREAT to have such a nice hometown option in the world of big commercial motels.
the Saratoga Garden Motel &the Garden Therapeutic Services
responded on Friday, June 03, 2016 at 1:24 PM
We are eternally grateful to the many wonderful guests we have the honor of serving. Thank you for this lovely comment.
Jacinto
wrote on

Saturday, August 02, 2014 at 11:45 AM
We are not racing fans, so we had no idea just how far in advance one has to book lodgings during racing season. Family matters were bringing us to Saratoga at the height of the season and I searched desperately for accommodations - no vacancies and very high prices. We heard of the Saratoga Garden Motel through friends of a friend, who had stayed there. The price was phenomenal - too good to be true. And it was! I had read the reviews here and all praised the cleanliness. (Makes me wonder if these reviews were truly legitimate.) At the price we paid, I certainly wasn't expecting luxury; but I did expect it to be clean. The staff is indeed very friendly and pleasant. And to be fair, the shower, linens, and fridge were clean; but I don't think anyone had vacuumed in the corners or by the radiators for years. The dust was inches thick. There is no maidservice. I was fine with making our own bed; but I do think there should have been some cleaning supplies for the bathroom. The radiator was very noisy; but my mechanic husband was able to quiet it a little. The walls are paper thin - so if there are rambunctious children next door, you may not sleep too well. So here is my advice: if you are looking for a rock-bottom budget accommodations, this is the place (unless you have asthma or other allergies to dust) - but bring ear-plugs, your own cleaning supplies, and wear your slippers at all times.
the Saratoga Garden Motel &the Garden Therapeutic Services
responded on Sunday, August 03, 2014 at 10:24 AM
First, thank you to our many returning guests. It is true we aim to be green and do not have daily maid service, but we pass those savings on to our guests. However, all our rooms are thoroughly cleaned after visits and inspected prior to anyone coming in. Our motel is a sixties girl who we are in the process of renovating, but nothing stops the formation of the occasional cobwebs in the country.During our two years of ownership, we have continued to make improvements with the goal to provide a lovely, clean environment for your Saratoga stay at a reasonable price. Our guests help us give them the best rate.
Steve
from Long Island, NY wrote on

Thursday, June 12, 2014 at 12:25 AM
Dear Garden staff,
I just had to thank you for making our first trip to Saratoga Springs so amazing. You made every effort to make our stay go smoothly, and your motel is absolutely wonderful; private, relaxing, quiet, and a great place to get away. Saratoga Springs and the Garden is definitely a repeat trip, and will be recommended to all of our friends and family!