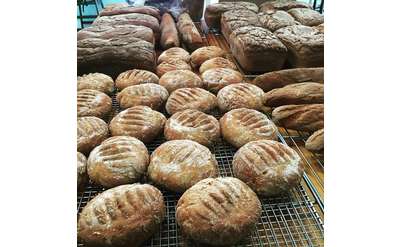 Saratoga Gluten Free Goods
Schuylerville, NY
Saratoga Gluten Free Goods is a small-batch, gluten free bakery specializing in gluten free breads, rolls, and a wide variety of delectable desserts and other baked goods. All of the great products are prepared in a dedicated gluten free environment.
Sweet Mimi's Cafe & Bakery
Saratoga Springs, NY
Located in the historic Cafe Lena Building just off Broadway, Sweet Mimi's serves a fabulous brunch and lunch specials all day. It is a great place to catch up with family & friends over a terrific meal or a rich cup of coffee.
Putnam Market
Saratoga Springs, NY
Located in the heart of downtown Saratoga Springs, Putnam Market serves delicious sandwiches and salads, and also has a vast assortment of baked goods and grocery items. Specials change daily and many of the ingredients are locally-sourced.
The Bread Basket Bakery
Saratoga Springs, NY
The Bread Basket is not only a bakery, but also a cafe and sandwich shop. From fresh baked goods made daily to sandwiches, soups, and salads, the Bread Basket's menu can satisfy all types of cravings.