Win Dark Horse Mercantile's ULTIMATE Gift Bundle!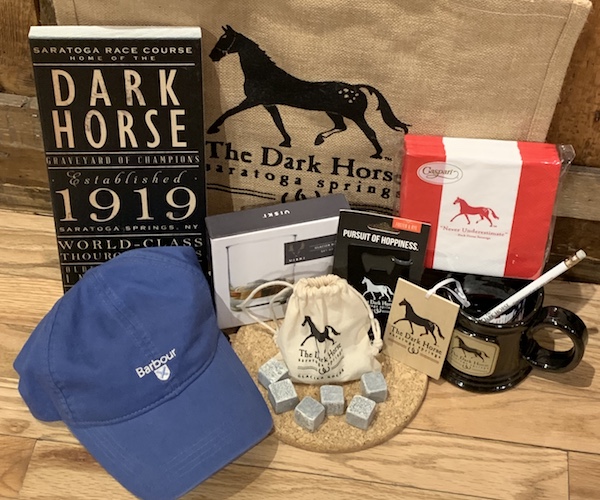 Have you visited The Dark Horse Mercantile in Saratoga Springs, NY? The Dark Horse Mercantile features carefully curated garments, gifts, decor, and memorabilia celebrating the unexpected winners in life. The Dark Horse legend began in Saratoga with Upset, the thoroughbred who beat Man o'war in 1919, and has continued to be a Saratoga tradition, where the longshots overcome the odds and beat the favorites. Now's your chance to become a part of the Dark Horse legend with this great prize package. The Dark Horse Mercantile is offering a Dark Horse Reusable Tote Bag FILLED with wonderful products -- and you could one win for free!
The tote bag includes all of the following items (a $150+ value!):
A handmade Sunset Hill Pottery Mug (dishwasher and microwave safe), perfect for morning coffee or tea
The Dark Horse Wooden Sign with unique Saratoga and Dark horse facts
A convenient Bottle Opener that fits into a wallet!
Whisky Stones with a Dark Horse Storage bag that will keep your drink the perfect temperature without watering it down or changing the flavor.
A packet of "Never Underestimate" Cocktail Napkins for summer parties.
A Barbour Cap to top off any outfit
A fun pen for taking notes while watching morning workouts
And a Wooden Dark horse Tag that doubles as an Ornament!
Enter now for your chance to win a FREE tote filled with Saratoga Springs and race-inspired goodies. Three winners will be randomly selected on February 25, 2020, so be sure to enter once per day to increase your chances of winning!
Disclaimer:
The provider of this sweepstakes is Dark Horse Mercantile.
Sweepstakes ends at midnight on Feb 24, 2020.
Must be 18 years of age or older to enter.
Limit 1 entry per person per day (you may enter again after 24 hours).
3 winners will be randomly selected on Feb 25, 2020.
Winners may not resell prize.
Keep up with the latest happenings on Saratoga.com.
Click below to "Like" us on Facebook
Show your support for the giveaway sponsors by following them on Facebook:
Click below to "Like" Dark Horse Mercantile on Facebook