Experience the Sights & Sounds of Arts & Culture in the Country
Saratoga Springs is thriving with a vibrant arts and culture scene, from SPAC to Caffe Lena to the Home Made Theater and beyond. But, did you know we have a treasure trove of live music series, theatrical performances, and art exhibits in neighboring Washington County?
While city life can be amazing, every once in a while we owe it to ourselves to get out into the country and experience something different. Here's what you can find close by:
Fort Salem Theater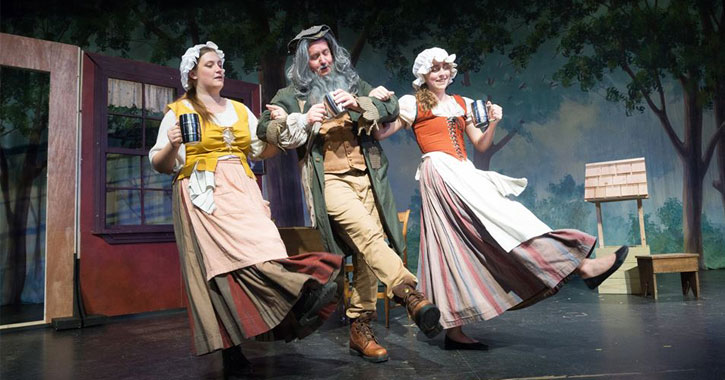 Music, musicals, and cabaret come together at the Fort Salem Theater! This historic building dates back nearly 250 years and is located right in Salem's historic district, among homes that have presided in the area since the early 1800s. While necessary changes have been made to the theater, some of the original wooden pews from when it was a church are still on the premises, along with other nods to its rich history that really set the stage for amazing productions.
The Fort Salem Theater draws actors, directors, and musicians from Broadway, off-Broadway, and from some of the best regional theaters in the country, in addition to bringing in talented local artists and budding talents. Coming up at the theater is "Rip Van Winkle the Musical" as well as "Happy If...Happy When." The latter is a unique LARAC-supported production that follows a sophisticated suburban family as they make a home in rural Washington County.
View what's coming up on their main stage »
Hudson River Music Hall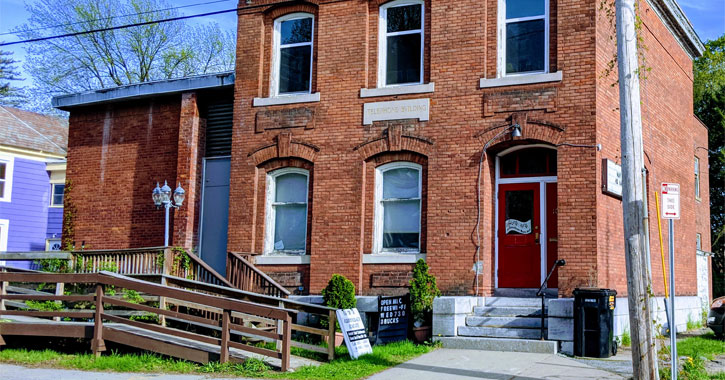 The Hudson River Music Hall in Hudson Falls puts on over 100 events a year to the general public through live music shows, art gallery openings, dance seminars, theatrical productions, and even private parties. The nonprofit behind this venue is dedicated to providing a place for the community to gather through the arts.
You can see everything from tribute bands to ballet to an evening filled with authentic radio plays from the golden age of radio.
See what performances they have coming up >>
The Strand Theater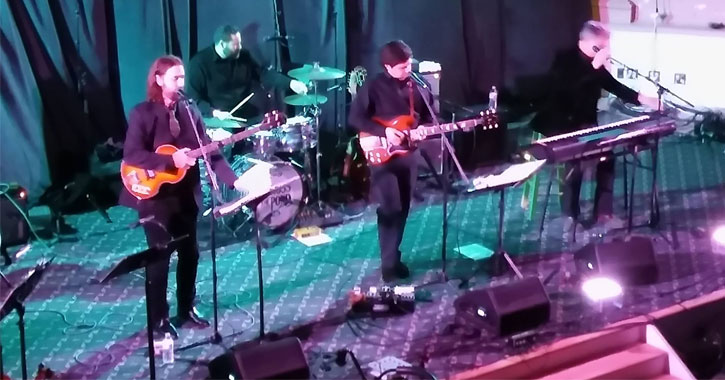 Hudson River Music Hall Productions, the nonprofit behind the Hudson River Music Hall, purchased the nearby Strand Theater in 2016 - this is a larger venue that allows them to really expand the productions they put on.
They've hosted a Washington County Wine & Cheese Tasting, a brand new musical about the life of Eleanor Roosevelt, and a slew of musical performances, including the ever popular Stony Creek Band. They also offer showings of classic films like Monthy Python and the Holy Grail.
What's really great about attending performances at the Hudson River Music Hall and The Strand Theater is that you know you're supporting an important nonprofit that keeps the local arts and culture scene alive.
Check out what's coming up at The Strand »
Little Theater on the Farm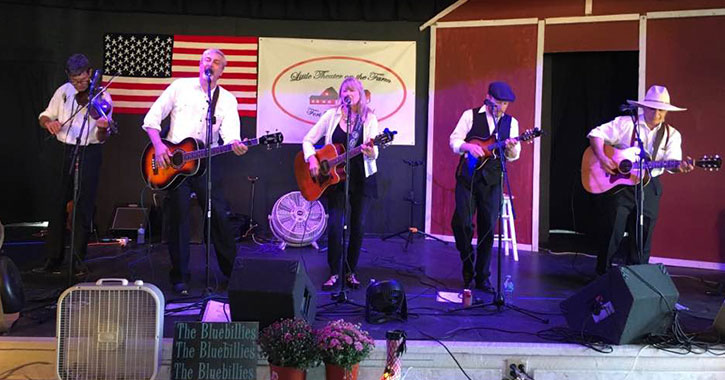 The Little Theater on the Farm is literally a theater on a farm! Located in the heart of the Washington County Grasslands in Fort Edward, the Little Theater on the Farm provides a space for theatrical productions, live music performances, and even an occasional historical reenactment. Their unique and charming location in the country is what really brings this venue up a notch.
The Little Theater on the Farm has hosted Country Bluegrass Jams, where musicians are welcome to come and perform, as well as folksy groups like The Lazy Suns, The Atkinson Family Band, and the High Peaks Bluegrass Band. If you love bluegrass and country music, why not enjoy it at a venue nestled among meadows and farmland?
View their upcoming schedule of events »
Valley Artisans Market
Valley Artisans Market is located in Hubbard Hall in Cambridge and is one of the oldest arts cooperatives in the country. Here, local artists and craftspeople come together to work in a variety of mediums such as photography, pastels, wood, metal, jewelry, glass, and much more.
You can view their work in the Small Gallery with a rotating display of pieces from their members and guest artists - these shows keep the displays fresh and exciting, as there's always something new to check out. You might see displays revolving around textile art, fabric art, and so much more.
And, bonus: Separate from the gallery displaying works of art is a shop with handmade items from artists that you can purchase! This is a true gem for discovering unique, local gifts.
Hudson River Shakespeare Company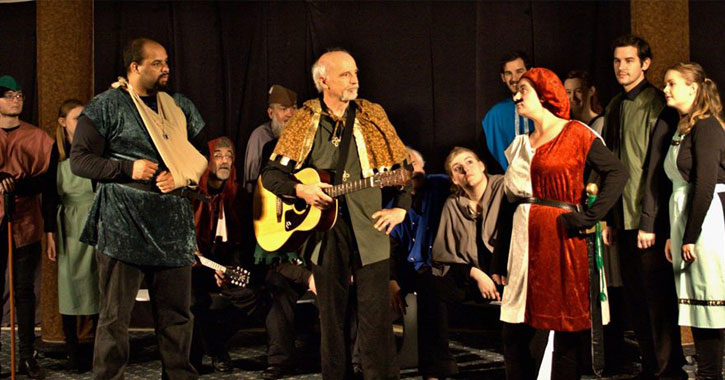 The Hudson River Shakespeare Company is a community theater based out of Hudson Falls that draws the best talent from Washington, Warren, and Saratoga Counties. This innovative company has been keeping the legend of Shakespeare alive since their very first play, A Midsummer Night's Dream, which was performed at Hudson Falls High School in the summer of 1999.
This group's philosophy is to put as much emphasis as possible on the actual material being performed during a play, and therefore, they rely on a clean, simple, and minimalist production style. Because they're able to keep production expenses low, they are able to pay the savings forward and charge very little for their performances.
In addition to their Shakespeare productions, the Hudson River Shakespeare Company also puts on Halloween readings, Christmas shows, and an annual spring production.
Hubbard Hall
Hubbard Hall, which houses the Valley Artisans Market, is a full arts and education center that supports creativity and art in the community. The venue is operated by the nonprofit Hubbard Hall Projects. This place puts on so many shows, classes, and workshops there is undoubtedly something for everyone.
They offer a Children's Summer Theater, dance classes, yoga classes, ballet classes, martial arts classes, and much more. If you're looking to get into the arts yourself, this is the perfect place for you to get your feet wet!
See details on classes and events »
Salem Art Works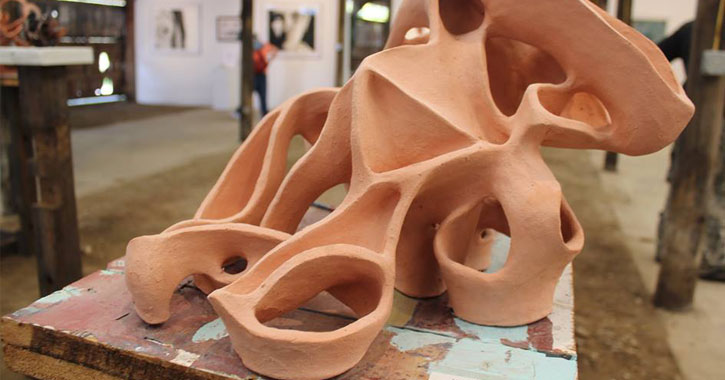 If you're into checking out local art this is a really unique place to do so! Salem Art Works is a nonprofit art center and sculpture park in Salem that is open to the public for free from May through October. In addition to checking out the fabulous art they have on display, Salem Art Works also offers seasonal workshops in glassblowing, blacksmithing, welding, dancing, painting, writing, and more - even children's classes.
Salem Art Works strives to support and encourage established and emerging artists of all ages and backgrounds, which they achieve through artist programs, youth programs, and artist residency programs.
Harbor Park
How does live music in a beautiful park setting sound? You can see great productions with the Whitehall Music in the Park Summer Concert Series at Harbor Park. The series kicks off on July 6, 2018 with the Steel Pier Jazz Band, which also coincides with Canal Festival. Bring a lawn chair and enjoy jazz music, rain or shine. Later in the summer you can look forward to the Moonlighters, Bluebillies, Enerjazz and more.
View concert series details and more Whitehall events »
Granville Veterans Memorial Park
Granville Veterans Memorial Park also offers a full lineup of live music productions, starting with the American Longboards on June 28th and ending with the TS Ensemble on August 23rd. The live music acts take place on Thursday evenings from 7pm to 9pm. You can also expect to see Grand Central Station, Whiskey River, and other popular local groups.
View the 2018 summer concert series »