Hattie Moseley Austin, Founder of Hattie's Chicken Shack
Hattie's fried chicken is a Saratoga Springs staple - partly because of the recipe, but mostly because of Hattie herself.
So who was Hattie Moseley Austin? Well, she was born Hattie Gray in Saint Francisville, Louisiana sometime around 1900 (even Hattie herself wasn't sure the exact year). Hattie then moved to New Orleans for school before going to visit her sister in Chicago. In Chicago, Hattie got a job as a cook for the A.E. Staley family. Known as "The Starch Kings" the Staleys had built their fortune on cornstarch, and Hattie traveled with them between homes in Chicago, Miami, and Saratoga Springs.
In 1938, Hattie decided she wanted to stay in Saratoga, and she opened Hattie's Chicken Shack on Federal Street. "I didn't have but $33. I bought a stove, an icebox, table, and chairs. It was very shoestring. It still is shoestring," said Hattie in a 1985 interview. What Hattie did have, however, was grit, determination, and the best fried chicken recipe this side of the Mason-Dixon (and, for that matter, quite possibly the best fried chicken recipe in the whole United States).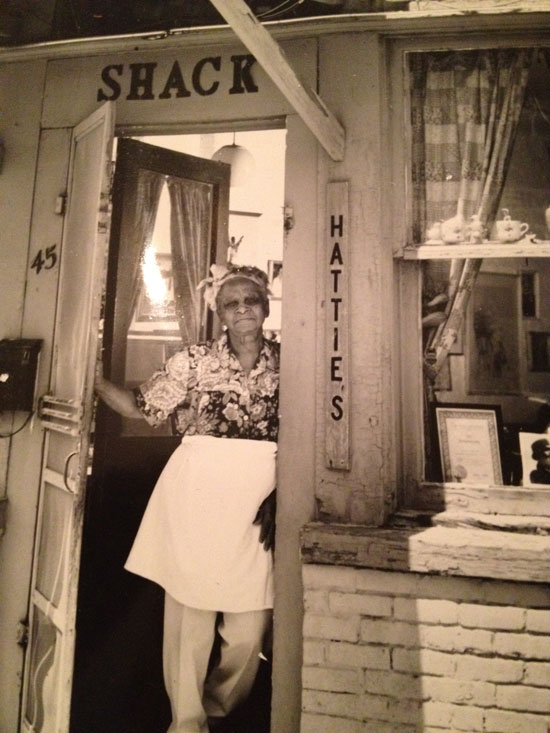 Photo provided by Hattie's Restaurant. Photo Credit: Michael Noonan
Hattie, the Entrepreneur
In the late 30s and 40s, Saratoga Springs was a town of gambling, speakeasies, and jazz clubs. When asked about that time, Hattie said, "Saratoga was fast man; it was real fast. It was up all night long." Just off Congress Street and all those smokey jazz clubs, Hattie's Federal Street location was open 24 hours and attracted just about everyone, from locals to famous musicians and socialites.
In one often-shared anecdote of the Federal Street years, Hattie recalls arriving at the restaurant to find an impromptu parade happening on South Federal Street. When a police officer asked Hattie what was going on, she said, "Honey, I don't know; all I know is I better go cook 'cause they're going to be awful hungry after this."
The West Side neighborhood was racially mixed and home to mostly African American, Irish, and Italian families. The diners at Hattie's were mixed as well, because at Hattie's everyone was welcome. Charles Wait, chairman and CEO of the Adirondack Trust Bank, remembered Hattie's importance in the community for the 2016 restaurant cookbook, "Hattie's always represented a place where everybody in the community felt comfortable and it didn't matter if you were the president of the bank or a groom at the track. You would go there cheek to jowl, sit down, and enjoy some good fried chicken and be treated the same, and everybody had a good time."
Hattie's moved from Federal Street to 45 Phila Street (where the restaurant is still serving its famous fried chicken) in 1968 when the Congress Street section of town underwent a period of urban renewal. Local lore has it that Hattie managed to move the restaurant by reminding the mayor that he owed her for the cookies she gave him as a boy.
Hattie, the Heart and Soul of Saratoga
After her death in 1998, stories started pouring in abot Hattie's generosity and commitment to the community. City official Tom McTygue recalled in her obituary, "Miss Hattie was the first person at the door after my father died." And Hattie didn't arrive empty-handed. She brought a ham. A long time employee, Ernie Waters, remembered getting caught in a rainstorm and showing up in the kitchens sopping wet. Hattie told him to take off his wet shirt and handed him one of hers. "Hattie treated me like a son," said Waters. And that refrain is one that the current owners of Hattie's have heard time and again. Over the years, Chef Jasper Alexander and his wife Beth have had countless men and women stop by with stories about how Hattie treated her guests like family.
Now, of course, Hattie's has changed hands (a couple times). But the spirit of humble generosity has not changed. Though Hattie's famous fried chicken has gotten a little more famous every year (it's been named to Food & Wine's Best Fried Chicken list and won handily in a fried chicken Throwdown with Bobby Flay) the restuarant is still very much a community business, engaged in community affairs and local philanthropic projects.
In the words of Hattie herself: "Famous! I hate that word... my goal isn't to be famous - or to make a profit - my goal is to help whoever I can."
Sources:
"The Hattie's Restaurant Cookbook: Classic Southern and Louisiana Recipes" by Chef Jasper Alexander
Hattie's Restaurant: "The Story of Hattie's"
Food & Wine: "Soul Survivor"