2023 Saratoga Chowderfest Participants
Every year, local Saratoga restaurants put forth their absolute best chowder for Chowderfest, and you can vote for your favorites! Chowderfest 2023 will feature (4 oz.) samples of chowder at a variety of participating restaurants, and you can learn more below.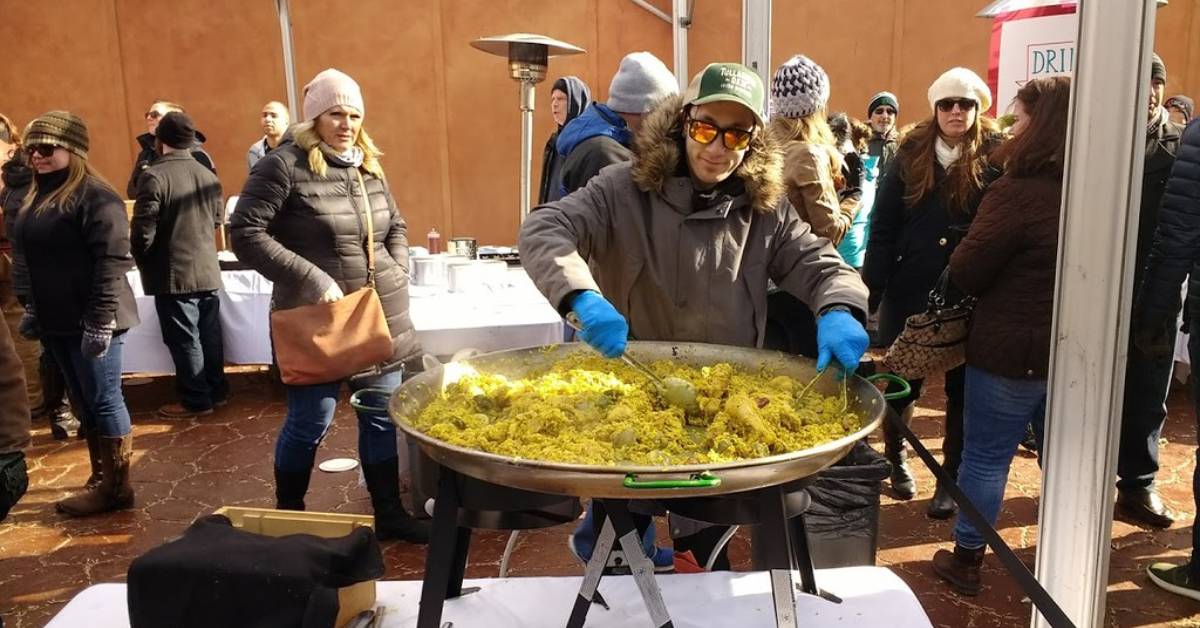 See the List of 2023 Chowderfest Participants and Their Chowders
Editor's Note (2/7/2023): The following list is updated as of 2/7/2023 based on information from Discover Saratoga. Visit the Chowderfest website for the latest updates and more details.
9 Miles East: Thai Coconut Chowder (vegan and gluten free)
30 Lake: 30 Lake Clam & Corn Chowder
534 Bistro: Reuben Chowder (gluten free)

Artisanal Brew Works: Roasted Chicken, Corn & Potato Chowder
Bailey's Saratoga: Cheeseburger Chowder

Bentley's Tavern: Bentley's Fiesta Chowder
Ben & Jerry's: Phish Food Ice Cream "Chowder"

Boca Bistro: Fuego Chicken Chowder
Bookmaker's Lounge: Sweet Chili Seafood Chowder

Brasserie Benelux: Saratoga Loaded Potato Leek Chowder (vegetarian option available)

Bread Basket Bakery (Spring Street): Chowder TBD

BurgerFi: Cheeseburger & Beer Chowdaaa
Cantina: Birria Chowder
Carson's Woodside Tavern: Mexican Street Corn Chowder

Chianti il Ristorante: Mayan Corn Ciao-der (gluten-free, vegetarian & vegan friendly)

Comfort Kitchen: Chipotle Chicken Corn Chowder

Dango's: Chicken Wing Chowder
Diamond Club Restaurant at Embassy Suites: Saranac Chipotle Chorizo Chowder or Irish Cream Seafood Chowder

Dizzy Chicken Wood Fired Rotisserie: Brazilian Smoked Seafood Chowder

Dock Brown's Lakeside Tavern: Cuban Chowder

Druthers: Chowder TBD
Dunning Street Station: Lobster & Shrimp Chowder
Eddie F's Eatery: Lobster Clam Chowder
Esperanto: Chicken & Cheese O'Boy Chowder

Forno Bistro: Smoked Gouda & Pancetta Seafood Chowder
Harvey's: Cajun Chicken Corn Chowder
Hattie's Restaurant: Cajun Shrimp & Corn Chowder
Henry Street Taproom: Chowder TBD
Jacob & Anthony's American Grille: Jacob's Chowder
Karavalli Regional Cuisine of India: Mulligatawny (vegan, vegetarian and gluten free)

The Local Pub and Teahouse: Mexican Street Corn Chowder topped with a jalapeno popper (available in gluten free)

Lucy's Bar (chowder by The Hideaway): Manhattan Seafood Chowder

Morrissey's Lounge & Bistro: Cheesy Chicken Cauliflower Chowder

Nashville of Saratoga: Nashville Hot Chicken Chowder
Neighborhood Kitchen (serving from Universal Preservation Hall): Smokey Bourbon Potato Chowder

Nostalgia Ale House & Wine Bar: Taco Chowder

Phila Fusion: Beef Stew Noodle Soup
Pint Sized (Chowder by Cock 'n Bull): Beef and Chicken Chowder (Gluten and Dairy Free)
PJ's Bar-B-QSA: Taste Tour of American BBQ

Prime at Saratoga National: Dublin Style Fish Chowder

Rhea: Seafood Ramen
Ribbon Cafe: Chowder TBD
Salt & Char: Country Ham Chowder
Saratoga City Tavern: Tavern Chicken Pesto

Saratoga Hospital (serving from the City Center): Jerk Chicken Chowder

Scallions Restaurant: Carnitas Corn Chowder (gluten free)
Seneca Restaurant: Wood-Fired Shrimp Creole

Simply Food by Maura serving at the Saratoga-Wilton Elks Lodge: Mac N Cheese Chowder

Spa Cafe on Broadway: Chipotle Chicken Corn Chowder (gluten free)

Spa City Tap & Barrel (chowder by The Hideaway): Philly Cheesesteak Chowder and Buffalo Chicken Chowder

Sperry's Restaurant: New England Lobster Boil Chowder
Spot Coffee: Chowder TBD
Stewart's Shops (serving from 521 Broadway): Stewart's Southwest Corn Chowder
Sushi Thai Garden: Chinese Hot and Sour Soup
Sweet Mimi's Cafe & Bakery: Nutella Mousse Crunch (Dessert)
Taquero: Street Corn Clam Chowder

The Barrelhouse: Narragansett Clam Chowder
The Brick at 2 West: Cajun Chicken Corn Chowder
The Brill Manor (serving at the City Center): Coconut Curry Chowder (vegan and gluten free)
The Broadway Grind: Roasted Poblano Corn Chowder (gluten free)
The District: Periochi Chowder
The Ice House: Southwest Pulled Chicken Chowder
The Galley Bar and Grill: Lobster, Crab and Scallop Chowder (gluten free)
The Inn at Saratoga: Roasted Corn & Andouille Sausage Chowder
The Mercantile Kitchen & Bar: Chowder TBD
The Mill on Round Lake: Balboa Chowder

The Misfit (Chowder by Iron's Edge): Pilgrim Chowder

The Night Owl: La Capital Tacos Chowder

The Parting Glass: Luck of the Irish Chowder
Thirsty Owl Bistro: Crab and Corn Chowder with Candied Bacon
Trattoria Fortunata: Ciao-dah

Walt and Whitman Brewing Company: Golden Newburgh Chowder
Wasabi Restaurant & Bar: Seafood Soup
West Side Sports Bar & Grill: Buffalo Chicken Chowder

Wheatfield's Saratoga: Chowder TBD
Whole Harvest Co.: Funky Vegan Chowder

« Back to the Chowderfest Guide