2022 Saratoga Chowderfest Participants
Every year, local Saratoga restaurants put forth their absolute best chowder for Chowderfest, and you can vote for your favorites! Chowderfest 2022 will feature $2 (4 oz.) samples of chowder at a variety of participating restaurants, and you can learn more below.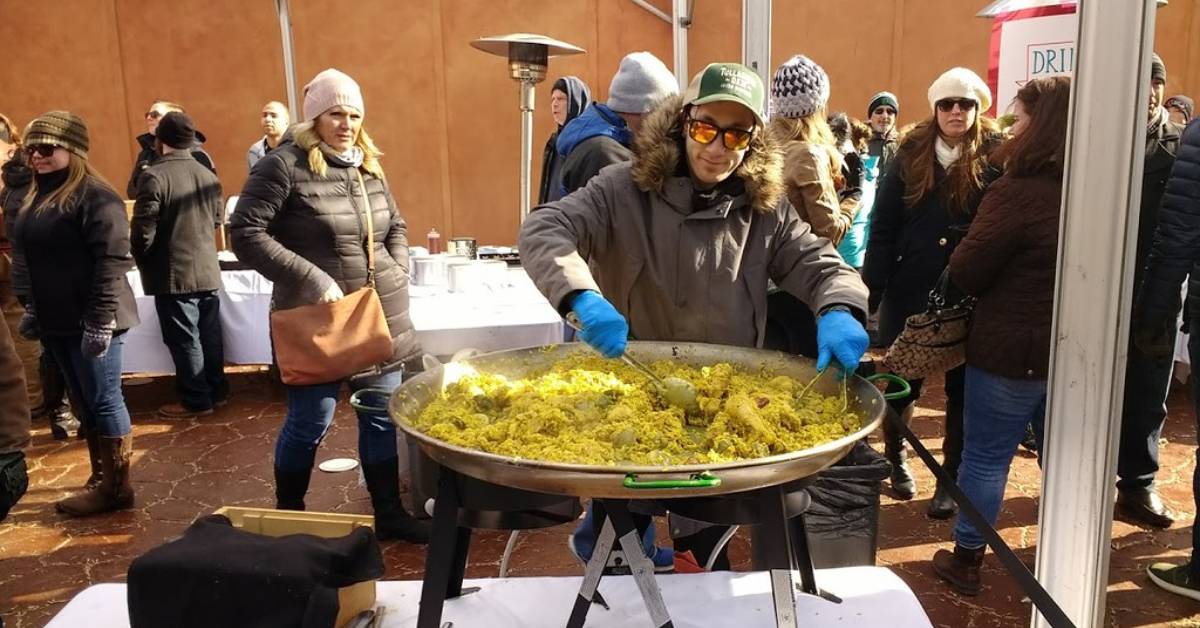 See the List of Chowderfest Participants and Their Chowders
Note: The list of Chowderfest participants is updated as of 03/25/2022 based on info from the event organizer, the Saratoga Convention & Tourism Bureau. Visit their website for the latest updates and more specials. You can also check out their website for details on the Chowder Tour participants, taking place from March 19 - 26.
2022 Chowderfest Participants:
9 Miles East: Thai Coconut Chowder (vegan)
30 Lake: 30 Lake Chowder
Bailey's Cafe: French Onion Chowder
Ben & Jerry's: Phish Food Dessert Chowder
Bentley's Tavern: Farmhouse Chowder
Boca Bistro: Roasted Corn & Poblano Pepper Chowder (Vegetarian), 50% of proceeds benefit Franklin Community Center
Bookmaker's Lounge: Barbecue Pulled Pork Chowder
Brasserie Benelux: Saratoga Loaded Potato Leek Chowder
Bread Basket Bakery (Hampstead Location): Wholesome Veggie Chowder

Bread Basket Bakery (Spring Street Location): Wholesome Veggie Chowder

Cantina: Creamy Chicken Jalapeño Chowder

Carson's Woodside Tavern: Shrimp & Andouille Sausage Corn Chowder garnished with a cube of corn bread
Chez Pierre: Seafood Chowder
Chianti Ristorante: Spiced Lentil "Ciao-Der" (Vegetarian, Gluten Free), 50% of proceeds benefit Franklin Community Center

Comfort Kitchen: Clams Casino Chowder
Dango's Sports Bar: Pizza Chowder
Diamond Club Restaurant: Philly Cheesesteak Chowder and Thai Coconut Curry Chowder
Dizzy Chicken: Brazilian Smoked Seafood Chowder
Druthers: Smoked Chicken, Black Bean & Broccoli Chowder
Dunning Street Station: Shrimp and Bacon With Roasted Corn Topped With a Fried Scallop
Eddie F's Eatery: Lobster Clam Chowder
Esperanto: Oboy Chowder (A Liquid That Tastes Remarkably Like the Famous Oboys!)

Fitzgerald's Irish Sports Bar: Chowder TBD

Forno Bistro: Maryland Style Clam Chowder, 50% of proceeds benefit Franklin Community Center
Gaffney's: Smoked Chicken-Sweet Corn Chowder
Harvey's Restaurant: Cajun Chicken Corn Chowder
Hattie's Restaurant: Andouille & Corn Chowder
Henry Street Taproom: Bacon & Pickle Buffalo Chicken Chowder
Ice House: Reuben Chowder
Jacob & Anthony's American Grille: Jacob's Chowder
KaffeeHouse: Corn Chowder (Vegan)
Karavalli: Mulugatawny (vegan, gluten free, vegetarian, coco-milk)
Morrissey's Lounge: Lobster Chowder
Nashville of Saratoga: Nashville Hot Chicken Chowder
Nostalgia Ale House & Wine Bar: Chicken Wing Chowder
Parting Glass: Luck of the Irish Chowder
Phila Fusion: Beef Stew Noodle Soup/Chinese Hot & Sour Soup
PJ's BAR-B-QSA: Vegetarian Corn Chowder with Smoked Veggies (BBQ Meats May Be Added)
Prime at Saratoga National: Clam and Smoked Bacon Chowder
Putnam Place: Rock & Roll Chicken Chowder with Jimi Hendrix Fire Oil
Ribbon Cafe: Southwest Shrimp Corn Chowder Topped Tequila Lime Bacon and a Wonton Popper; Lox Chowder also available
Rising Sun Lodge #103 - Free & Accepted Masons (serving from City Center Parking Garage ground floor): New England Clam Chowder with Bacon
Salt & Char: Shrimp & Clam Sunchoke Chowder
Saratoga Winery (serving from City Center Parking Garage ground floor): Torched Cherry Cheesesteak Chowder
Screaming Eagle Concessions (serving from City Center Parking Garage ground floor): Screaming Eagle Ultimate Land & Sea Chowder Served in a Cheese Tortilla Bowl
Seneca Restaurant: Wood-Fired Corned Beef Chowder
Simply Food by Maura: Daily Double Smoked Sausage Chowder (serving from Artisanal Brew Works)
Spa City Tap & Barrel (Chowder provided by The Hideaway): Buffalo Chicken Chowder and Philly Cheesesteak Chowder

Sperry's Restaurant: New England Clam Chowder
Sushi Thai Garden: Tom Yam Soup/Chicken Coconut Soup
Taquero Tacos and Donuts: Clam & Chorizo Chowder
Taverna Novo: The Happy Bastard's Chowder
The Barrelhouse: Classic Clam Chowder
The Bourbon Room: Smoked Corn & Chicken Chowder
The Brick at 2 West: Chicken & Corn Chowder
The Brook Tavern: Southwest Chicken Chowder
The Cellar: New England Clam Chowder
The Local Pub & Teahouse: Irish Chowder (gluten free)
The Merc: Smoked Clam Chowder
The Mill on Round Lake: Bubba Gump Chowder
The Inn at Saratoga: Roasted Corn and Andouille Sausage
The Night Owl: Mexico City Chowder
The Sound Bar: Smoked Corn & Chicken Chowder
The Wine Bar: Clam & Scallop Chowder
Thirsty Owl Bistro: Seafood Chowder
Wasabi: Seafood Soup
West Ave Chicken: Colonel Chowder
West Ave Pizza: Ravioli Soup
West Side Sports Bar & Grill: Cajun Chicken Corn Chowder
Wheatfields Restaurant & Bar: Crawfish Cajun Corn Chowder
Wishing Well Restaurant (serving from The Brook Tavern): Manhattan Clam Chowder

« Back to the Chowderfest Guide