Madame Eliza Jumel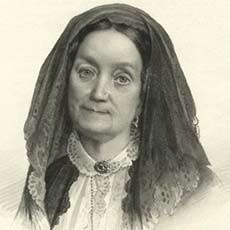 Madame Eliza Jumel was one of the more colorful characters in Saratoga's vibrant history.
Born at the dawn of the Revolution in 1775, Eliza Jumel (formerly Betsy Bowen) spent much of her youth as an indentured servant in Providence, Rhode Island.
She lived in a brothel with her mother until the age of seven, was sent to live in a workhouse twice, and by the time she was twenty-three, Eliza had lost both of her parents and older brother. With nowhere left to turn, the young woman chose to reinvent herself completely. She moved to the growing port city of New York, changed her name to Eliza Brown, and became a theater extra.
Eliza the Socialite
Eliza Brown married the successful French wine merchant Stephen Jumel in 1804. Like Eliza, Stephen had left his past behind him to forge a new life in New York. However, Eliza's humble beginnings would follow the couple throughout their marriage, leading to fierce accusations and rumors.
In 1815, she and Stephen moved to Paris. While there, Eliza would amass an incredible art collection and find acceptance from French aristocrats. Their alignment would mark the Jumels as Bonapartist sympathizers, and the accusations flew. After Napoleon's defeat in Waterloo, surviving legends suggested that Eliza had offered him safe passage to the United States. When she returned to New York on her own in 1817 – probably due to homesickness – many even rumored that she had been personally asked to leave France.
Whatever her reasoning, however, the departure seemed to have been a sudden one, leaving Stephen Jumel scratching his head. "The ladies never dreamt that you would return to New York, and no more did I" (qtd. in Oppenheimer, 83).
Mrs. Burr
A clever investor and businesswoman, Eliza had become one of the wealthiest women in New York City by 1830. When Stephen passed away unexpectedly in 1832, leaving her alone once again, the ambitious Eliza wasn't ready to live a quiet life as a widow.
About fourteen months after Stephen's death, she married former Vice President Aaron Burr, who had already made his mark in history as the man who shot and killed Alexander Hamilton. Their union was a practical one: she wanted to increase her social standing, and Burr wanted her wealth.
The marriage failed only four months later when she found Burr had been mismanaging the Jumel fortune. Choosing Alexander Hamilton Jr. as her attorney, her divorce from Burr finalized on the day he died. Eliza walked away with her entire fortune, including her beloved mansion in Manhattan.
This home would become the temporary residence of Anne Northup, the wife of the kidnapped farmer and musician Solomon Northup. For one year, as Solomon was held as a slave in Louisiana, Anne and her three children stayed and worked in the Manhattan mansion.
Life in Saratoga
Legend has it that when Madame Jumel came to Saratoga Springs in 1832, it was love at first sight; she acquired many parcels of land in the Saratoga area, including a grand home on Circular Street. As reported in the Saratoga Sentinel in 1859:
"She comes here ostensibly to look after an estate which she owns, located near our village, but, like all other ladies, she mingles with, and seems to enjoy, the festivities of this gay watering place with as much delight as if she was the reigning belle of the season." (qtd. in Oppenheimer, 214)
Eliza passed away at the age of 90 in 1865, the final year of the American Civil War. Today, Madame Jumel is fondly remembered by Saratoga as the city's first socialite. Her gorgeous home, "Les Tuileries" (named for the French palace) still stands as a private home.
Sources:
https://www.amny.com/secrets-of-new-york/morris-jumel-mansion-secrets-of-manhattan-s-oldest-home-in-washington-heights-1.11340525
https://www.nps.gov/nr/travel/pwwmh/ny23.htm
Alexander Hamilton, by Ron Chernow (Head of Zeus, August 1, 2016)
The Remarkable Rise of Eliza Jumel: A Story of Marriage and Money in the Early Republic, by Margaret A. Oppenheimer (Chicago Review Press, November 1, 2015)