Experience IHG Clean in the Perfect Location at Holiday Inn Express & Suites Clifton Park
Content sponsored by Holiday Inn Express & Suites Clifton Park
Stay close to Saratoga in an ultra-comfortable, super clean, COVID-safe hotel at the Holiday Inn Express & Suites Clifton Park. Read on to find out what to expect from their high cleanliness standards, how you'll be put at ease from the moment you walk into the lobby, and why their location is particularly ideal.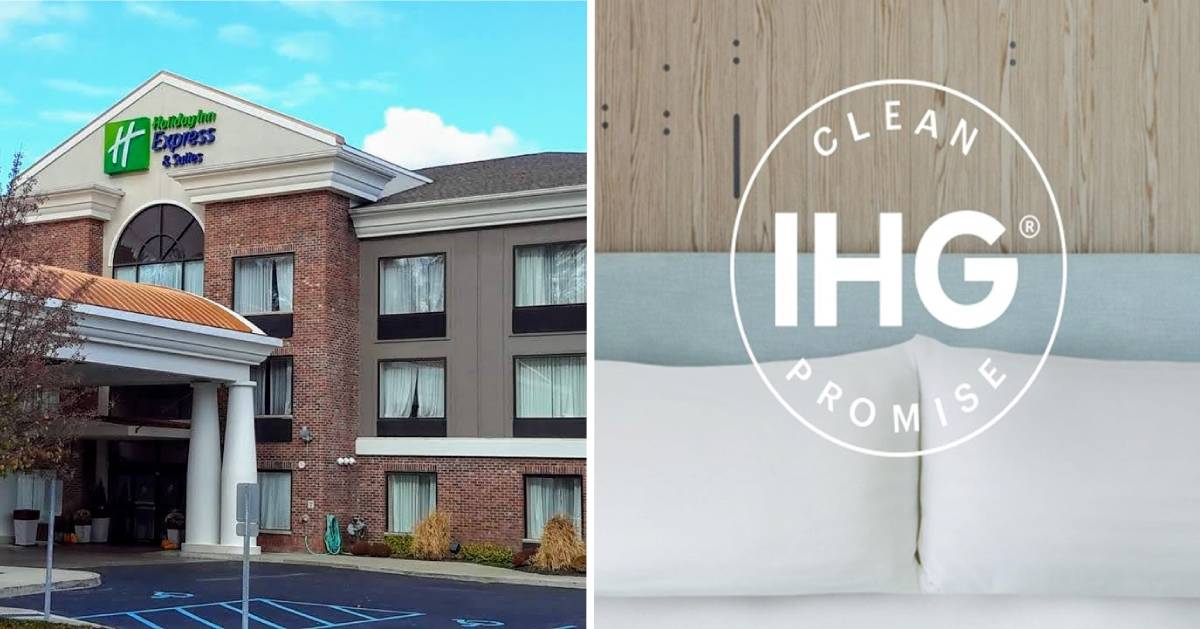 What It Means to Be IHG Clean
One of the advantages of staying with a reputable chain hotel like the Holiday Inn Express & Suites is the predictability in terms of sanitation standards that need to be met. And the Holiday Inn Express & Suites in Clifton Park was earning rave reviews for their cleanliness even before COVID.
When we asked Director of Sales and Marketing Andrea Hotaling-Lizzi how the hotel ramped up what was undoubtedly an already robust cleaning/sanitation system, she said, "We've upgraded the chemicals used in the rooms to market-leading products. We now let the rooms set for two to four hours after they've been cleaned. . .the IHG Clean standards are very high." There are also personal hygiene kits available for guests.
Holiday Inn Express & Suites falls under the IHG brand, which not only ensures a clean hotel from the rooms to the common areas, but it also opens the door to reward points, perks, and more for IHG Rewards members.
Transparency With Sanitation Steps & More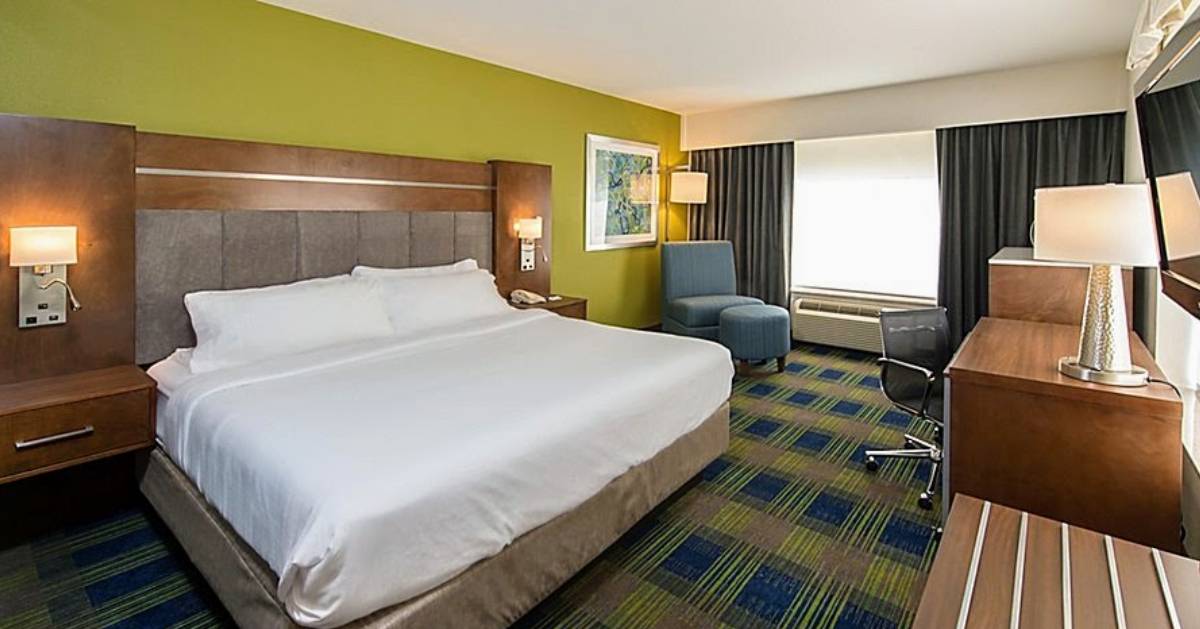 Guests experience a reduced contact, plexiglass separated check-in (with a wonderful person behind the front desk - more on the staff soon!). A staff member provides them with a Welcome letter that explains all the cleanliness steps that have been taken, including a deep cleaning of high-touch surfaces, sanitized key cards, and more. In fact, they also offer a new IHG digital check-in option as well, should that be more convenient.
Then, guests can get ready to rest and relax in their room with an extra boost of confidence with regard to the cleanliness: a card signed by the housekeeper who prepared the room will specify everything that has been sanitized, from the glassware to the remote control.
Yes, the Pool Is Open! Here's What to Expect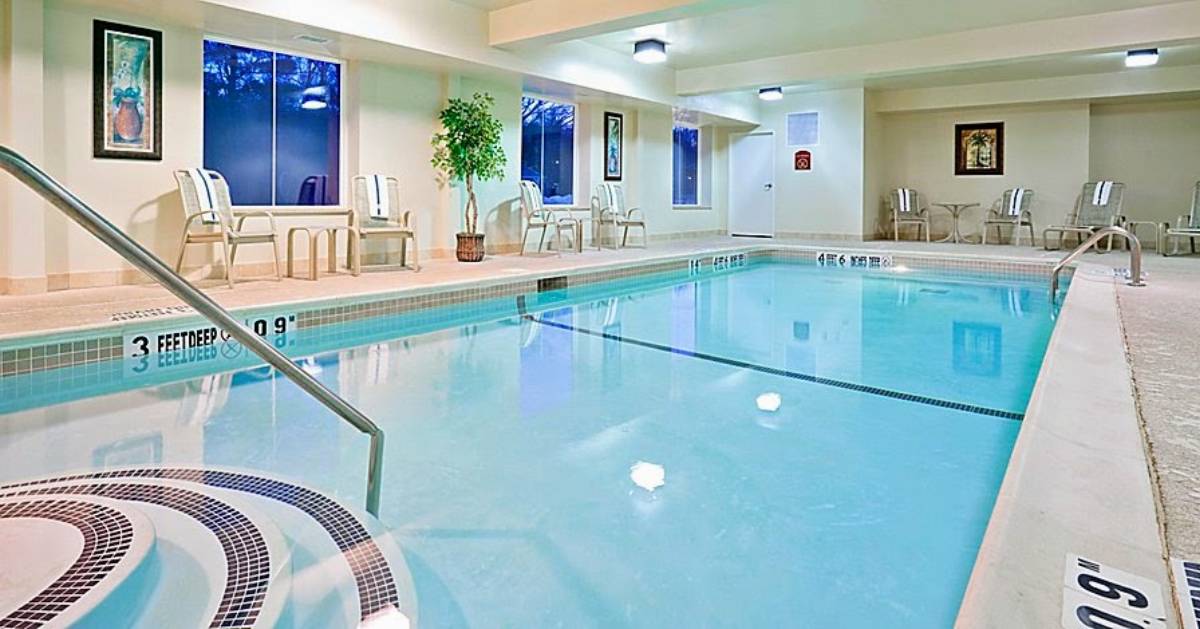 Another perk to staying at the Holiday Inn Express & Suites Clifton Park: A pool! Their indoor pool underwent a repainting and additional touchups in 2020. As with the rest of the hotel, upgraded cleaning protocols and COVID-related procedures have been put in place, including a limit of three groups in the pool area at one time.
Typically there is a fitness center at this hotel open to guests; it is closed at the moment, but they are working closely with the Saratoga Department of Health to reopen it, hopefully for summer 2021.
A Nature Preserve Close By & A Restaurant Just Steps Away
Situated roughly halfway between Saratoga Springs and Albany, Clifton Park in general is a prime place for lodging in the Capital Region. But, the Holiday Inn Express & Suites specifically is in a sweet spot - right next to Peddlers Bar and Bistro. "It's really nice to not have to worry about driving," Hotaling-Lizzi said about the restaurant being within walking distance. "And they redid their patio last year during COVID - it's really nice."
Also, the hotel is close to Wit's End (a massive gift store with a near-cult following), Clifton Park Center Mall, grocery stores, other great restaurants like Wheatfields, and Hotaling-Lizzi likes to recommend the Vischer Ferry Nature Preserve to guests. This preserve, along with Peebles Island, is about 10 minutes from the Holiday Inn Express & Suites.
You'll Love Donna - And the Rest of the Staff!
With the Holiday Inn Express & Suites in Clifton Park you get the IHG standard of clean, transparency with all COVID-related steps taken, and you're in a great location in the region. But, none of that would mean anything if you had a bad customer experience.
In addition to the high level of cleanliness at the hotel, if you browse reviews, the other aspect of the Holiday Inn Express & Suites Clifton Park you'll see come up again and again is Donna at the front desk. The guests love her, and the rest of the staff. "We're always happy and pleased when we receive the feedback we do, and having our returning guests in our lobby," Hotaling-Lizzi said.
"One of my favorite quotes is 'When we think about great service, it's about how you take every interaction you have with the customer or client and use that as a way to improve their perception of our great organization.' Being professional, welcoming, having that personality and smile on your face when a guest comes through our doors means the world to them, as I've been told, and having a great team and working together to make sure all of our guests have the utmost satisfying stay with us makes all the difference."
The Holiday Inn Express & Suites is the only IHG property in Clifton Park. When you're next visiting the Saratoga region, you know where to stay for cleanliness, comfort, and hospitality!