Experience Luxury at The Adelphi Hotel: Saratoga Springs' Premier Boutique Lodging Property
The historic and stately Adelphi Hotel sits proudly in a central location right on Broadway in Saratoga Springs. While its beautiful exterior and great location are especially well-regarded during the summer months, this luxury boutique hotel offers an experience that is ideal during every season. On site, you can enjoy fine dining and amazing drinks at Morrissey's Lounge & Bistro, as well as upscale, modern amenities with a historic twist. The hotel is also just an easy ride away from multiple Saratoga hotspots.
We sat down with General Manager Helen Watson to dive deeper into all the Adelphi offers. Find out why guests seeking a lavish experience with sumptuous accommodations consistently choose to stay at this boutique hotel.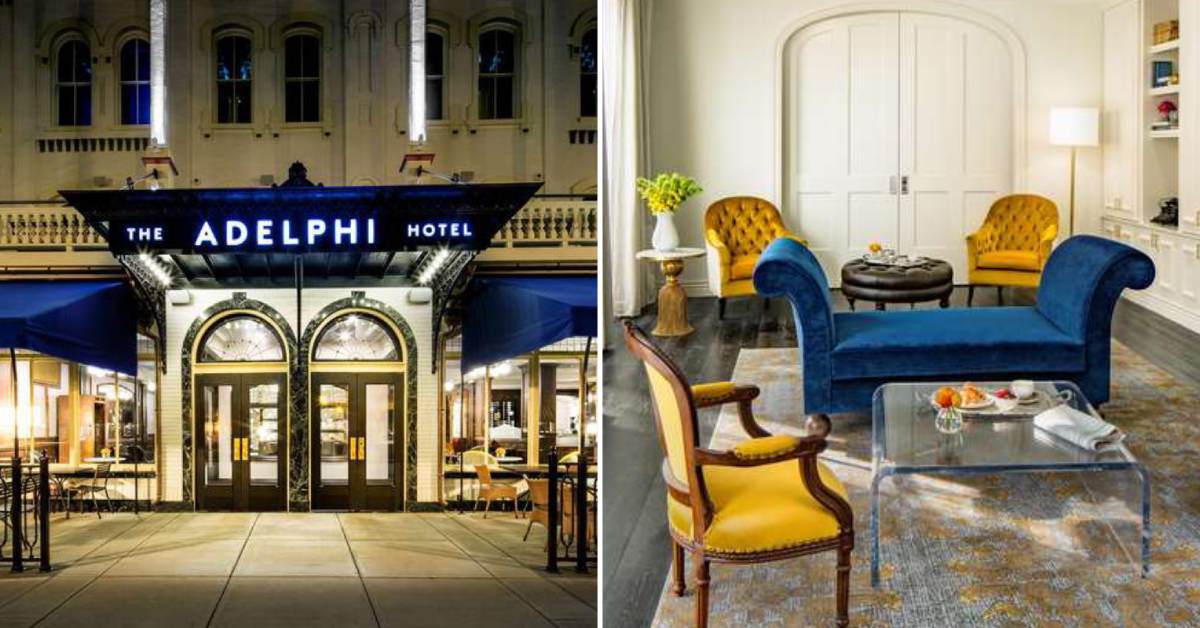 If you could only tell people one thing about the hotel, what would it be?
The history. The Adelphi Hotel was built in 1877 and is the only remaining Victorian era hotel left in the region.
Can you talk about the impressive amenities the Adelphi offers? Which amenity do you find guests most love, or which one are you most proud of?
We exclusively use Mascioni bedding and towels from Italy. In their rooms, guests will find Red Flower bath products, a cashmere blanket, a homemade mini bar, and turndown snacks. Our bathrooms also have heated floors, heated mirrors, heated towel racks, and heated toilet seats.
Outside of their room, guests can use our beautiful gold Adelphi bicycles to travel around downtown, should they prefer.
The most talked about out of all of these amenities are the heated toilet seats. They are a big hit, even in the summer.
Racing season likely brings in lots of guests, but what other reasons or occasions draw people to your hotel?
We have guests staying at the hotel for a multitude of reasons. Some are visiting friends and/or family, and some are here for business. We also have a lot of locals who like to do staycations. We have wedding parties, birthday parties, anniversary celebrations... the list goes on. Any reason is a good reason for a pampered, self-care getaway!
Who stays here more: guests from out of town, or locals who want to enjoy a special experience and get away from it all without traveling far?
We offer a Locals Rate to make a stay at The Adelphi more accessible to guests who live within a 50-mile radius. However, I'd have to say we probably get an even mixture of both locals and out-of-town guests.
What are the advantages to staying at the Adelphi in the winter?
On-site dining is definitely a plus! Staying at a full-service hotel means you don't have to leave if you don't want to. We are located in the heart of Saratoga, which makes the downtown area very accessible. There are many shops and restaurants that are within walking distance, and local attractions that are a five-minute drive. If guests enjoy winter sports, they can visit the Spa State Park for snowshoeing and cross-country skiing, which is just 1 mile away.
How would you describe Morrissey's Lounge & Bistro to someone interested in visiting?
Morrissey's Lounge & Bistro was recently renovated and boasts an inviting, masculine feel, with dark wood furniture and brass accents. The restaurant includes seating in what used to be the Blue Hen dining room and the hotel's ballroom, which was used for weddings and special events.
Post renovation, Morrissey's now serves an expanded, all-day menu featuring breakfast, brunch, lunch, and dinner, along with a separate sushi menu and amazing cocktails. The delectable dessert menu is a favorite of our guests, especially the shareable seasonal fruit crisps and table-side chocolate fondue.
Experience All the Adelphi Offers for Yourself
Whether you're visiting Saratoga from far away or want to book a luxe staycation, the Adelphi is always an en vogue option. Step outside and experience all Saratoga has to offer, or simply relax inside this boutique hotel, taking advantage of their on-site amenities and fine dining. Regardless of the occasion or the time of year, you're guaranteed to have your expectations exceeded by the Adelphi.