Breakfast on The Porch of the Clubhouse at Saratoga Race Course
About the 2022 Clubhouse Breakfast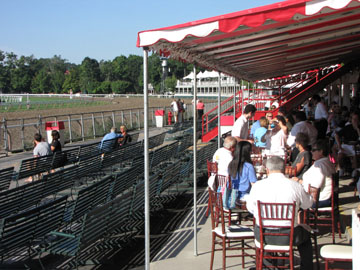 Each racing day of the summer meet (except Travers Day and Labor Day), you can enjoy the popular breakfast on The Porch of the Clubhouse at Saratoga Race Course from 7:00 am to 9:30 am. This gives you the unique opportunity to dine trackside while you watch the horses work out!
Breakfast is served on The Porch of the Clubhouse, and seating is first-come, first-served.
In addition, NYRA has announced that mornings at Saratoga Race Course will feature free, guided backstretch tram tours, courtesy of the Capital District Transportation Authority (CDTA). Tram tours will be available on a first-come, first-served basis, and they are 45 minutes in length. The tours will depart from the Clubhouse entrance approximately every 15 minutes from 7:30am - 9:00am. Note: They will not be available on Travers Day or Labor Day.
More Information
For more information please contact NYRA Dining at 888-516-NYRA (6972), or by emailing dining@nyrainc.com.