Adirondack Winery's Restaurant & Tasting Room in Queensbury: Brunch Boards, Wine-Infused Ice Cream & Happening Events
Saratoga and Lake George locals and visitors alike love Adirondack Winery for their award-winning, fruit-infused wines, as well as their quaint tasting room in Lake George Village, fun events like Uncork & Craft, and the many ways they support the local community, including but not limited to the Drink Pink Campaign that launches each October.
Now, you can enjoy the wine, the tastings, the events, and even more at their new location at 395 Big Bay Road in Queensbury. Keep reading to find out about their tasty offerings, spacious patio with lawn games, meeting space, and future events in the works.
Impressive Charcuterie Boards, Dessert Boards & More Tasty Treats
"We're able to offer a wide array of food options at our new Queensbury Tasting Room that we've never been able to offer in Lake George," Mackenzie LeVan, Adirondack Winery Marketing Specialist, told us.
The star of their food offerings is the Adirondack Charcuterie Board, made with local and wine-infused cheese, meat, bread, crackers, olives, fruit, chocolate, marshmallows, jam, jelly, and truffles. "This delicious board can easily be a meal in itself!" LeVan boasted, and after seeing photos we don't doubt it!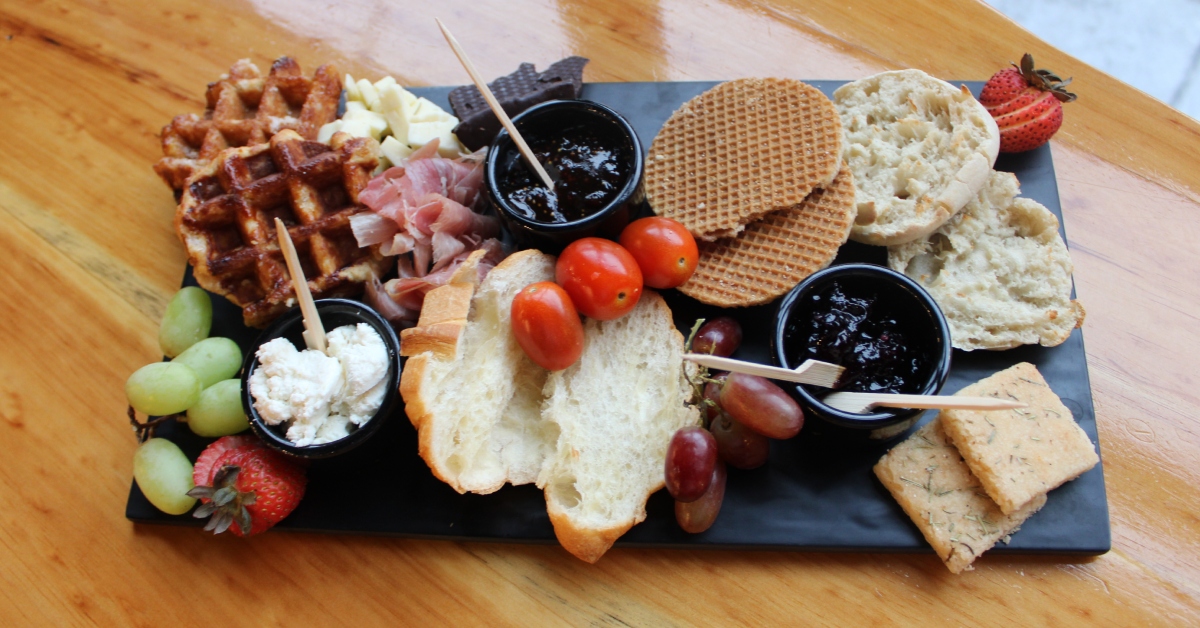 Other offerings include the Winery Brunch Board, conveniently offered all day every day, with prosciutto, cheese, English muffins, croissant, jam and jelly, Brooklyn Brittle Cookies, waffles, tomatoes, grapes, chocolate covered orange slices, and strawberries. Brunch options also include Bloody Marys made with red wine, Bloody Mary mix, olives, tomatoes, cheese, and prosciutto, as well as three different mimosa flavors created with their sparkling wine.
You will not want to skip dessert at Adirondack Winery either! The My Favorite Things Dessert Board is made with wine-infused chocolate truffles, gourmet marshmallows, cookies, wine-infused cupcakes, strawberries, and Ghirardelli chocolate. They also have wine-infused ice cream, wine ice cream floats, and a Sinful Sundae to satisfy your cravings.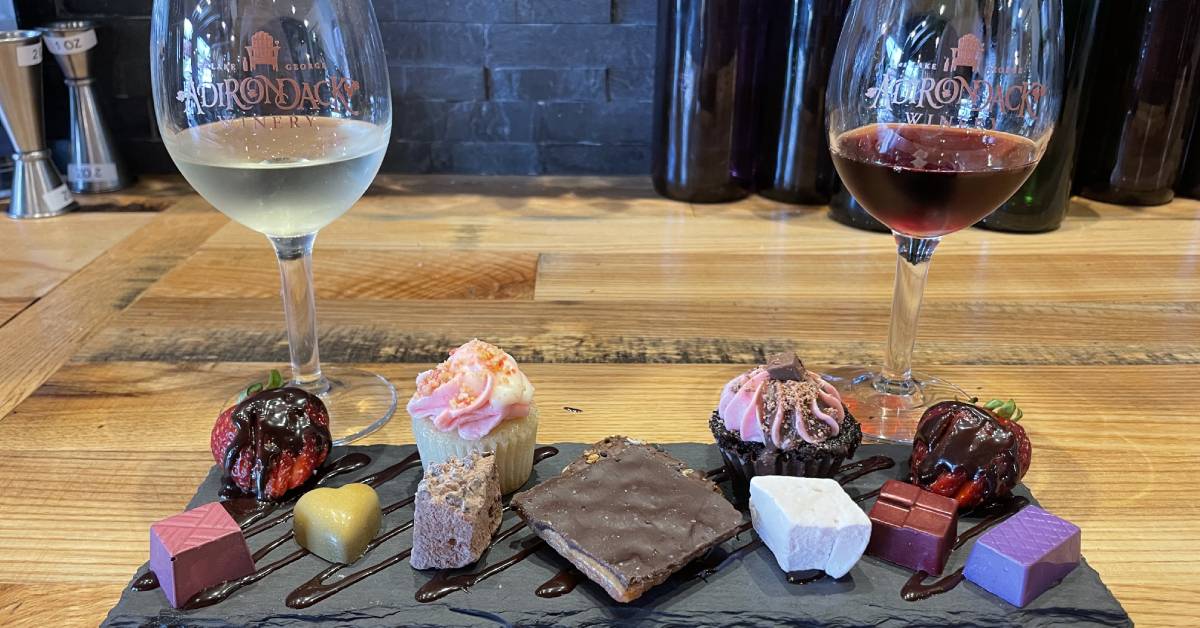 All of the boards can be made gluten free for a small upcharge. The ADK Happy Snacker and Dessert Board are both vegetarian.
A Winery, Restaurant, Tasting Room & Meeting Event Space in One
The entire Queensbury building is 14,100 square feet, with the tasting room taking up 2,600 of that. The private event space upstairs, which looks into the Winemaking Facility, is about 8,500 square feet.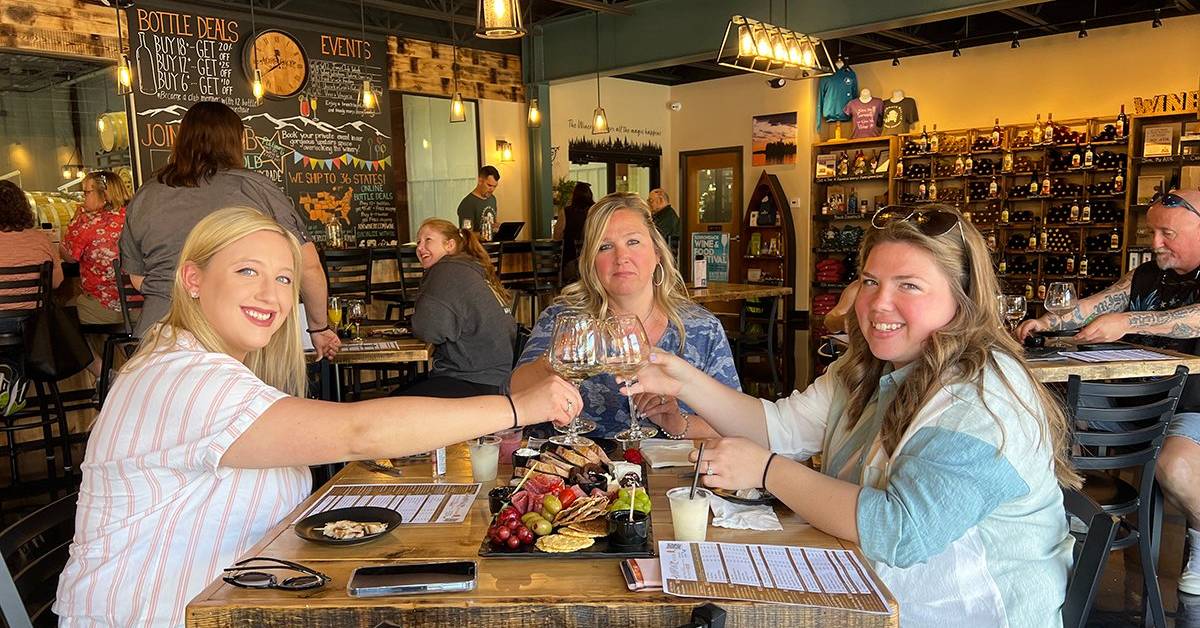 While charcuterie boards are the primary offerings at the Restaurant and Tasting Room (many are included with a Wine Tasting Experience), customers are also welcome to hang out at the bar or on the patio, and enjoy any food or beverages they'd like; the winery has plenty of nonalcoholic options too, from coffee to lemonade to root beer and fruit juices, as well as Saratoga sparkling water and still water.
"Within the Winemaking Facility we also have an area surrounded by wine barrels for semi-private parties like bachelorette and birthday parties," LeVan added.
Why a Restaurant Now? And Why Queensbury?
Adirondack Winery broke ground on the new Queensbury Winemaking Facility back in late October, 2021, because they'd literally outgrown their Lake George location; the new space has allowed them to triple their wine production.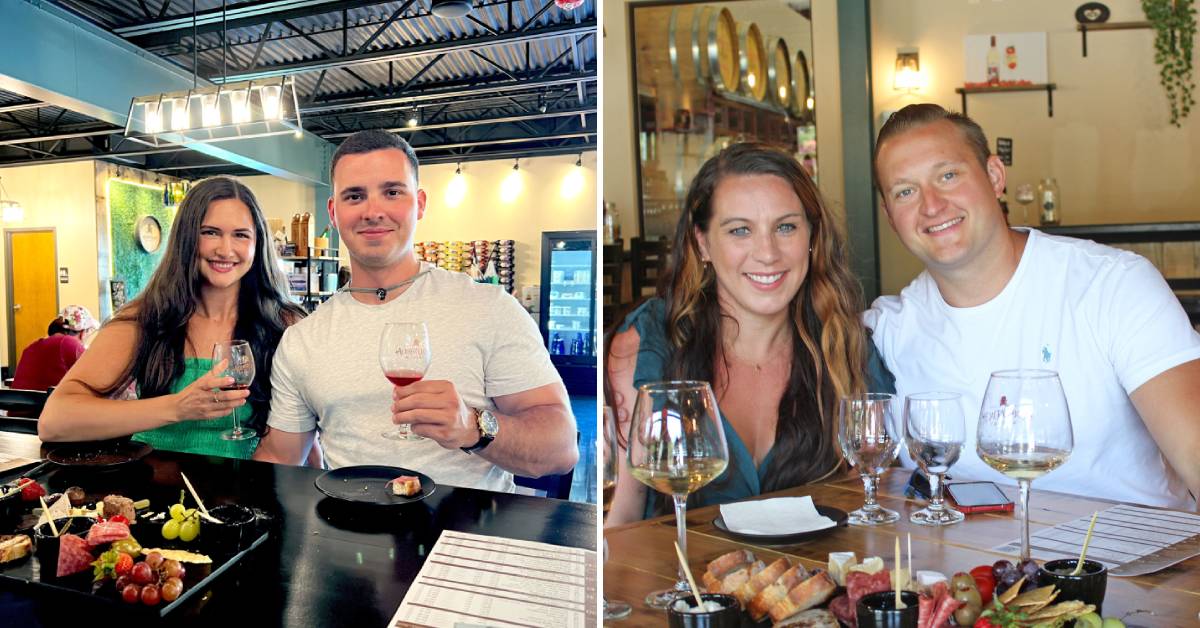 When asked why they wanted to take on a restaurant business on top of everything the winery already does, LeVan said, "We have wanted to expand our food offerings for a long time, but the setup we have at our Lake George Tasting Room doesn't allow for it. We have always wanted to offer bigger, picture-perfect charcuterie boards, so we made sure that we had more kitchen space when building our Queensbury Tasting Room."
The winery wants people to not only return again and again to this unique space, but to be able to try new things as well. For this reason, they plan to continuously grow their menu and offer even more options in the future.
"We're learning what our customers love and have been making changes to the menu nearly every week," LeVan said.
Fire Pits, Lawn Games & Fun Events
The spacious, pet-friendly patio at the restaurant includes tables and Adirondack chairs surrounding fire pits, and you can even reserve a fire pit for the entire night with a Fireside Experience. Lawn games are offered on their yard like cornhole, bocce ball, and giant Jenga, or guests can enjoy their Picnic Experience.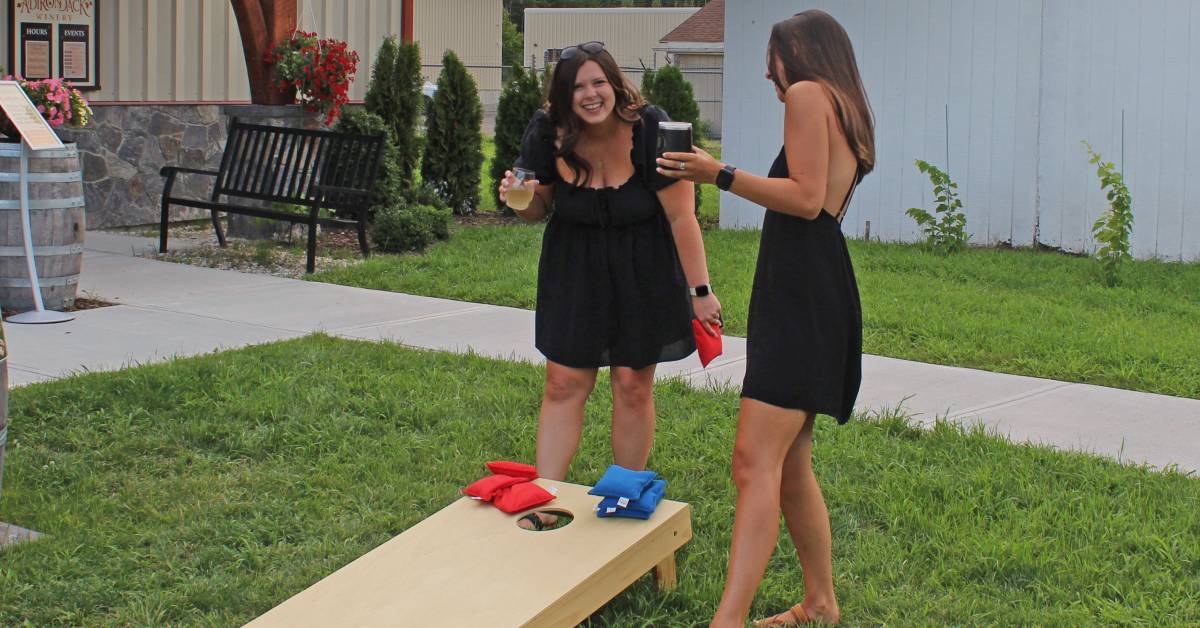 As at their Lake George location, guests can expect a variety of fun events like Vino & Vinyasa (wine with yoga) followed by brunch on select Sundays at 10am in the event meeting space, and Uncork & Craft, Trivia Nights, and live music.
Test your knowledge during their fun themed Trivia Nights for a chance to win some awesome prizes! Possible trivia prizes include one bottle of wine per person, per group, up to six people, and there will be additional prizes, including for losing teams. Trivia is easy to play through an app on your phone, and typically takes 1 hour and 45 minutes to 2 hours.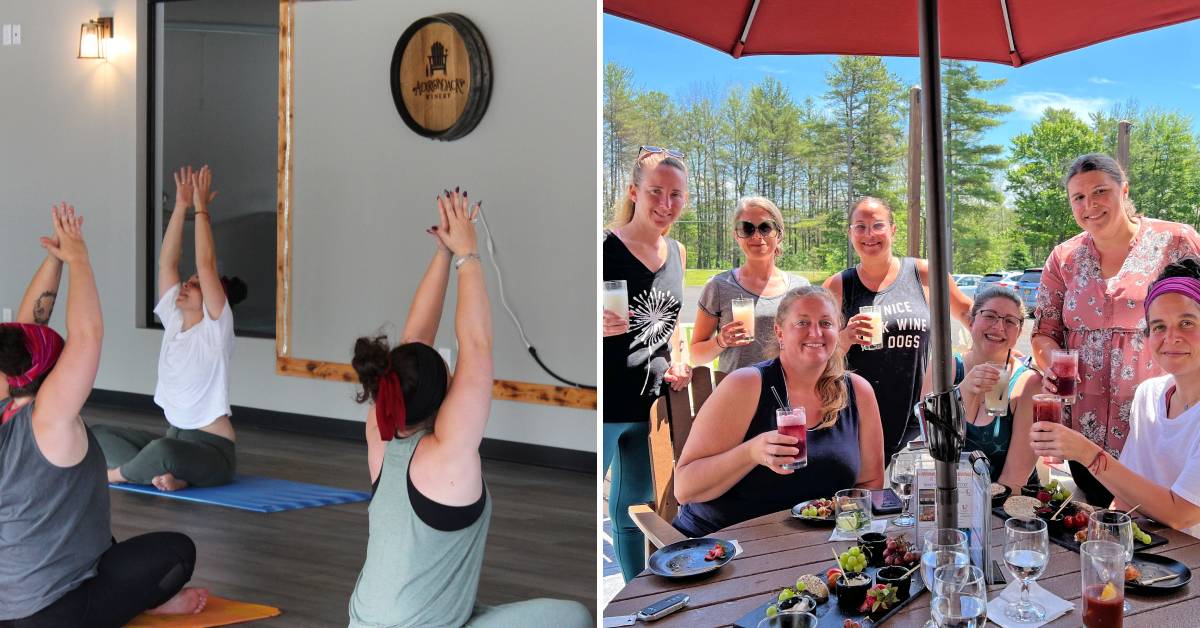 Or, get crafty with Uncork & Craft, where you can make candles, paint, or even create a terrarium. Kick off the weekend on a good note and enjoy live music from local musicians Friday and Saturday nights (times vary).
Learn About the Event Space for Meetings & Special Occasions
That upstairs meeting space we mentioned is ideal for birthdays, bachelor/bachelorette parties, bridal/baby showers, and any memorable occasion. The room can accommodate up to 85 people.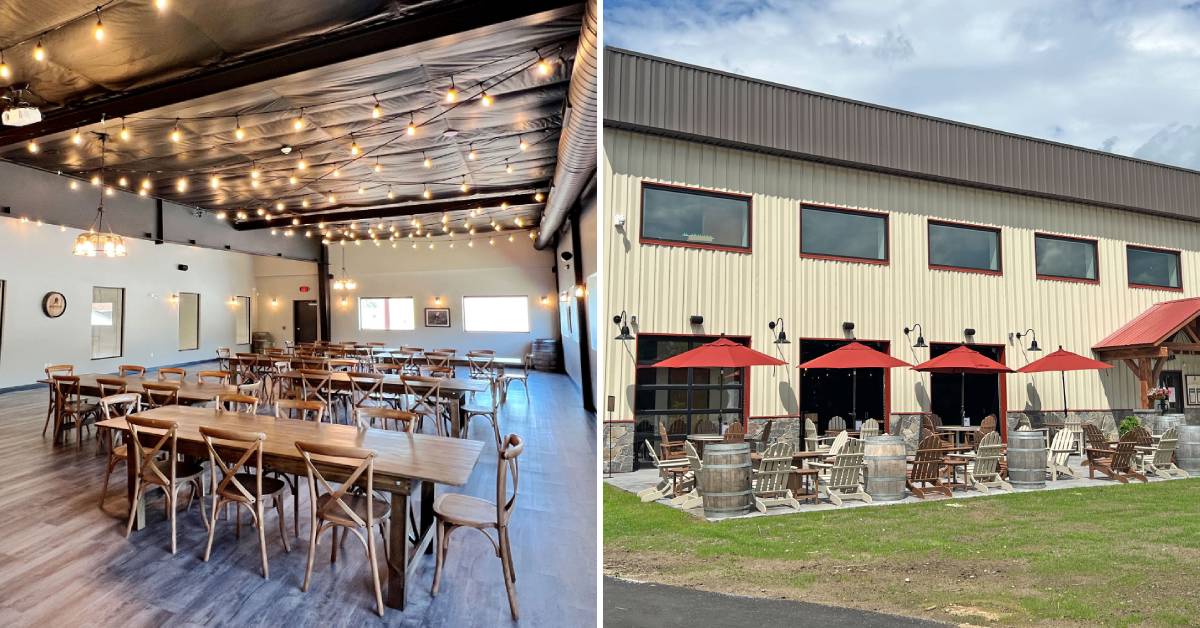 It's also ideal for corporate meetings or events, particularly with the restaurant downstairs and on-site activities that could be conducive to a retreat or team-building events: tour the Winemaking Facility, organize games on the lawn, or simply rent out a fire pit area or two to carry the event into the evening in a classy and cozy way.
The Location Is Ideal in More Than One Way
Adirondack Winery's awesome new location not only has the lawn space for fire pits and games, and plenty of room for parking, but there are additional perks you should know about as well.
The Big Bay Road facility and restaurant is only 3 minutes off Exit 18 from the I-87 Northway, and is 20 minutes from Saratoga Springs and 15 minutes from Lake George. If you're planning a vacation, celebration, or business event in Saratoga or Lake George, this is a must-add place to your itinerary.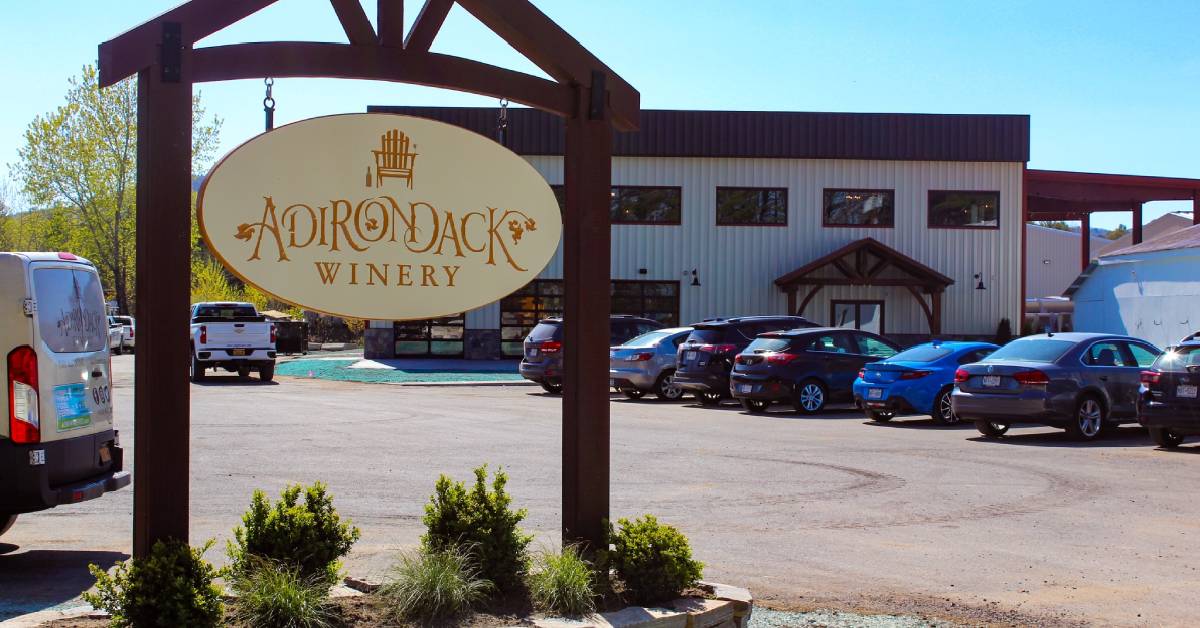 Check Hours & Book Your Visit Today
The Adirondack Winery Queensbury Tasting Room & Restaurant is open year-round for tastings, charcuterie boards, fun events, and more.
See current hours for all locations >>