Sensational Sweets: A Quest for the Best Desserts in Washington County
If you have an insatiable sweet tooth, you'll be interested to know that a brilliant array of delectable desserts awaits just a short drive from Saratoga Springs! The following dessert hotspots are all located in neighboring Washington County, so next time you're up for a scenic country drive make sure you pop into one of these places:
Pattie's Patch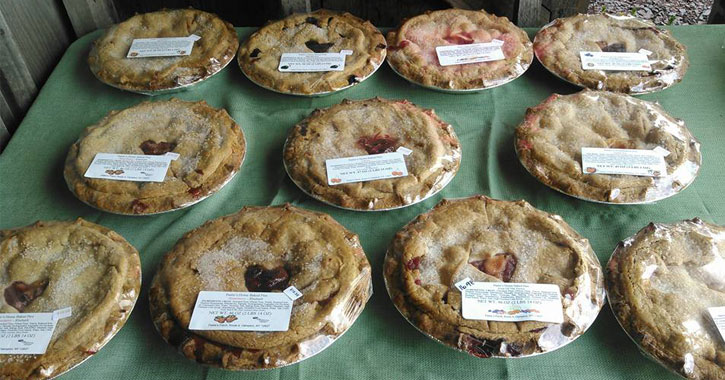 Pattie's Patch in Hampton is open from the middle of May to the end of October and is a must-stop spot for fresh food and exceptional desserts. You can find seasonal fruit and vegetables here, along with homemade jellies, jams, honey, and maple syrup, but what they're really known for is their mouthwatering berry and mixed fruit pies!
If you're looking to pick up a little something special for guests coming over, or are just celebrating a happy occasion, make sure to seek out these superb pies.
Steininger's Chocolates & Cafe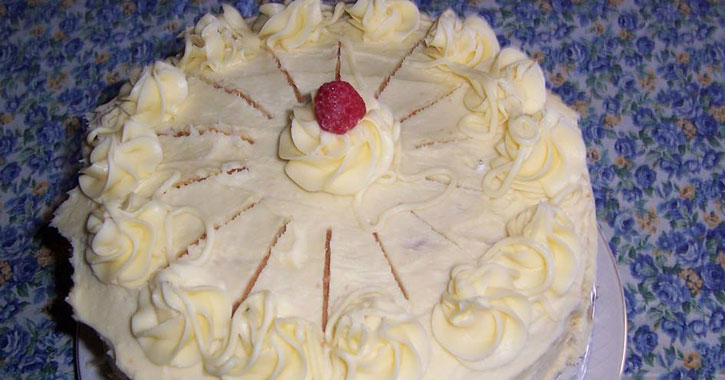 A European chocolate shop tucked away in Salem offers some of the best chocolates in the area - but that's not all! Steininger's Chocolates & Cafe also offers tempting cakes like the Raspberry Cream Cake pictured above: a yellow cake made from scratch with Bavarian cream, raspberries, and vanilla buttercream.
The chocolate at Steininger's is created by hand, in small batches, with meticulous attention to detail. In the cafe you'll find delicious soups, sandwiches, salads, desserts, and more. Make time for lunch as you're picking up some of their famous chocolate!
The Nuns of New Skete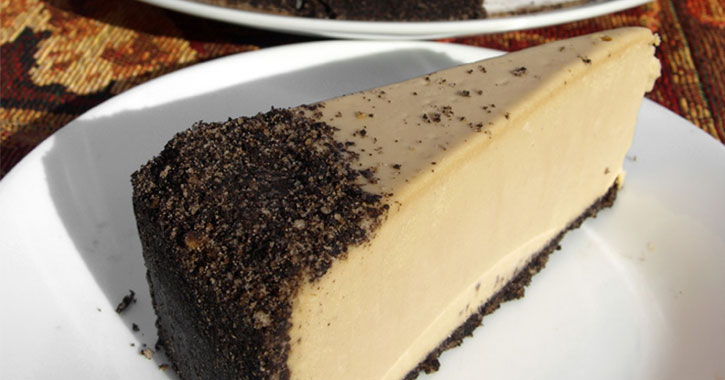 Cheesecake fans simply must experience this decadent dessert from the Nuns of New Skete in Cambridge - this hidden gem in the country has been featured in the New York Times and on Rachael Ray! The nuns create these rich and flavorful cheesecakes in order to raise funds to maintain their small monastery.
You can purchase their cheesecake in their gift shop, or place an order through their website. They also offer fruitcakes, cheese spreads, and pancake mix.
Rathbun's Maple Sugar House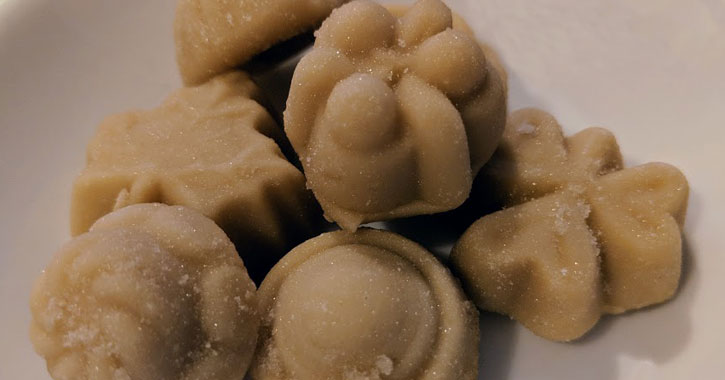 Rathbun's Maple Sugar House in Whitehall is the place to go for a sensational pancake breakfast with fresh maple syrup. This maple sugar house offers open house tours during maple season in early spring, and they're also a restaurant open on Saturday and Sunday mornings.
You can find sweet surprises here all year long with strawberry pancakes in early summer, blueberry pancakes in late summer, and apple and pumpkin pancakes in the fall. Come Christmastime, you can actually get a Christmas tree here! While stopping in for a scrumptious breakfast make sure to take home some of their maple syrup, maple candy, or other delicious products - you can also order them off their website.
Bonnie & Clyde's Gourmet on the Run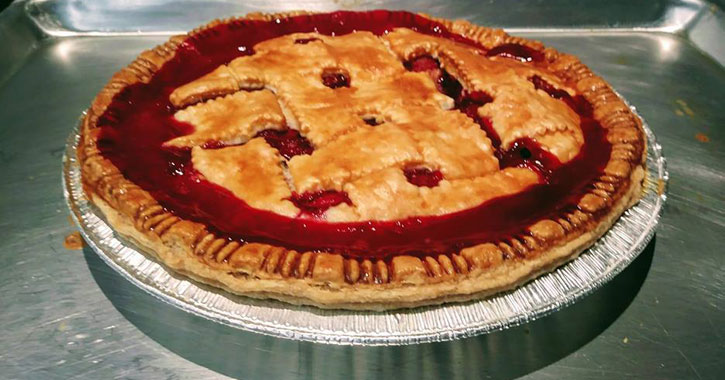 How does gourmet dessert delivered right to you sound? That's what you'll get when you order from the husband and wife team at Bonnie & Clyde's Gourmet on the Run, based out of Hudson Falls! Bonnie & Clyde's locally source virtually everything so their guests know what they're eating is fresh and from the surrounding community. You can get quality meals here, but dessert-wise, they are known for their pies and apple crisp.
Although they're primarily a delivery service, Bonnie & Clyde's does have picnic tables on site so you can enjoy their sweet desserts outdoors during the warmer months.
Edwards Market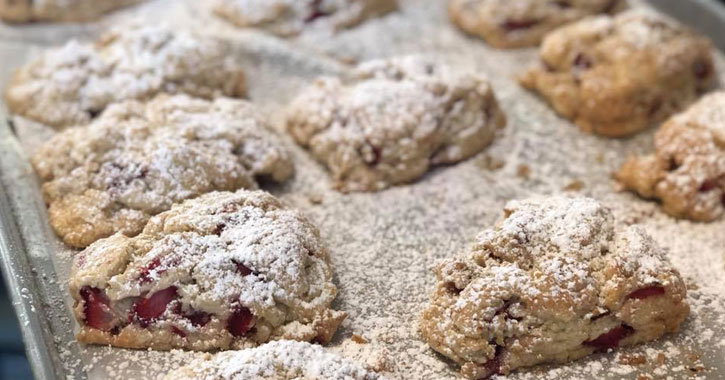 Edwards Market in Granville is on a mission to bridge the gap between locally sourced food and affordability. They believe everyone should have access to reasonably priced, fresh food, and that's what you'll find at this inviting market. The sweet options you'll want to check out here are the scones, chocolate cake, cupcakes, and a to-die-for chocolate peanut bar.
The Anvil Inn Restaurant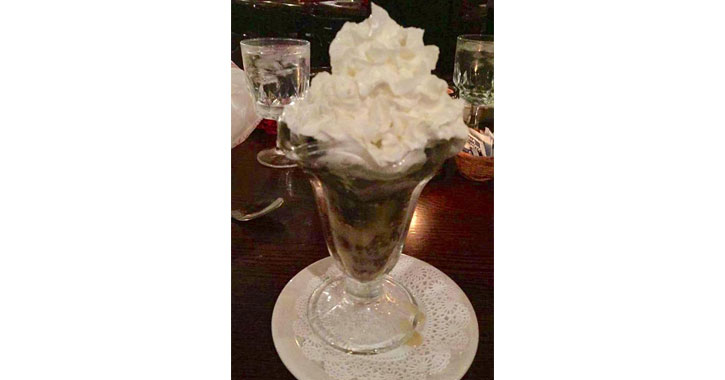 The Anvil Inn Restaurant has been a Fort Edward staple since 1975. This blacksmith-shop-turned-restaurant is known for its rustic decor and inviting ambiance, with a cozy fire going in the winter months and outdoor patio dining in the summer. Their extensive menu includes classic options like prime rib and chicken marsala, and they also have light fare options, salads, and more.
Although you can certainly get a quality meal here, you can't leave without dessert! Pictured above is a sample of their to-die-for cranberry bread pudding at Taste of the North Country, which is topped with a sweet cream whiskey sauce and whipped cream. They also have chocolate mousse and a chocolate mousse cake. Yum!
Historic Grounds Cafe
Historic Grounds Cafe is a quaint coffee shop located in Whitehall that offers premium fresh ground coffee, teas, and specialty drinks. If you're looking for a hot cup of a coffee with your delectable treat, this is the cafe for you! Historic Grounds Cafe provides popovers, scones, muffins, cupcakes, and other pastries in addition to breakfast and lunch options.
This cafe puts a strong emphasis on supporting local farms and businesses, which is why they source ingredients locally when they can. In fact, they use milk from Battenkill Valley Creamery, which is another Washington County dessert hotspot.
Battenkill Valley Creamery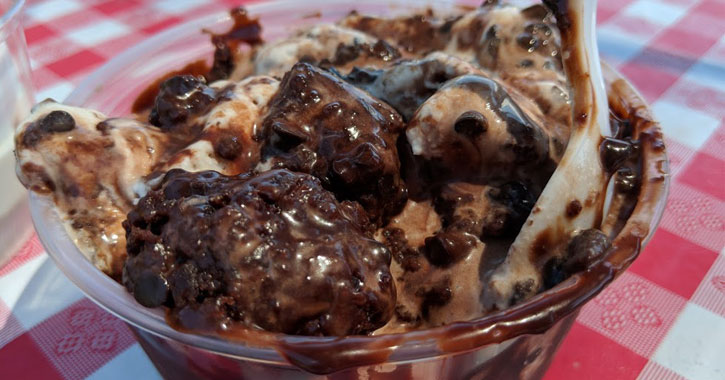 You may have seen Battenkill Valley Creamery milk at your local grocery store, but have you ever been to their store and ice cream parlor in Salem? Their homemade ice cream goes beyond the typical soft serve, sundaes, and root beer floats, although they certainly carry those options as well.
But, you're really going to want to check out the "creamery creations" section of the menu, with incredible ice cream concoctions like Mint Magic, pictured above, with mint chocolate chip ice cream, homemade brownie, homemade hot fudge, and chocolate chips. Make sure to check out their farm fresh dairy products while you're there and pick up some milk, cheese, or other goodies to bring home.
Ice Cream Man
It's in the name - The Ice Cream Man in Greenwich knows their ice cream! This shop has been delivering handcrafted ice cream and ice cream desserts for over 30 years. All ice cream is made onsite with fresh ingredients, utilizing an old fashioned method of production. Cream is sourced from local dairies, and all ingredients are top notch.
Some of their popular flavors you might enjoy are Black Raspberry, Butter Pecan, and Orange Pineapple. They also offer soft-serve custard, a dense and creamy dessert with an incredibly soft texture.