Swim & Relax at Brown's Beach on Saratoga Lake
Spend a summer day at the public beach right here in Saratoga Springs. Most of Saratoga Lake's shoreline is privately owned, with Brown's Beach being the only place for the general public to catch some rays and take a dip in the water. The water is shallow and you'll be treated to stunning views of the lake and the foothills of the Adirondack Mountains in the distance.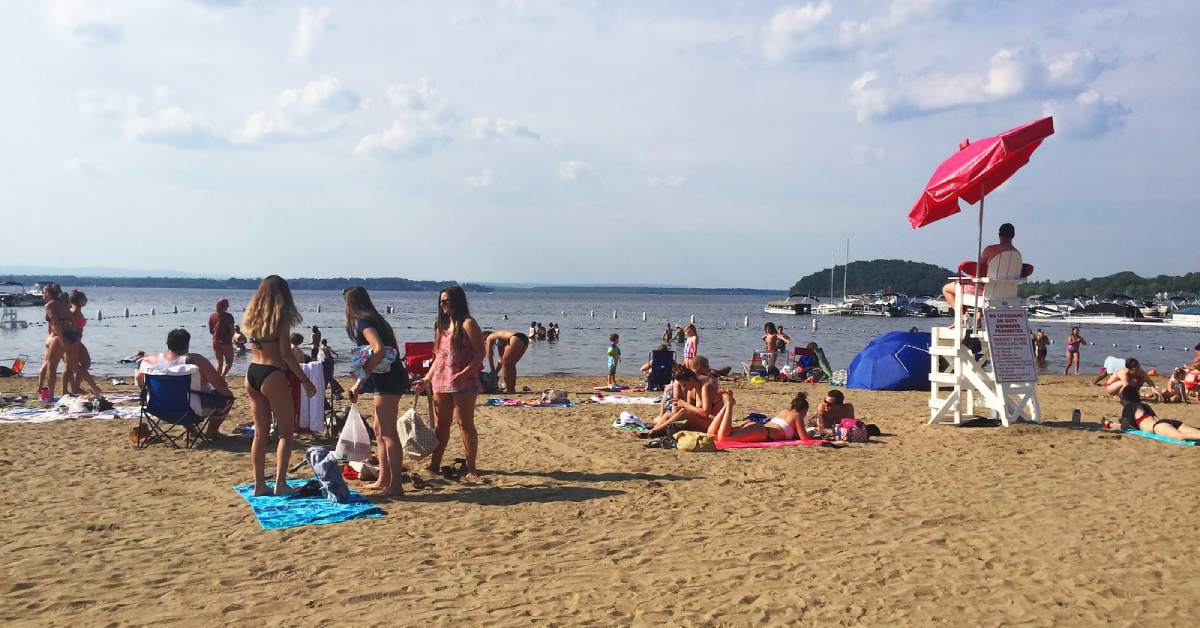 About Brown's Beach
Brown's Beach has been a popular attraction since the nineteenth century. The beach closed in 2006, but was reopened in 2015 by the Town of Stillwater.
While you're there, grab a bite to eat at the beach's own snack shack, or sit out on the patio at Dock Brown's and enjoy a lakeside meal.
2023 Hours & Other Information
The 2023 opening day at Brown's Beach is scheduled for Saturday, May 27. The beach typically remains open through Labor Day Weekend, and daily hours are 10:00AM - 7:00PM. On questionable weather days, please call 518-466-0678 (the Beach's dedicated line for daily information).
Cost:
4 and under: FREE
12+ $5 / 5-11 $3 - CASH ONLY
Beach Pass: Ages 5-11: 10 visits for $20 (a $10 Savings); Ages 12+ (adult): 10 visits for $40 (a $10 Savings)
What Kind of Activities Can You Do at Brown's Beach?
Brown's Beach features a sandy shoreline, a swimming area, a large pavilion that can be reserved, and a shallow launch area. The following activities are allowed:
Swimming
Paddle Boarding
Kayaking
Canoeing
The on-site Brown's Beach Marina is a private marina, and there is no public launching or docking of vessels.
Directions to Brown's Beach
Take Exit 12 off I-87. Head east on Rte. 67 and take the second exit at each traffic circle. When the road ends at the lake, turn right onto Rte. 9P. Brown's Beach is only about a mile along Rte. 9P, opposite Panza's On The Lake.