Where to Play Pickleball in Saratoga Springs, NY and Nearby
Pickleball is a relatively new sport and pastime, but it's rapidly increasing in popularity across both the country and globe. More parks and recreational facilities are building separate pickleball courts or painting the lines on existing tennis courts. Within Saratoga County, you will find many opportunities to play pickleball.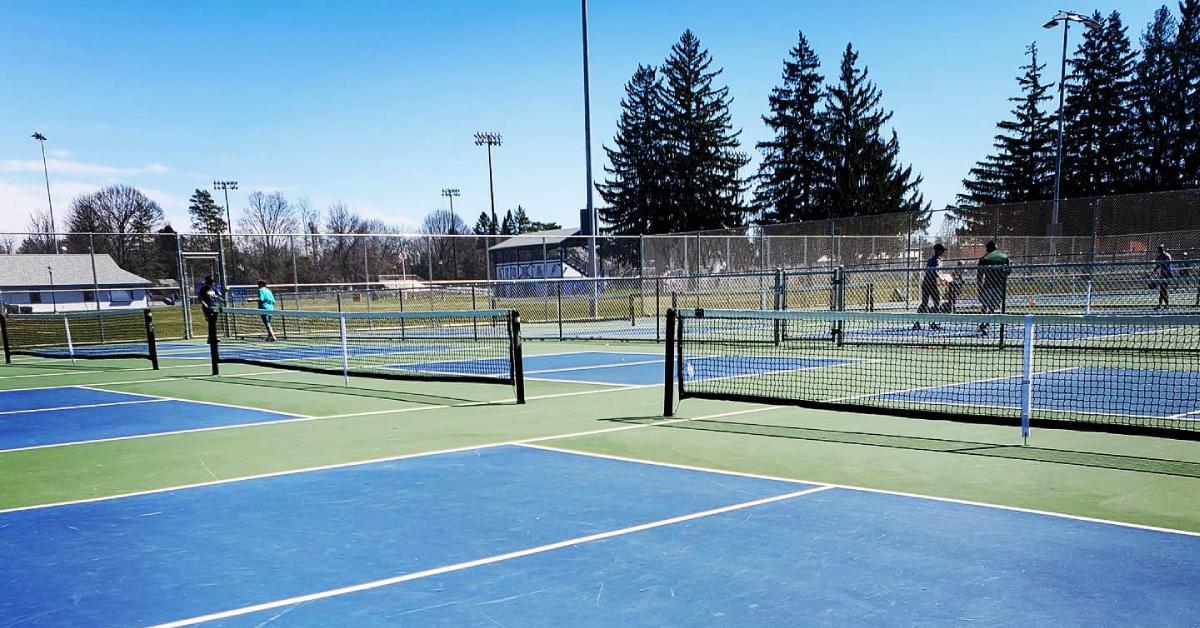 Find Out What You Need to Play
Luckily, pickleball is a sport that doesn't require much equipment. Of course, you'll need a place with proper pickleball lines, but we'll take care of that later.
Pickleball paddles are in between the size of a standard ping-pong paddle and a tennis racket. They're anywhere between eight and 14 inches long and can be made of wood or a standard composite material. The balls used are similar in size and appearance to whiffle balls but more durable.
See Top Spots to Play in Saratoga
Note: Some places may require you to pay a fee to access their facilities, while others are open to the public. Call ahead or check their website for any questions regarding the availability of their courts.
Legacy Pickleball Club, Ballston Spa
The Legacy Pickleball Club is one of the Saratoga area's newest pickleball facilities. This state of the art area includes indoor pickleball courts with a cushion court system, LED lights, and a soundproof system. The facility currently has 8 indoor courts with plans to add an additional 15-20 dedicated outdoor courts. The courts are available for members, and you can purchase your membership on their website.
East Side Recreation Park, Saratoga Springs
Visit East Side Recreation Park in Saratoga Springs to play pickleball any day from dawn to dusk. They have 10 new dedicated (and lighted) outdoor pickleball courts for your recreation! The courts are open to the public and available on a first come, first serve basis. For more information, contact the Saratoga Springs Recreation Department at 518-587-3550 x2300.
Saratoga Springs Recreation Center, Saratoga Springs
The Saratoga Springs Recreation Center is also managed by the Saratoga Springs Recreation Department, and their nine indoor pickleball courts are available for drop-in sessions on select days. Participation is on a first come, first serve basis, and you must sign up for a Community Pass account and register for a City or Non-City Rec Card beforehand. A small drop-in fee is required to access the courts.
Gavin Park, Saratoga Springs
Gavin Park features a variety of recreational facilities, including two gyms, 15 athletic and baseball fields, batting cages, a playground, basketball courts, indoor/outdoor pickleball courts, and more. Pickleball is typically available on weekday mornings for a small fee, as well as during special programs.
Saratoga Regional YMCA, Saratoga Springs
Become a member of the Saratoga Regional YMCA and enjoy pickleball at their facilities. They offer "open play" pickleball sessions for all skill levels. Participants must have an active membership and pre-register for the class.
Clifton Knoll, Clifton Park
Head to Clifton Park and play pickleball at Clifton Knoll, a local park located off of Locust Lane, adjacent to the Locust Lane pool and Clifton Park Center Road. One of the tennis courts doubles as a pickleball court, so you can bring your paddle and ball and start playing.
Stillwater Area Community Center, Stillwater
For a small fee, play pickleball at the Stillwater Area Community Center. They offer Open Pickleball sessions on select days, and you can see the latest updates on their events calendar: https://www.sacc.online/calendar/. For more information, contact Community Center Administrator Justin Mcfarlane at 518-664-2515 x210.
Read a Brief History of Pickleball
Pickleball was developed by Joel Pritchard, Bill Bell, and Barney McCallum in Bainbridge Island, Washington, during the summer of 1965. Pritchard and Bell pondered ideas on how to entertain their kids during the dog days of summer, and one day, they decided to check out an old badminton court on Pritchard's property.
Although they didn't have a full set of badminton rackets, the duo improvised by using ping-pong paddles and a plastic ball. After introducing their friend Barney McCallum to this new family-friendly activity, the three men began creating a set of rules for what would be called pickleball.
Nearly two decades later, the United States Amateur Pickleball Association was formed and the first official rulebook was written. In 2005, USA Pickleball was created to help promote the sport, and today pickleball is one of the fastest growing sports with national governing bodies established on multiple continents.
Sources:
https://usapickleball.org/what-is-pickleball/history-of-the-game/