Saratoga Casino Hotel
342 Jefferson Street
PO Box 356
Saratoga Springs
,
NY
12866
Saratoga Casino Hotel is The Place to Play! With over 1,700 slots, thrilling live harness racing, electronic table games, live simulcast coverage, many delicious dining options, three full-service bars and Vapor, fun is a sure bet!

The Place to Play and Win!
Fun is a sure bet with over 1,700 slots! The casino features some of the hottest game titles like Wheel of Fortune, Sex and the City, Playboy, Hangover?and Fireball. Choose from video poker, progressives and Keno with individual and multi-denomination games ranging from a penny wager to $25. We also offer electronic table games like Roulette and Craps! These games feature all of the excitement of the traditional casino game with the fun of community play, and the private comfort of separate terminals!
Stay and Play!
Coming Summer 2016 - our brand new luxury hotel offers 117 beautifully appointed rooms and suites! Enjoy The Best Steak Anywhere, at Morton's The Steakhouse, located in the hotel lobby. Other amenities include an indoor resort pool with spa whirlpool and outdoor terrace, lobby bar, cafe, and more than 3,000 square feet of meeting and event space. Visit SaratogaCasino.com to book your stay today!

Delicious Dining Experiences!
There's no shortage of food options at Saratoga Casino Hotel! For a quick break, check out the casual menu at Lucky Joe's, and even bring your food right to your favorite game! Or choose to sit down and reward yourself with unlimited selection at the all-you-can-eat Garden Buffet, located right next to the action on the gaming floor. To celebrate a special occasion, or for a more unique atmosphere, Fortunes Restaurant is the right choice. Overlooking heart-pounding live harness racing, it's the best experience in the Capital District.
Harness Racing Rich with History!
This is our 75th year of live harness racing and our half-mile track has been called the most beautiful in the country! View live races outdoors at the rail, in the lower clubhouse, up in the Grandstand or while dining at Lucky Joe's or Fortunes Restaurant. For the ultimate in racing and dining experience, you can place a wager right from your table at Fortunes! Enjoy daily simulcast racing from tracks across the country on the giant flat-screens and beat the heat and traffic by wagering from the air-conditioned mezzanine.

Party and Play all Night!
There's always a party at Vapor, an?incredible night club located just off the gaming floor. Vapor is the premiere entertainment venue in Capital Region with a modern, casually chic atmosphere complete with incredible lighting effects and plush VIP lounges. Sip cocktails and dance the night away, while watching live performances from national and local acts. Have the time of your life by reserving a lounge space for you and your friends- it's an incredible deal including food and bottle service, starting?at just $15 per person!
Come to Saratoga Casino and Raceway to Wager, Win,?Wine, Dine, Dance and Play!

Please remember, patrons must be 18 years of age or older to enter. 21+ for Vapor.
?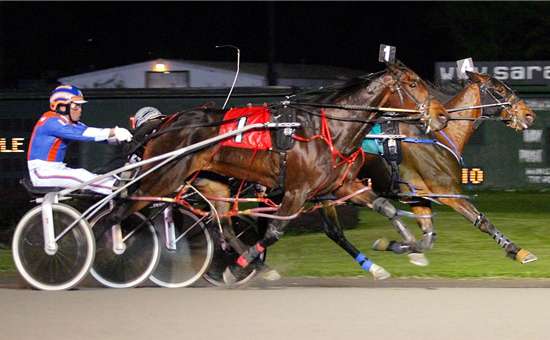 Click on the thumbnail images to see the larger version




Upcoming Events
No events listed for this business.
Is this your business? If so, login to add your events!
Directions & Map
Always get confirmation of the business location.
Reviews & Ratings
Kim
from Saratoga Springs, NY wrote on

Sunday, September 18, 2016 at 6:29 PM
We used to go 1 to 2x per week for slots and dinner. We haven't been back since their new point system totally screwed the loyal customers. It's not a big deal as the slots haven't paid anything for over a year. Save your money for when the Rivers opens. This place is a waste.
Rick Werneburg
from Wilton, NY wrote on

Tuesday, February 02, 2016 at 12:57 PM
Bill Gabby
from Saratoga Springs, NY wrote on

Saturday, April 26, 2014 at 5:07 PM
Have been frequenting Racino since day one. Have deposited thousands of $$$ into your coffers. Definitely a lose/lose proposition. Addiction is the name of the game! Even with the all too frequent losses, one of our main complaints is your buffet. Even though we have frequented your facility since day one, we always have to show I.D. at the buffet. This in itself is insulting, giving one the idea that even super-regular customers are insignificant in your eyes. If we had dropped as much $$$ in other gambling establishments,i.e., Las Vegas, we would be flown out and given lodging, etc. on a regular basis. At Racino, we are treated as just another 'sucker'. The main reason for eating there is that it is cheap but the food selection never really changes and is terrible to say the least. Why the need for I.D.s? Noone wants to 'sneak' in or penetrate your iron-clad security. If one is there 'all the time' with diamond and platinum players club cards in hand --why is it necessary to insult them and treat them like lowly criminals? How about, "It's nice to see you once again! Enjoy your stay! Have a great afternoon!" We are at the point of looking forward to seeing new competing venues erected in E.Greenbush, Catskill, or Town of Florida to give you a run for your money. We reside five minutes from Racino but are at this point trying very hard to 'weed' ourselves from your addictive grip. Would hope you would see this short note as constructive criticism rather that an idle complaint. New competition will put you in your place and you will find yourself scrambling for the return of the patrons you have insulted and run off. What goes up will come down, i.e. Rome.