Franklin Square Historic District, Saratoga Springs NY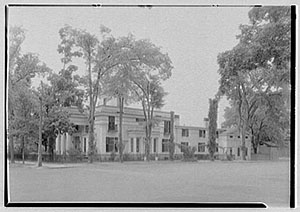 Franklin Square, located in the heart of Downtown Saratoga Springs, became a historic site in 1973. It's hard to believe that it was the city's first historic district!
Located on the West side of Saratoga Springs, Franklin Square is one block west of Broadway and includes Franklin Street, Clinton Street, Division Street, and portions of Church, Grand, Walton and West Harrison Streets.
Only a 3 minute walk from Broadway, exploring the culture of Franklin Square is right at your finger tips! The historic district is filled with mid-19th century homes that are architecturally stunning. The buildings show influence from the Italian and French Renaissance along with some Greek revival style architecture.
Recently, Franklin Square has been going through a period of transition. There have been some new developments, such as the Franklin Square Condominiums that have been allowing this Saratoga Springs Historic Site to continually grow!
When you visit Franklin Square you will be able to discover some unique specialty shops and other businesses among the old and new buildings. The Historic District will make your trip to the Saratoga Springs area unforgettable!