A Self-Guided Haunted History Trail Through Saratoga County
13 Paranormal Places to Get Your Haunt On
Do you enjoy ghost stories and history? If so, then follow our self-guided haunted history trail through Saratoga County and visit some of the spookiest buildings and locations.
Grab a drink at a bar that was once known for gambling and working "ladies of the night," stop by a cemetery whose inhabitants have been hanging around for 150 years, and stand outside an abandoned sanatorium. Before you go mad with curiosity, keep reading to check out our full self-guided tour of 13 haunted historical spots in Saratoga County!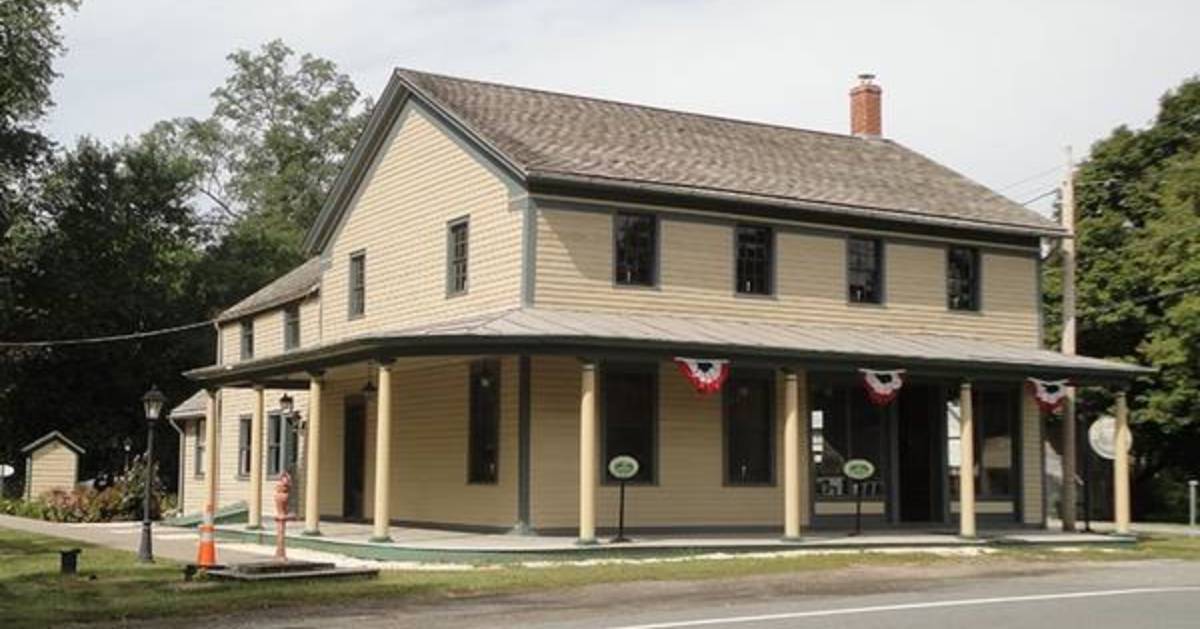 Stop 1: Historic Grooms Tavern
290 Sugar Hill Road, Rexford, NY 12148
The Historic Grooms Tavern has the word "historic" right in the name, and for good reason. This 19th-century building, owned and operated by the Town of Clifton Park, was checked out by paranormal investigators in 2012. The Times Union reported at the time that Myla Kramer, Director of Parks, Recreation, and Community Affairs for Clifton Park, believed there were spirits inhabiting the building.
Kramer had reportedly felt someone touching her hair, and had also experienced what she believed was a ghost moving a pendulum. Although no deaths were ever reported in the building, and it's not clear who the spirits are, according to ghost hunter and historian John Tobin, these spirits appear to be a man who helped dig the tavern's basement, a young woman, and two children.
Today, the Historic Grooms Tavern is managed and maintained by the Friends of Historic Grooms Tavern and the Town of Clifton Park. Cultural programs and events are occasionally held at the building, and no worries for you visitors, because reports indicate the ghosts here are friendly.
Directions to the next stop: From Historic Grooms Tavern, you'll head north, going through the intersection with Grooms Road to where Sugar Hill Road turns into Miller Road. Stay on Miller Road until you reach the intersection with Route 146 and turn right. Head east on Route 146 to the traffic circle; take the third exit onto Route 146A. Head north about 1.5 miles and then turn right onto Kinns Road. Stay on Kinns Road for 2.7 miles until you reach the intersection with Route 9. Take a left onto Route 9, then a right onto Kennedy Lane, then an immediate right onto Meyer Road, and Powers Inn & Pub will be on the right.
Approximate time from Stop 1 to Stop 2: 13 minutes
Stop 2: Power's Inn & Pub
130 Meyer Road, Clifton Park, NY 12065
Power's Inn & Pub may be known for its gorgeous patio and to-die-for shepherd's pie, but something else lurks among the delicious food and Irish tavern atmosphere. The building dates back to 1786, and is reportedly home to at least five different spirits.
Reported occurrences include a reflection of a chandelier moving on the walls (with the chandelier itself staying still), a picture frame falling down a staircase on its own, and a spirit that enjoys running up and down the back stairs.
Powers Inn & Pub is a highly rated, popular Clifton Park restaurant today. There is also a barn behind the pub that has been renovated into a wedding and event venue.
Directions to the next stop: Take a left from Power's Inn & Pub onto Meyer Road, coming back the way you came. Hang a left onto Kennedy Lane, and then a quick right onto Route 9. Head north until you reach the intersection with Ushers Road, then take a left. Follow signs to I-87 and use the right lane to merge onto the highway to go north. Follow I-87 North to Exit 12 toward Ballston Spa. Take the third exit at the traffic circle onto Route 67 West. At the next traffic circle, take the first exit to stay on 67 West. At the third traffic circle, take the second exit to continue on 67 West. Stay on Route 67 until it turns into Ballston Avenue. Head north until you reach the intersection with West High Street, then take a left. The Crandall House will be on the right.
Approximate time from Stop 2 to Stop 3: 17 minutes
Stop 3: The Crandall House
1332 West High Street, Ballston Spa, NY 12020
The Crandall House was once home to an unsuccessful stockbroker named Sylvester Crandall. Legend has it that he and his wife, Julia, fought constantly over money and Sylvester often spent time alone in the house's cupola. During the winter of 1887, Julie's mother, sister, and stepsister came to rescue her from her husband, but Sylvester wasn't having it. He shot and killed his mother-in-law, the stepsister, and his wife before killing himself. It's said he still roams the cupola today.
Unfortunately, there are no tours or events at the house at this time - so just take a drive by and take in this striking - and haunted - mansion. If you're ready for a quick rest stop, Mangino's Gourmet Market, an Italian-themed bistro that serves up delicious pizza and other items to refuel you, is just down the street from the Crandall House.
Directions to the next stop: Continue west along Route 67 past Mangino's Gourmet Market until you reach the intersection with Middleline Road, then take a right. Continue north for about 5 miles, then when you can't go straight anymore take a left onto Route 29 West. Continue on Route 29 for 3.4 miles, then take a sharp right onto Antioch Road. Stay on Antioch Road as it curves left and becomes Bills Road. Bills Road will become Barkersville Road, and the Saratoga County Homestead Hospital will be on the right.
Approximate time from Stop 3 to Stop 4: 23 minutes
Stop 4: Saratoga County Homestead Hospital
7267 Barkersville Road, Middle Grove, NY 12850
This stop is a little out of the way compared to the rest of this self-guided haunted history tour. But, as a former sanitarium, we felt it was well worth including. The Saratoga County Homestead Hospital opened in 1914 as a tuberculosis sanatorium, and operated as such until 1960. From 1960 to 1979, the facility served as a nursing home before it was sold by County Officials, and then it never reopened. The building was sold again in 2019, but to date has not been fully rehabilitated yet, leaving the facility fully open to the ghosts of patients past.
Directions to the next stop: From the old sanitarium, you'll head to all the Saratoga Springs haunted hotspots. Head back the way you came on Barkersville Road, which becomes Bills Road, then Antioch Road. When you reach Route 29, take a sharp left and head east for about 10 miles, driving past The Mansion Inn and the Saratoga Winery. Route 29 will turn into Washington Street. Take a right onto West Avenue, then a left onto West Circular Street. Take a right at Marino's Pizza onto Union Street, followed by a right onto Route 50, then a quick left onto Lincoln Avenue. Continue straight through the intersection with Route 9, go past the Thirsty Owl, then take a left onto Whitney Place. The Batcheller Mansion Inn will be on the right. (Note, the address is on Circular Street, but you will come upon the building on Whitney Place. Trust us, you can't miss it.)
Approximate time from Stop 4 to Stop 5: 25 minutes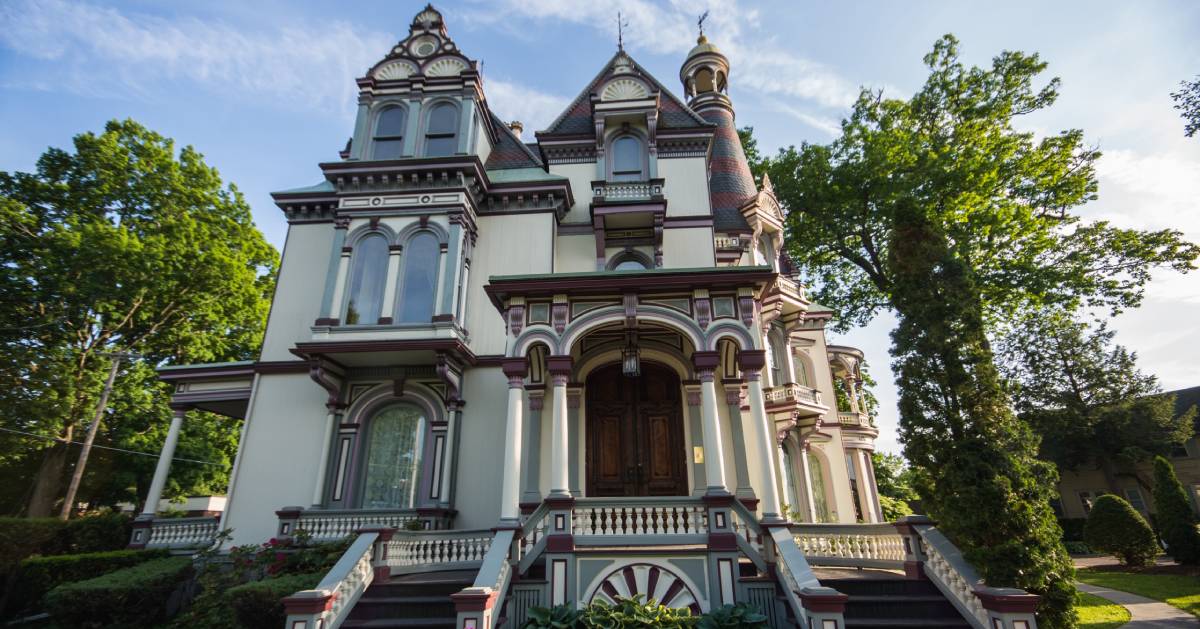 Stop 5: The Batcheller Mansion Inn
20 West Circular Street, Saratoga Springs, NY 12866
When the Albany Paranormal Research Society has visited a place more than once, you know the chances are good that ghosts are lurking. The Batcheller Mansion Inn's stunning architecture nearly takes your breath away; their website describes the style as "high Victorian Eclecticism combining French Renaissance Revival, Italianate, and Egyptian influences."
The three-floor inn was constructed in 1873 at a cost of $100,000, and was intended as a home for George Sherman Batcheller. Although the mansion was sold out of the Batcheller family in 1916, some believe their spirit forms still reside there. Guests have reported feeling strange presences in the rooms, particularly the Kate Batcheller room (George's daughter), where mysterious orbs and moving objects have been reported.
The Batcheller Mansion Inn serves as a bed and breakfast today, so if you're interested in checking it out for yourself, consider making a night of your self-guided haunted history trail and book a room - if you dare! Otherwise, it's onto more Saratoga Springs historical and haunted places.
Directions to the next stop: (Note, the next two stops are walkable from the Batcheller Mansion Inn, if you'd like to park near Congress Park and walk. Otherwise, proceed on for driving directions.) Continue on Whitney Place after passing the Batcheller Mansion Inn on your left and take a sharp left onto Circular Street, then a right onto Broadway. Congress Park will be on your right, and you can park on the street or keep going straight, take a right on Spring Street, and park in the Putnam Street Parking Deck that will be on your left. The Canfield Casino is in the center of the park.
Approximate time from Stop 5 to Stop 6: 2 minutes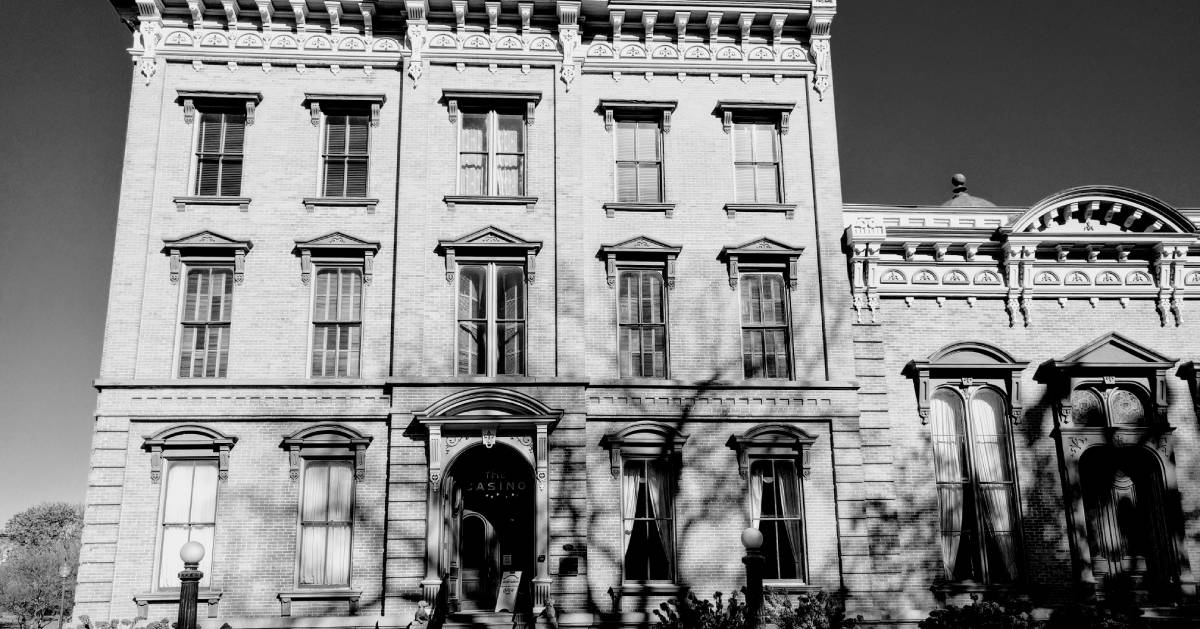 Stop 6: Canfield Casino
1 East Congress Street, Saratoga Springs, NY 12866
If you've ever taken a guided tour with Saratoga Ghost Tours, you likely learned about the Canfield Casino, which has been featured on Ghost Hunters and America's Most Terrifying Places.
The Canfield Casino was a popular casino and resort for the wealthy during the late 1870s until anti-gambling laws eventually shut the business down. Today, it's a registered national landmark, home to the Saratoga Springs History Museum, and it's used as a space for weddings and special events (and ghost tours!). Sightings and senses include: the distinct smell of cigar smoke, cold spots, "hostile" energies, and some guests have even reported being slapped by something unseen.
In addition to Saratoga Ghost Tours, which is run by Joe Haedrich, author of Haunted Saratoga, the Saratoga Springs History Museum conducts ghost tours. You can also check out the Museum for $10 admission Wednesday through Sunday, 10am to 4pm (last admission is at 3:15pm).
Directions to the next stop: Head back toward Broadway and hang a right. Continue straight and The Adelphi Hotel will be on your left. Like the Batcheller Mansion Inn, this haunted place is an architectural masterpiece you can't help but notice as you drive by!
Approximate time from Stop 6 to Stop 7: 2 minutes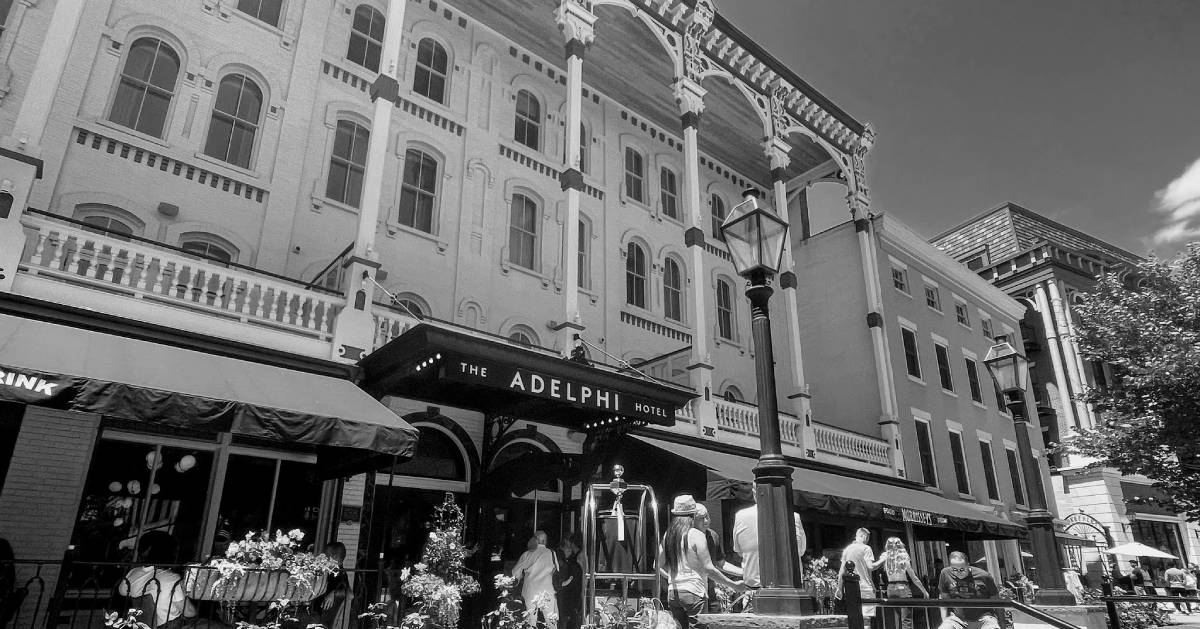 Stop 7: The Adelphi Hotel
365 Broadway, Saratoga Springs, NY 12866
Like the Canfield Casino, the Adelphi Hotel also hails from the 1870s. The aforementioned aficionado on Saratoga haunted history, Joe Haedrich, told Spectrum News 1 in 2020 that there are many reports of ghosts and spirits in the old hotel.
A waitress coming off a shift around 2am encountered a man who ran out of his room claiming that someone was sleeping in bed next to him; he happened to be staying in the room where John Morrissey, casino magnate and namesake of one of the hotel's restaurants, died. Some say the spirits love all the antiques and original pieces the hotel strived to keep for authenticity - one could see how the dearly departed would feel right at home! Plus, objects like furniture can often retain strong emotions or perhaps even spirits from the past.
As we're about halfway through our tour now, the Adelphi Hotel is a great spot to stop for a meal or a drink. Morrissey's Lounge & Bistro might be your best bet, as this is where you can keep the spooky mood going with the dark woods, leather, and casino/mobster boss vibes the atmosphere offers. The restaurant serves every meal daily, but reservations are recommended, so check out their hours and be sure to plan ahead.
Directions to the next stop: Head north on Broadway until you reach the intersection with Route 9N and Route 29/Lake Avenue; take a right onto Lake Avenue. Continue straight for four blocks, take a right onto Henry Street, and The Parting Glass is right there on the corner.
Approximate time from Stop 7 to Stop 8: 3 minutes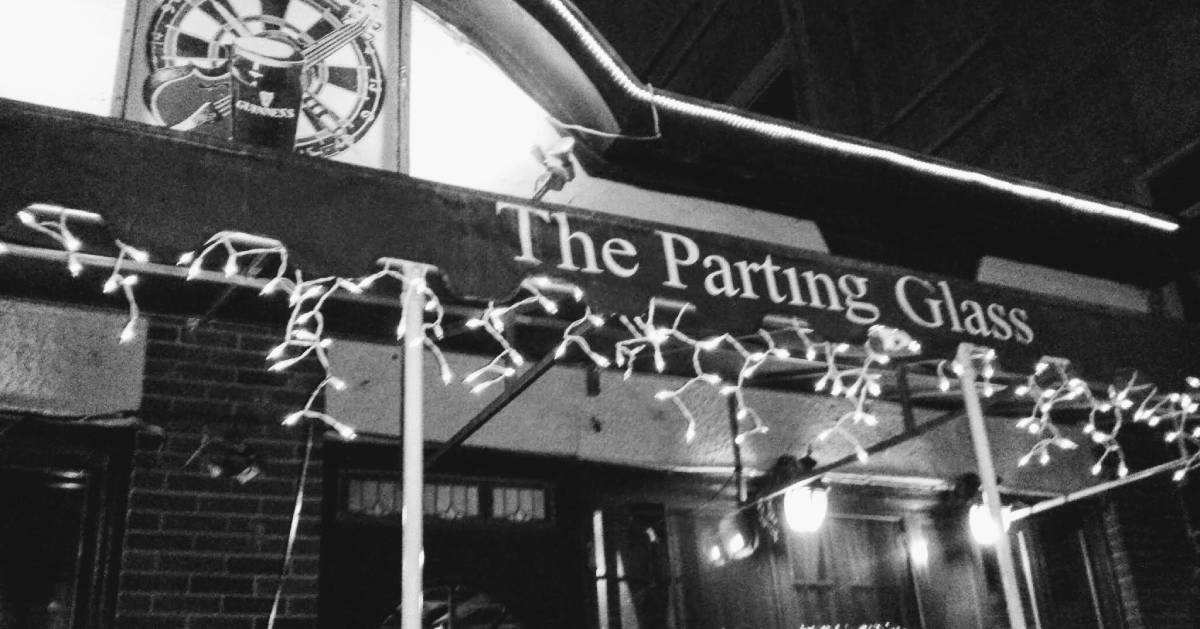 Stop 8: The Parting Glass
40 - 42 Lake Avenue, Saratoga Springs, NY 12866
If you didn't grab a bite at the Adelphi, The Parting Glass would be another great chance to do so. They're conveniently open daily starting at 11am, and also happen to be a fitting place to feel out spirits.
Before it was a lively Irish tavern with live music, darts, and a pool table, The Parting Glass catered to gamblers, Vaudeville acts, and a few "ladies of the night" who worked out of the upstairs room; a woman in white has been observed in the upstairs window. Other sightings include a man who was once a regular, and a band promoter once reported a ghost-like image in old photos in the restaurant that looked spookily like the deceased owner.
Directions to the next stop: Head toward Route 29/Lake Avenue from Henry Street and hang a left. At the second intersection, take a right onto Maple Avenue. The Olde Bryan Inn will be right across from High Rock Park, on the corner of Maple Avenue and Rock Street. Parking is available along this street and nearby.
Approximate time from Stop 8 to Stop 9: 2 minutes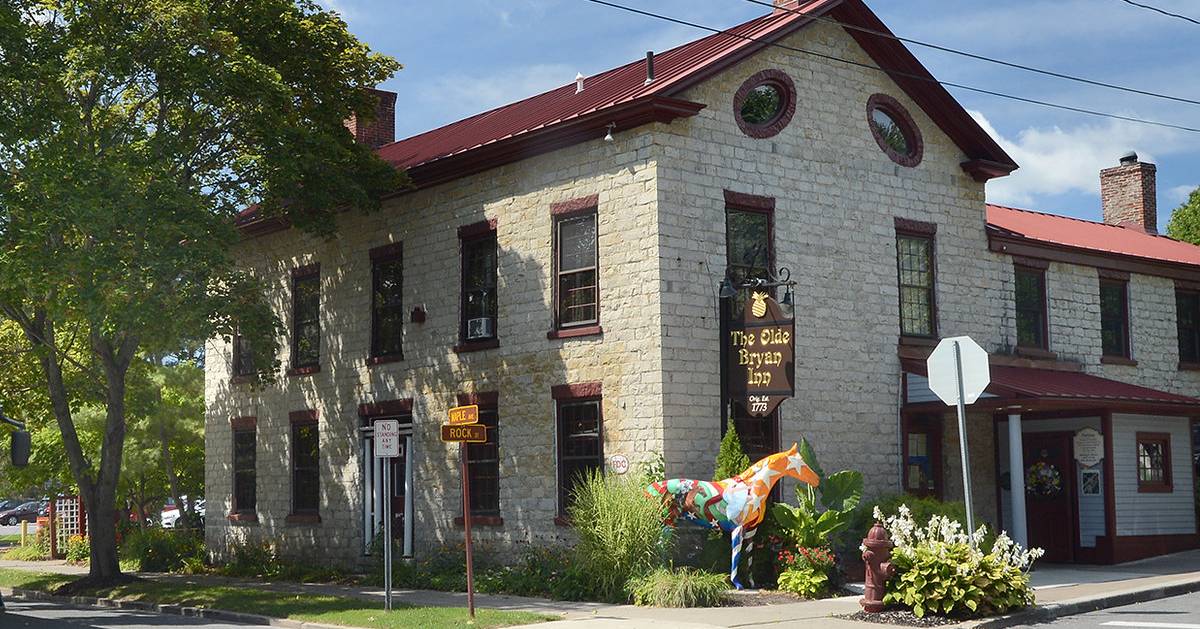 Stop 9: The Olde Bryan Inn
123 Maple Avenue, Saratoga Springs, NY 12866
Make your way to another restaurant/bar whose dark-wooded walls have a story or two to tell. While The Parting Glass has a "lady in white" who haunts the restaurant, The Olde Bryan Inn brags a "lady in green."
A Civil War widow named Beatrice has appeared to guests wearing a high-necked, Victorian-style dress, sometimes climbing a staircase in the dining room that was dismantled decades ago; the dress itself was found in a trunk in the attic, which apparently used to be her bedroom. It's believed her husband lost his life at the Battle of Saratoga.
The restaurant dates back to the late 1700s, and spirits donning Colonial wear have been reported as well. The building served as a private residence and a laundry facility before becoming a restaurant in 1979.
The Olde Bryan Inn is open for lunch and dinner Wednesday through Sunday, and they serve up superb sandwiches, steak, and other hearty options.
Directions to the next stop: Now, we're leaving Saratoga Springs! Follow Rock Street up the hill and take a right onto Route 9. Continue straight to the intersection with Marion Avenue and take a left. Marion Avenue/Route 9 will become Maple Avenue, which will become Saratoga Road. Just continue straight for about 6.5 miles, then turn left onto Parkhurst Road. From there, a right onto Mt. McGregor Road. Stay on this road, which will wind and curve. You should see a sign for Grant Cottage, which will eventually be on the left.
Approximate time from Stop 9 to Stop 10: 17 minutes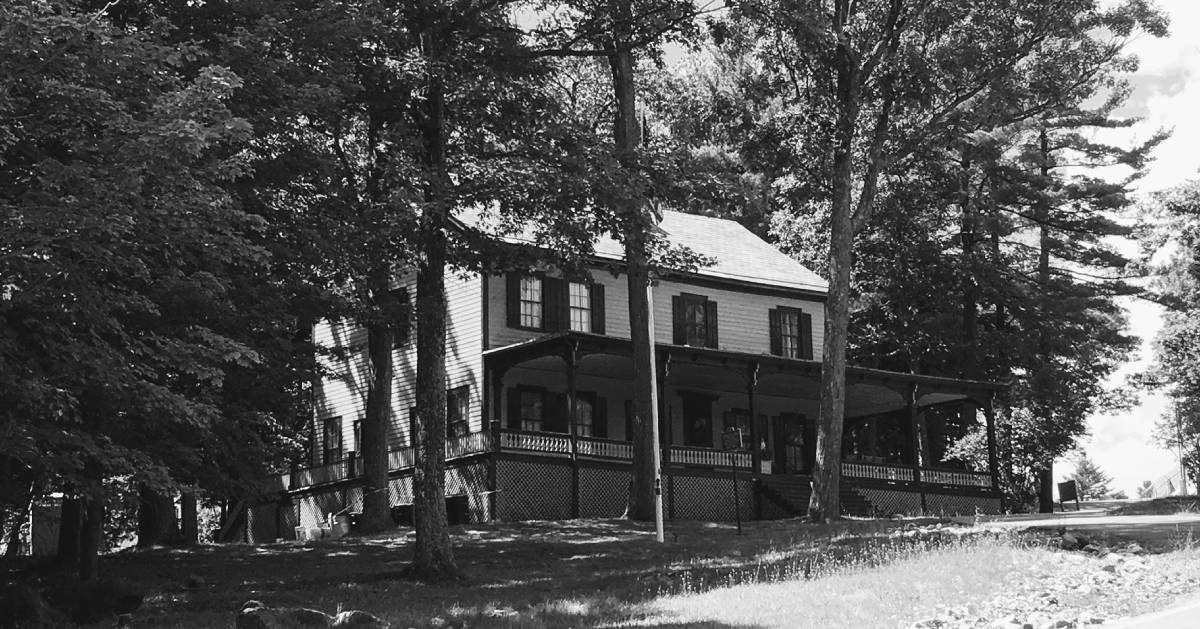 Stop 10: Grant Cottage
1000 Mt. McGregor Road, Gansevoort, NY 12831
US President Ulysses S. Grant moved to this Saratoga County cottage in 1885, just about a month before died; he had throat cancer and had fallen victim to a Ponzi scheme. Before he passed, he completed his memoirs at the cottage.
Today, Grant Cottage is a historical landmark that maintains many of the original furnishings, personal items, and decor from Grant himself, including the bed where he died. Although it would be terrific if a former president was haunting this historical landmark in Saratoga County, the ghost is rumored to be a woman who was once a caretaker for the cottage.
Grant Cottage is open seasonally starting in May. You can check out GrantCottage.org to find info on events, including hidden history hiking tours, and other fun happenings.
Bonus stop: You may have noticed the looming, closed-down correctional facility you passed on McGregor Road before reaching Grant Cottage. This is also reportedly haunted by spirits, one of whom is an eight-year-old girl who can be seen peering out of windows.
Directions to the next stop: Head back down Mt. McGregor Road and continue until it turns into Parkhurst Road, then take your next left onto Corinth Mountain Road. Go straight through the intersection, and the road will turn into Ballard Road. Continue on Ballard Road for about 4 miles, then it will turn into Taylor Road. Continue on Taylor Road for about 1.5 miles until it turns into Colebrook Road, then Rugg Road. Take a slight right onto Route 32 South. Continue until this road turns into Route 4 South. After you pass over Fish Creek keep an eye out for the General Philip Schuyler House sign and make a left into the entrance.
Approximate time from Stop 10 to Stop 11: 26 minutes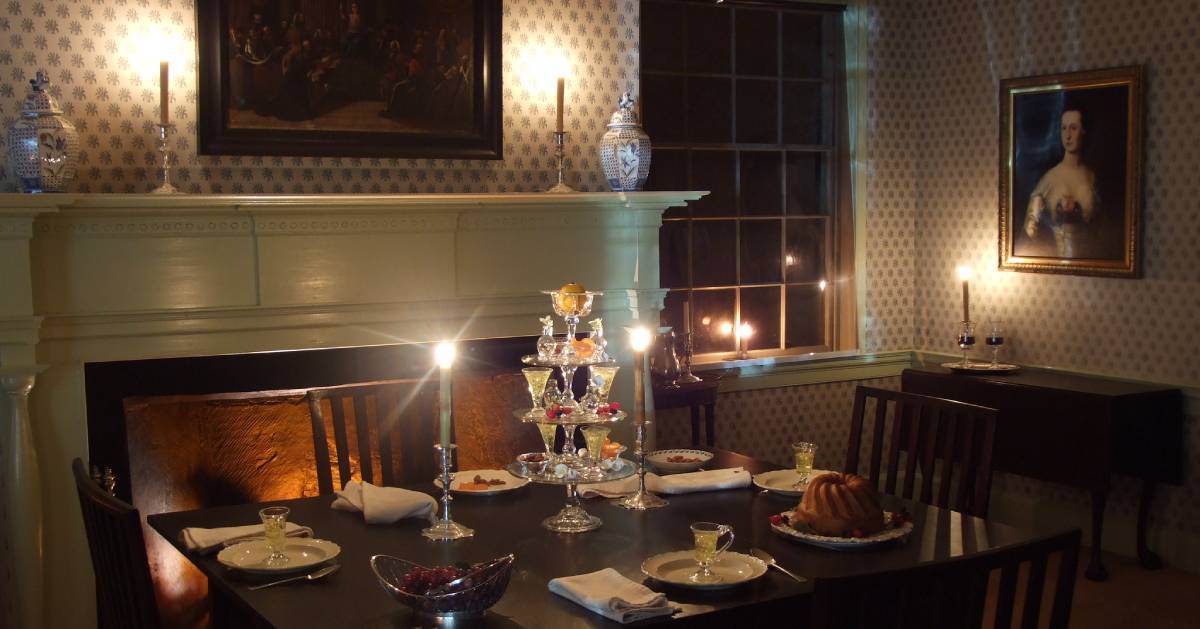 Stop 11: General Philip Schuyler House
4 Broad Street, Schuylerville, NY 12871
This gorgeous, restored house in the country once belonged to American General Philip Schuyler, and it's one of three sites that make up the Saratoga National Historical Park. Schuyler owned the home before and after the Battle of Saratoga. The British burned the original house, and the present facility was erected in 1777, shortly after Burgoyne's surrender. The new home was constructed in just 29 days.
The Schuylers are considered by many to be the founding family of Saratoga; Schuylerville itself is named for them. But other famous footsteps have walked these halls: George Washington, Thomas Jefferson, James Madison, Marquis de Lafayette, and Franklin Roosevelt have all visited the General Philip Schuyler House. The potential for spirits is high and the energy strong in this country house!
Today, the General Philip Schuyler House is open seasonally from June through Labor Day to visitors for temporary exhibitions and programs. In 2023, the Old Saratoga Historical Association will host their annual Candlelight Tour on Wednesday, October 18th from 6-8:30 PM. Reservations will be required, so follow Saratoga National Historical Park on Facebook to keep an eye out for updates and events.
Directions to the next stop: Take a left onto Route 4 and head south for about 2.5 miles, then take a right onto Coleville Road. Continue on Coleville Road for about 2.5 miles, then hang a left onto Route 32. Continue straight for 2.7 miles and you'll run right into the park.
Approximate time from Stop 11 to Stop 12: 12 minutes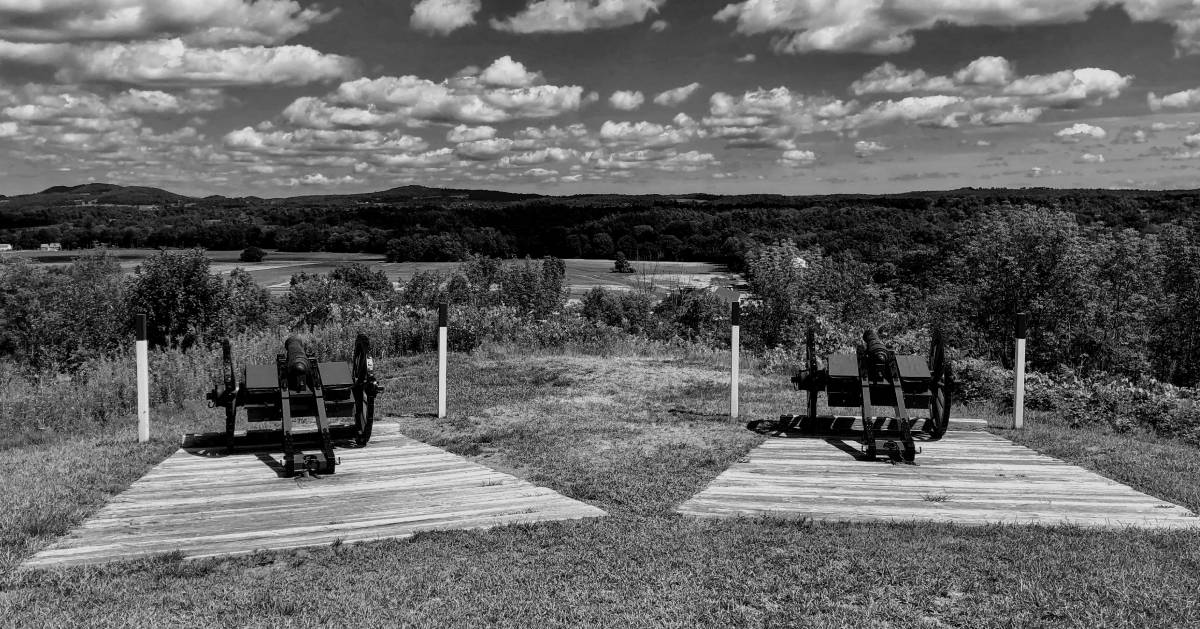 Stop 12: Saratoga Battlefield
648 Route 32, Stillwater, NY 12170
You'll find no shortage of ghost stories surrounding Saratoga Battlefield, part of Saratoga National Historical Park. But, the place is so scenic and gorgeous to walk around we'd visit even without spirits dwelling.
Although there are many areas of the park that have been known to spark a spook in a visitor or two, the Wilkinson Trail in particular is highlighted for its hauntings. You can reportedly hear the moaning of soldiers in trouble, gunshots, and loud drumming on this trail.
Other reports include soldiers walking around, in particular one in a ragged uniform who claimed to be shot and killed by his own men. While ghosts have been seen and heard here, we encourage you to try to tune into the energies and feel of the battlefield as you walk around.
The Saratoga Battlefield's Visitor Center is open daily from 9am to 5pm, and the driving tour road is typically open to vehicle traffic through November 30 (weather permitting; it's possible it could close sooner). In 2023, the tour road will be open daily from 9am-5pm through November 30th. After November 30th, the tour road is closed for the winter.

The park is open to pedestrians and bicyclists from sunrise to sunset, daily. Hiking trails are for pedestrian use only. You're also welcome to walk the Driving Tour Road by utilizing the Multi-Use Lane.
Directions to the next stop: From here we head back toward Saratoga Springs for the final stop, enjoying a nice drive by Saratoga Lake on the way. Head back the way you came, north on Route 32, and hang a left onto Route 71. Continue on Route 71 for 4.3 miles, then turn right onto Route 9P North. Continue along Route 9P/Union Avenue past the lake and the Saratoga Race Course for 5.2 miles, then turn left onto Regent Street. From there, it's a right onto Lincoln Avenue, then a quick left, and you should see the entrance to the cemetery; there is also another entrance on Vanderbilt Avenue.
Approximate time from Stop 12 to Stop 13: 18 minutes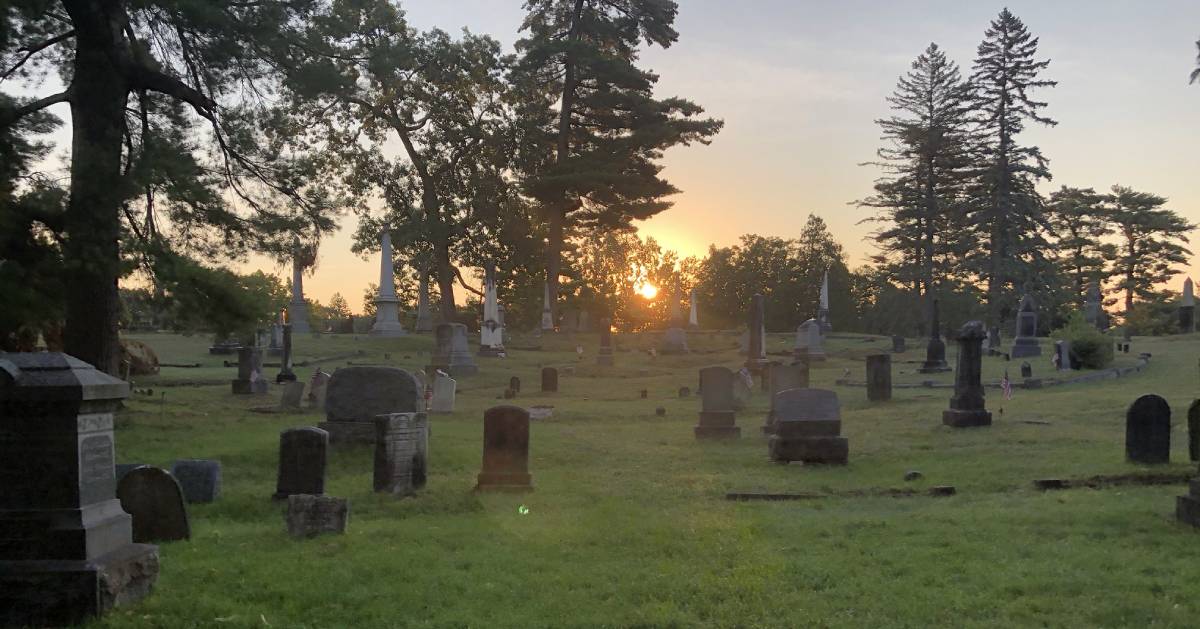 Stop 13: Greenridge Cemetery
17 Green Ridge Place, Saratoga Springs, NY 12866
You can't have a self-guided haunted history trail without at least one cemetery on the agenda! Greenridge Cemetery is home to many fascinating deceased individuals, including but not limited to George Sherman Batcheller of the aforementioned Batcheller Mansion and George "Speck" Crum, who is believed to have invented the potato chip.
Greenridge Cemetery is the oldest cemetery in Saratoga Springs, dating back to 1844, and has expanded twice since it was first established. The cemetery consists of gorgeous gravestones, mausoleums, and statues (Saratoga Living called it "funerary art") to enjoy as you pick up any presences from the many notable Saratogians who have passed.
A Twilight Cemetery Tour is held by the Saratoga Springs Preservation Foundation each year, and the cemetery is open to the public from dawn to dusk.
A note on timing: The full self-guided tour should take about two and a half to three hours, not counting for food stops (ghost-hunting is hungry work!) or other fun along the way. If you do plan on visiting any businesses, make sure to check their hours ahead of time and plan accordingly.
Additionally, feel free to customize the tour to your liking, perhaps sticking to Saratoga Springs, or the Saratoga Springs spots in addition to Grant Cottage, the Schuyler House, and Saratoga Battlefield - this would keep the tour in a neat circle. Have fun, and happy hauntings!
<< Back to the Halloween Guide
Sources:
This article is sponsored by Saratoga County Tourism. Note: The opinions expressed in this article are those of the authors. They do not necessarily reflect the opinions or view of Saratoga County Tourism or its members.