Elegant Outdoor Entertaining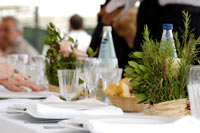 Savor summer with stylish outdoor entertaining in Saratoga Springs! The Upstate NY summer season is precious and fleeting, and most of us want to spend as much time in the outdoors as we possibly can! Warm sunny mornings, sultry afternoons, and long, lingering Adirondack sunsets are perfect for outdoor entertaining.
Your plans may be for brunch, a luncheon, or traditional cook-out. Evening entertaining can include anything from a cocktail party with hors d'oeuvres to a more elegant dinner affair for five people or fifty…you set the mood! No matter what type of Saratoga outdoor event you're planning, make it simple, comfortable, and so elegant your guests will be talking about it long after they've gone home…and they never have to know how easy it was!
Guest Seating: Whether you're using folding camp chairs or wooden Adirondack chairs, arrange them so that guests can easily carry on conversations. If you have a pool or spa, that can be an inviting location for grouping seating. If not, fill large ceramic plant pots with water and scatter them throughout the party area. Float flowers and candles in them, arranging chairs in a conversational grouping around each.
Linens & Table Settings: One of the easiest ways to lend an elegant touch to your outdoor party is to use linen tablecloths and napkins. White is the most formal, of course, but any type of colorful fabric will lend an air of gaiety and style to your event. Now is also a great time to break out the silver and crystal vases for centerpieces and table decorations! Fresh-cut flowers, greenery, or feathery pine boughs add a graceful touch to any outdoor table setting.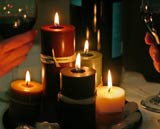 Ambient Lighting: Ambient lighting is one of the best ways to provide a warm and cozy atmosphere outside, and increase safety. There are many ways to work elegant and practical lighting into your outdoor party:
Paper or glass jar luminaries made with sand and tea lights are elegant and simple, but may require attention during the party.
White Christmas lights are inexpensive and elegant, and can be added to railings, shrubs, or deck rails.
New on the market are solar tiki torches that have a realistic glow when the sun goes down. Safe and reliable they can light the perimeter of the party area or pathways to and from.
Traditional landscape lighting offers an opportunity to highlight attractive areas around your home: gardens, your pool or spa, etc.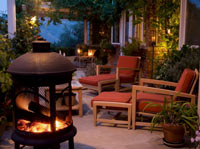 Pest Control: Living in the Adirondack region means living with outdoor pests! Take charge before your party and spray surrounding bushes and overhanging trees with a natural repellent, and place citronella candles around the perimeter of the party area to discourage winged visitors! Bug zappers can also help, but the occasional alarming "zap" of a large beetle frying can be a conversation stopper…
Warm it up: When it cools off, an adobe portable fireplace, fire pit, or a chiminea will create a warm gathering place for guests. These are adaptable to your deck, patio or yard and come in various styles and sizes.
Music: Present but unobtrusive during dinner, music should be uniquely adapted to your taste and that of your guests. Ideally it should be loud enough to be enjoyed but soft enough that your guests can carry on a dinner conversation without shouting!
Outdoor gatherings are one of summer's most wonderful activities! With a little planning and preparation, you will enjoy the benefits of outdoor entertaining in Saratoga Springs, New York even more than your guests!