Saratoga Interior Decorating: Home Lighting Design Tips
Here's a Saratoga interior decorating secret: Stunning home decor thrives on lighting design! Make each room in your Saratoga home really pop with these home lighting design tips!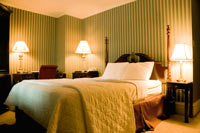 Discover six major types of home lighting design: natural, overhead, ambient, accent, task and kinetic lighting. Each has a different purpose, so use each one effectively to contribute to the overall feel and functionality of your space.
Natural light usually comes in the form of windows and skylights. It's the outside sunlight that streams inside to illuminate your home. Increase natural light by installing more windows or knocking down walls for a more open floor plan. Call a local Saratoga remodeling company for an estimate! Have too much natural light? Try thick curtains, shades or window blinds to get rid of unwanted glare.
Overhead lighting is important for illuminating large areas in your home and usually comes in the form of simple ceiling fixtures. This type of home lighting design is generally very bright and can sometimes be a bit harsh for main areas of your home. Overhead lighting works great for closets, garages and other places where functionality is of high importance in lieu of design appeal.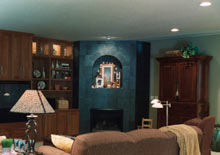 Ambient lighting is what sets the general tone of each room in your home -- crucial for effective home lighting design. Whether dramatic or subtle, this type of warm lighting is effective to use as the primary lighting source for each room. Wall sconces, table lamps, floor lamps, recessed lighting and hanging fixtures are all great sources of ambient lighting. This type of home lighting design is soft on the eyes and can create a mood of intimacy and coziness in a room.
Accent lighting adds another dimension to your space. With accent lighting, you can draw attention to a particular object or area in the room, effectively shifting the focal point to the features you want most accentuated. Spotlights are great for highlighting artwork, collections and architectural details in your home. Up-lights hidden behind indoor plants, flower arrangements and trees are a great way to draw attention to these beautiful features, while at the same time adding a great deal of drama and intrigue with spectacular shadow silhouettes on the wall.
Task lighting provides illumination for workspaces, desktops and other areas in your home where you will need to see well without worrying about shadows. This type of lighting is helpful when you're reading the newspaper, chopping an onion, opening mail, sewing a button or completing other tasks because it points directly at your work area. Task lights get closer to your task than ambient or overhead lighting and will shed more light on your project. Pick up a desk-side task lamp or install some under-cabinet lights for effective task lighting in your home.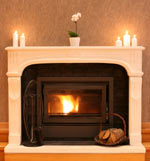 Kinetic lighting is lighting that moves and dances, adding liveliness and energy to your home. Lava lamps and mirrored balls are two types of kinetic lighting, but these may be a bit out of place in most home design schemes. Glowing candles and flickering fireplaces are more universal kinetic lighting sources, which create coziness, interest and drama in any home.
Downtown Saratoga Springs offers several unique stores where you will find a variety of home lighting design pieces that will add dramatic flare to your home. In addition, you can shop several big-box home improvement stores in Wilton, as well as a variety of chain department stores to research pieces for all your home's lighting needs. Visit Saratoga Shopping!
Follow these home lighting design tips, and create a stunning home decor!