Where to Find the Best Flowers, Chocolate & Wine in Saratoga
Find What You Need for Valentine's Day, an Anniversary, or Any Romantic Occasion
When you need to stick to the classics for Valentine's Day, an anniversary, or any special celebration with your favorite person, here's where to find flowers, chocolate, and wine in Saratoga County.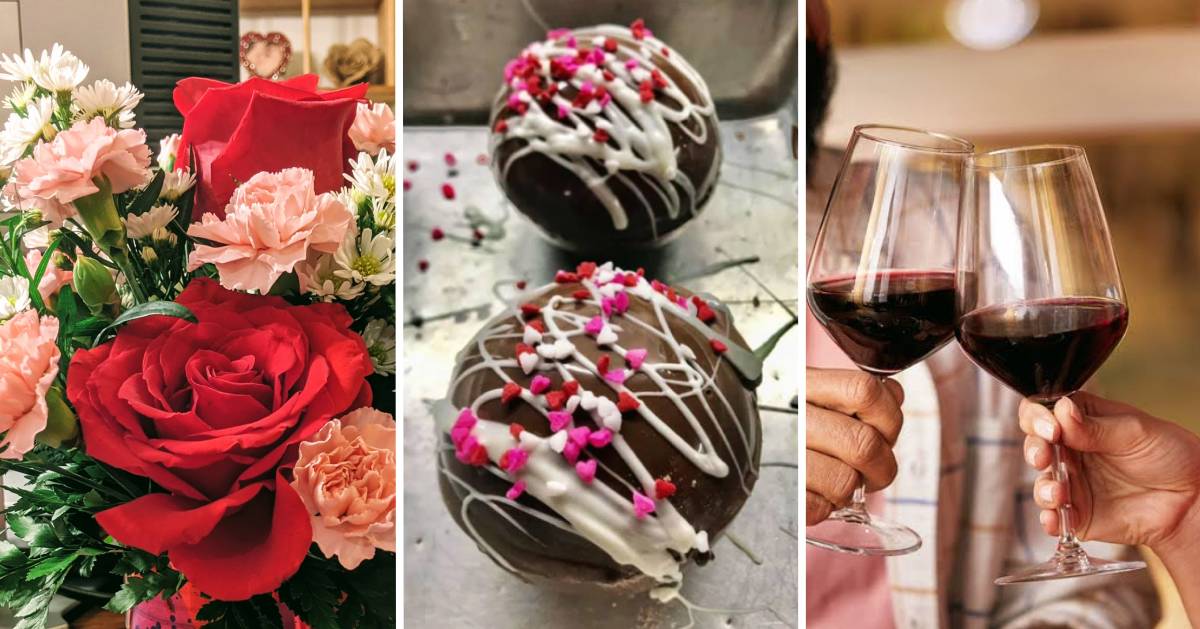 All of the following flower shops, candy stores, and renowned-for-their-wine restaurants are located in Saratoga Springs unless otherwise noted.
Jump To: Flowers | Chocolate | Wine
Make Someone's Daisy
Dehn's Flowers & Greenhouses
Dehn's Flowers & Greenhouses has a wide selection of reasonably priced Valentine's Day flower arrangements, from Dance With Me Bouquet with red roses, to Together at Twilight Bouquet with lavender roses.
Shop now: https://www.dehnsflowers.com/valentines-day/cat1080008
Fairytale Florist
Fairytale Florist's Valentine's Day selection includes timeless options—like a dozen red roses—or the Pick Your Own Color Rose with a choice to go up to 30 roses, if you'd really like to up the romantic ante.
See options: https://fairytalefloristsaratogany.com/occasions/valentine-s-day-flowers.html
Jan's Flower Shop
Look up reviews for Jan's Flower Shop and you'll see customers can't get enough of Jan. This gem of a store offers a variety of flowers at varying price levels for any occasion, including Valentine's Day, and they can offer same-day delivery at no extra cost.
View Valentine's Day arrangements: https://jans-florist.com/product-category/valentines-day/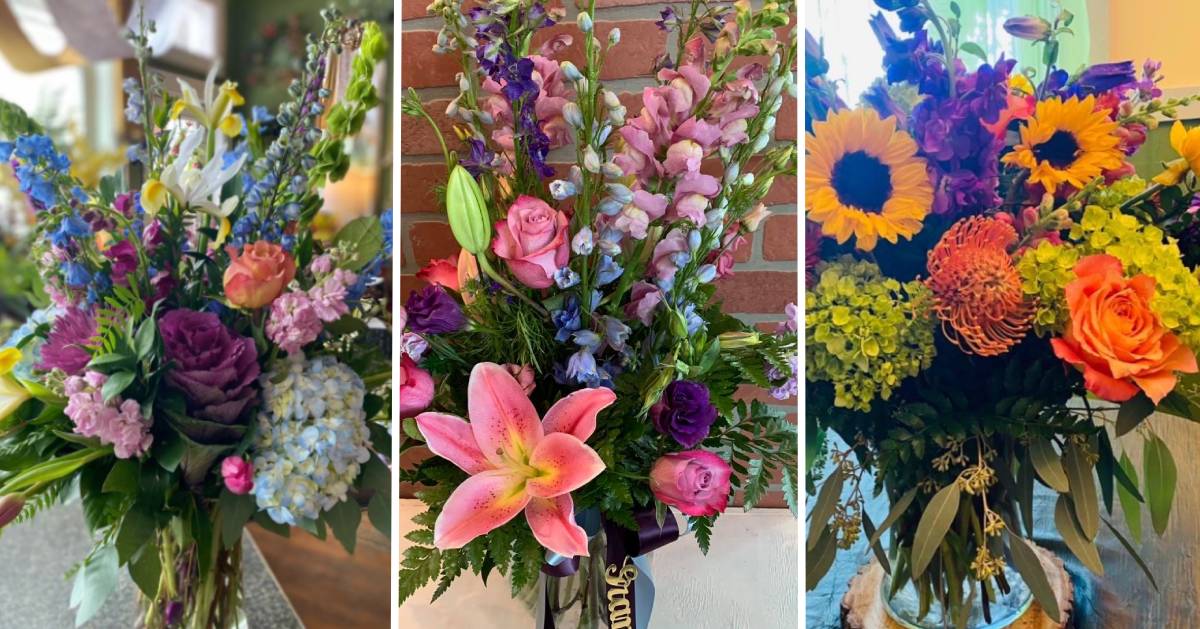 The Posie Peddler
The Posie Peddler offers stunning floral arrangements for Valentine's Day and other holidays, and they also have a "winter flowers" selection. Save on a Designer's Choice option, where they put together an arrangement of seasonal flowers for you. (They also carry Saratoga Candy Co. chocolates!)
Browse beautiful flowers: https://posiepeddler.com/occasions/valentine-s-day-flowers.html
Briarwood Flower & Gift Shoppe
Briarwood Flower & Gift Shoppe in Ballston Spa has near-perfect Google reviews thanks to their awesome prices and customer service - and the flowers, of course. They're offering a Designer's Choice option for Valentine's Day.
Learn more: https://www.briarwoodflowershoppe.com/
The Country Florist
The Country Florist in Burnt Hills not only has Valentine's Day specific flowers, but flowers for nearly every holiday one could think of, including Halloween, with orange floral arrangements like Golden Canyon and Fresh Tangerine.
See their Valentine's Day arrangements: https://www.burnthillsflorist.com/valentines-day-flowers.php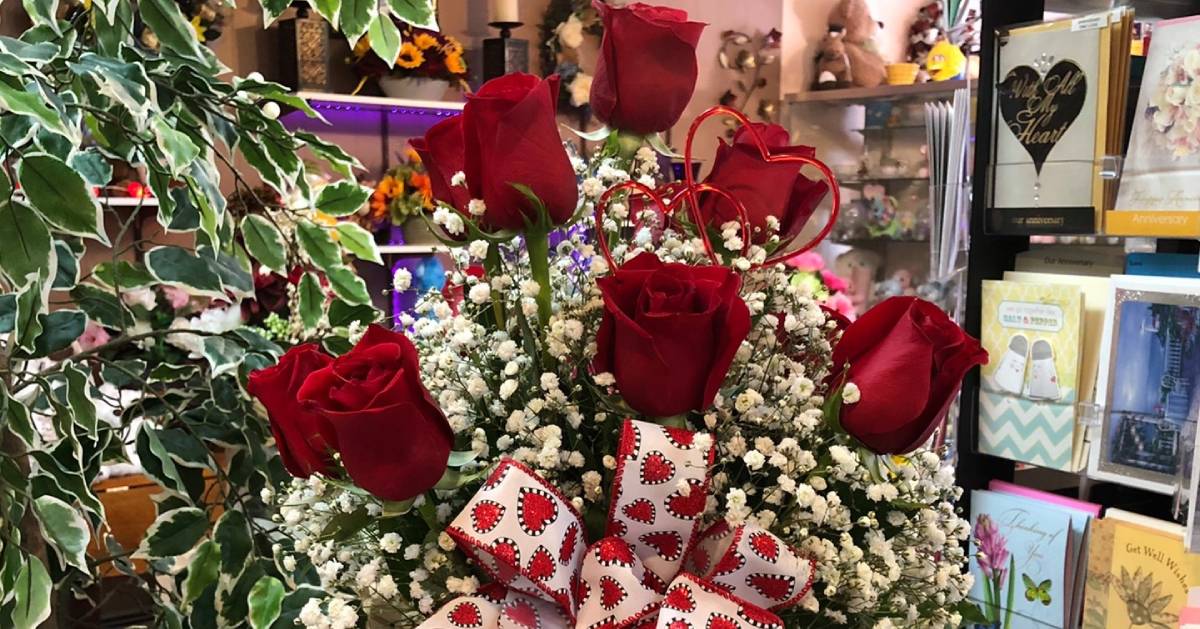 Matrazzo Florist
The super reasonably priced Matrazzo Florist in Mechanicville has Valentine's Day flowers, Love & Romance flowers, and Anniversary flowers, so you can get your romance on no matter the occasion.
Browse Valentine's Day options: https://www.matrazzoflorist.com/valentines-day/cat1080008
Nectar Custom Floral Design
Customers rave about Nectar Custom Floral Design in Stillwater. "Can't say enough good things about this florist," and "She's an absolute artist with her arrangements," a couple of Google reviewers say.
See their robust Valentine's Day page: https://www.nectarcustomfloraldesigns.com/ny-online-store.html#!/Valentines-Day/c/22329137/offset=9
Studio Herbage Florist
Studio Herbage Florist has locations in Malta and Johnstown, and their Valentine's Day options include some unique vases along with the arrangement options! If you want to think outside the box, they also do silk flower arrangements, dried floral arrangements, and gourmet fruit baskets.
View Valentine's Day options: https://www.studioherbageflorist.com/valentines-day/cat6970014
Give Them a Treat Choc-Full of Love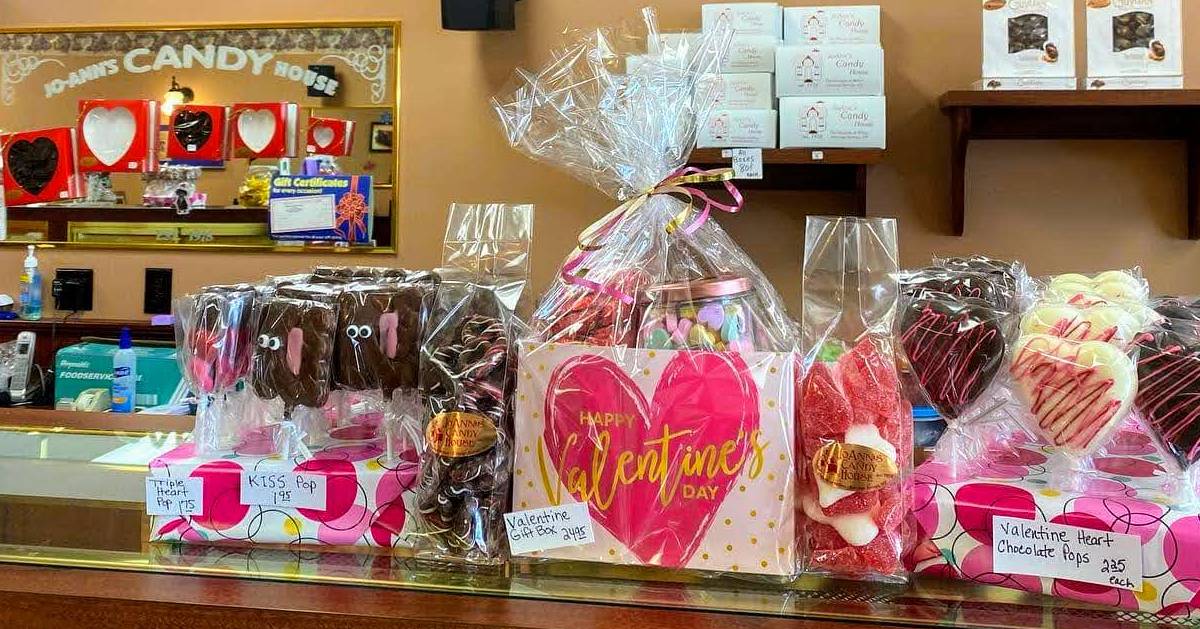 Jo-Ann's Candy House
Choose from Valentine's Day gift boxes or other sweet treats at Jo-Ann's Candy House, which has fantastic Google reviews such as, "Their chocolate is rich with a good flavor and a melt-in-your-mouth texture," "The sweet aroma hits you immediately upon entering," and "Please try the chocolate truffles you won't regret it!"
Check out their Facebook page: https://www.facebook.com/Jo-Anns-Candy-House-119131774804827
Kilwins Saratoga Springs
Kilwins is a renowned national chain that specializes in chocolate, ice cream, and old-fashioned style sweets and candies. The one in Saratoga Springs is the only location in the state. If it's chocolate your sweetheart craves they have a ton of options, including fudge (they're always running a buy two, get one free special), and classic chocolate heart boxes for Valentine's Day.
See their Facebook page for current offerings:
https://www.facebook.com/kilwinssaratogasprings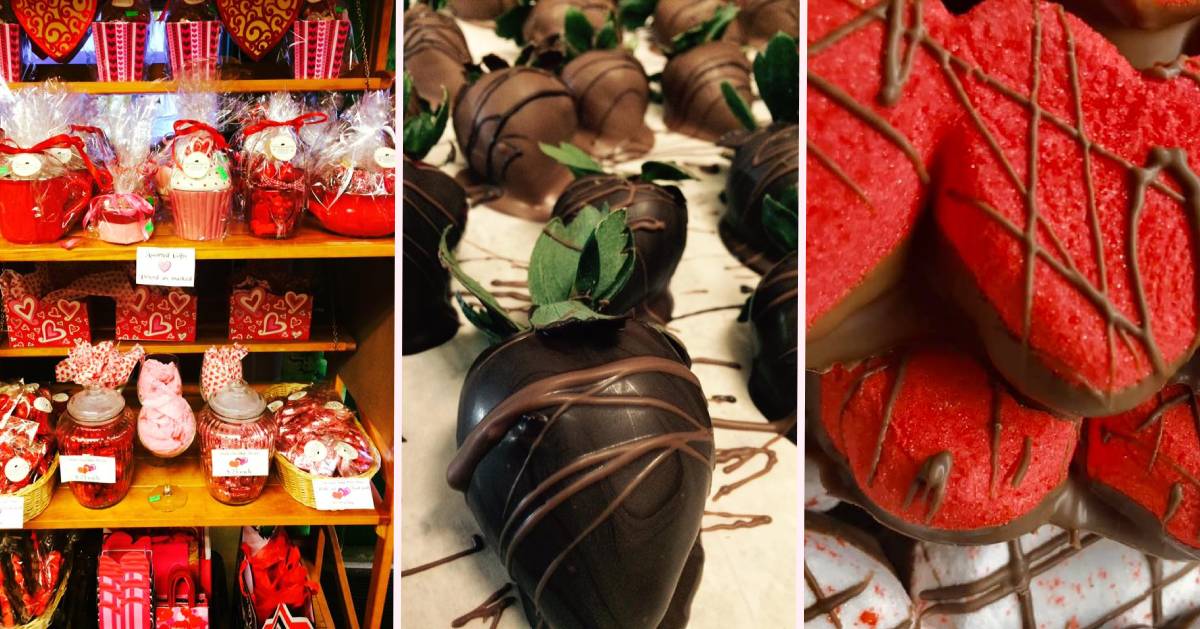 Saratoga Candy Co.
Gourmet truffles and chocolates. Gift Boxes. A "Valentine's Must Haves" page on their site. The Saratoga Candy Co. has everything you need for an ultra-sweet Valentine's Day!
One Google review sums up the store nicely: "Inside this charming shop there was a little of everything, from vintage candies, gift baskets, sugary options, to fudge and all things chocolate."
See their Valentine's Day page: https://www.saratogasweets.com/valentine-must-haves/
Saratoga Chocolate Co.
With the word "chocolate" in the company's name, you can be confident they know their cacao. The Saratoga Chocolate Co., as they say on their website, doesn't just create chocolates, they create chocolate experiences. Check out bars, barks, hot chocolate, dark chocolate, milk chocolate, salted chocolate, and white chocolate.
View their Valentine's Day offerings: https://www.saratogachocolateco.com/product-category/valentines/
Park Avenue Confectionary
Hot cocoa bombs, assorted handmade truffles, chocolate bars, chocolate bark, chocolate platters—Park Avenue Confectionary has got the chocolate options for you. The Mechanicville store will be open on Valentine's Day 2023 from 9 AM-6 PM, so they might be great if you need a last-minute option!
Browse products on their website: https://parkavenueconfectionary.co/
Be on Cloud Wine Together
15 Church
15 Church is adding some fantastic Valentine's Day specials to their menu starting on February 14, and will continue to be on the menu through the week until they're gone! While you're there, we highly recommend checking out their wine selection, as this restaurant is known for their incredible wine list with options from France, Italy, Spain, and other regions.
See their Valentine's Day offerings: https://www.facebook.com/15ChurchSt/posts/3041100269441451
Saratoga Winery
Plan for an epic Valen-WINE's evening at the Saratoga Winery. You and your date will love the romantic, rustic ambience of the winery almost as much as the wine. If you and your valentine are planning a night in, stop by the winery and pick up a bottle from their extensive list of options to complete your night!
View the menu: https://www.thesaratogawinery.com/menus/
Taverna Novo
Taverna Novo, another Saratoga Springs restaurant with a reputation for fabulous wine, is booking up quickly for Valentine's Day. Bring your loved one or bestie for a great night with amazing food.
See the menu: https://www.facebook.com/tavernanovo/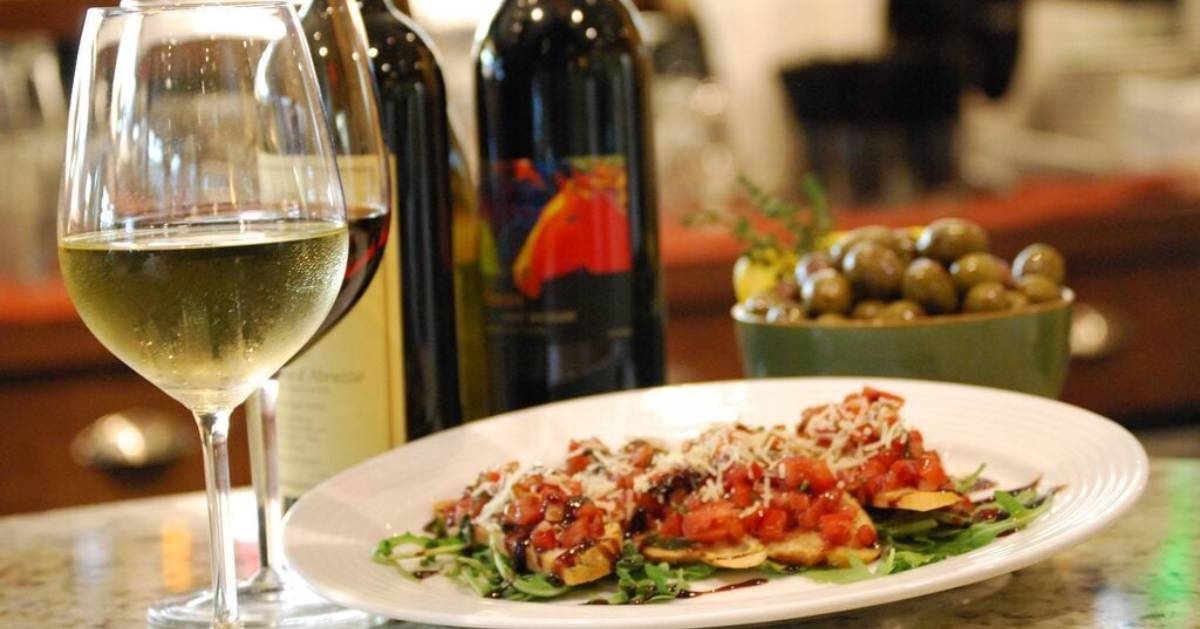 Wheatfields
Bring your pasta-and-wine loving Valentine to Wheatfields, which has locations in Saratoga Springs and Clifton Park. They make their own pasta in-house and have an extensive and impressive wine list. Make a reservation, and be sure to check out their Valentine's Day specials!
See their menu: https://wheatfields.com/saratoga/menu/
Antipasto's Vegetarian Bistro & Wine Bar
Antipasto's Vegetarian Bistro & Wine Bar in Clifton Park has posted that they will be open on Valentine's Day. Reservations are recommended, as is the Baked Focaccia & Brie, perhaps paired with a glass of Sauvignon Blanc.
Visit their Facebook page: http://www.antipastos.com/
This article is sponsored by Saratoga County Tourism. Note: The opinions expressed in this article are those of the authors. They do not necessarily reflect the opinions or view of Saratoga County Tourism or its members.