Plan for a Paranormal Time This Fall in Saratoga Springs
Editor's Note (4/5/23): The following event details are from the 2022 fall season. We will be updating for 2023 as info is announced.
Saratoga Springs and the surrounding area are a haven for spooky stories and haunted happenings, prompting the authorship of books like Haunted Saratoga and Haunted Saratoga County, and drawing the attention of the series Ghost Hunters.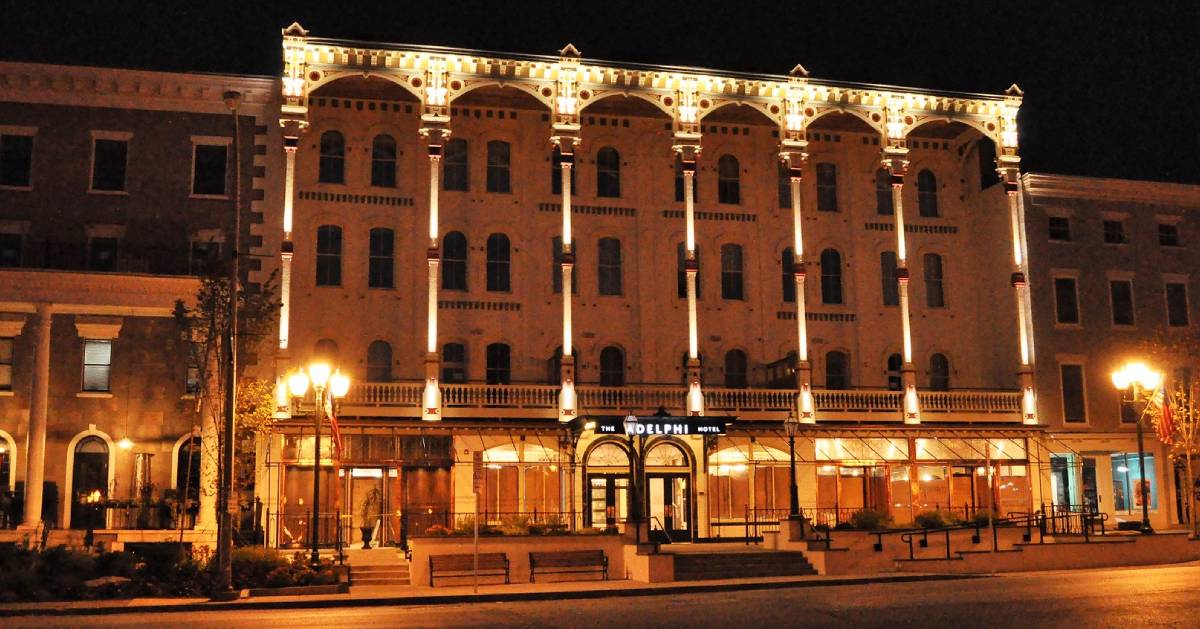 Read about the stories behind the spirits and find out how you can get into the Halloween spirit in Saratoga by taking guided ghost tours, checking out haunted attractions, and visiting worthwhile graves - including the inventor of the potato chip.
Brush Up on Local Hauntings & Legends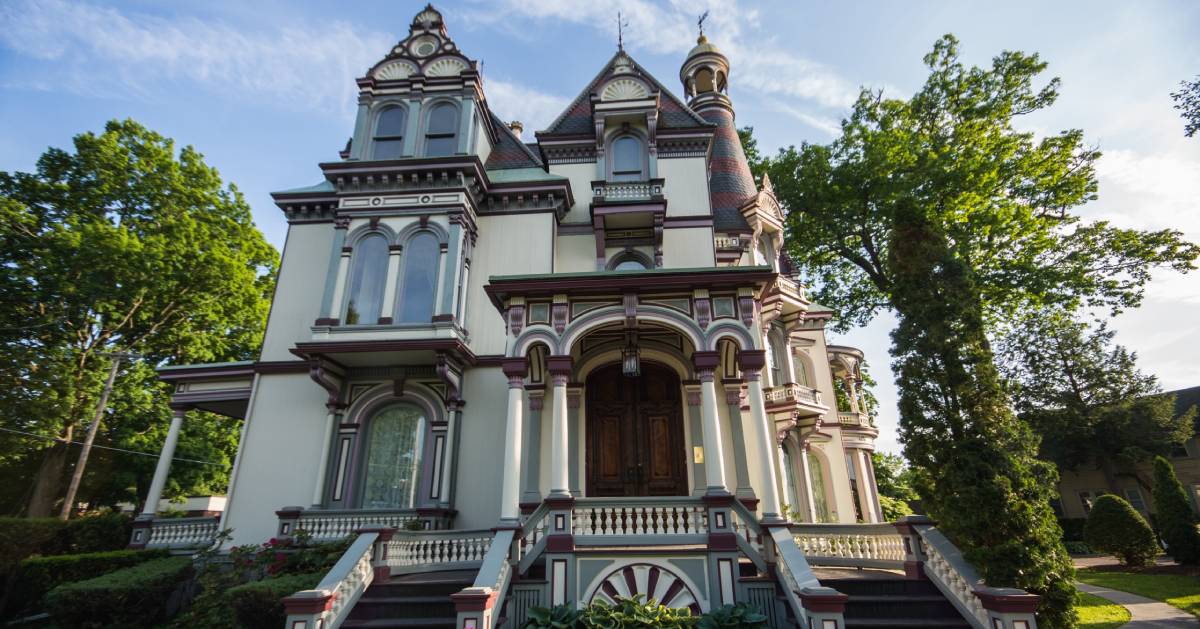 Canfield Casino
Spiritual activity at the Canfield Casino in Congress Park prompted a visit by the Ghost Hunters series in 2010, the staff of which reportedly experienced hair pulling and touching during their recordings of activity for the show. The 150-year-old building is believed to be haunted by John Morrissey, the man behind the exclusive casino during the late 1800s, who had three rules: no women, no locals, and cash only.
Visitors have reported cold spots, the smell of cigar smoke, hostile energies, and even being slapped by an unseen force. A woman in Victorian clothing has been seen roaming the corridors, even asking a question of a tour group in 2007 before she vanished into thin air.
The Olde Bryan Inn
The Olde Bryan Inn has a history that dates back to before the Revolutionary War and is one of the oldest buildings in the city. There have been many reports over the years of a woman in a green Victorian-style dress that was exactly like one that had been found in the attic of the building.
On the restaurant's own website, they tell the story of a massive chandelier (which has since been replaced) spinning uncontrollably one night when the electricity was out. The owner climbed on a table to steady it, and when he got down, it resumed spinning.
Batcheller Mansion Inn
When you look at the architectural treasure that is the Batcheller Mansion Inn, it's not hard to imagine spirits dwelling within. The Albany Paranormal Research Society has visited the mansion twice. Reportedly on one of these investigations they captured evidence of George Batcheller, the Civil War general who had the mansion built in 1873, saying, "Come find me." Guests have reported ghost orbs and a peculiar presence.
The Adelphi Hotel
The Adelphi Hotel, built in 1877, is considered the last of the Victorian-era hotels, so it's no wonder this makes our list of haunted spots for yet another Victorian-dressed ghost. Guests have reported seeing a lady in a Victorian-era blue dress walking the halls, and there are also rumors of ghosts making the lives of developers difficult when the building was examined in 2013 for renovations.
Saratoga National Historical Park
The Saratoga National Historical Park in Stillwater has had many reports of spiritual activity over the years, lingering behind from the autumn of 1777 when the Americans defeated the British in the Battle of Saratoga. The Wilkinson Trail in particular has been known to have the most paranormal presence - this trail is about four miles long in the northern area of the battlefield. Park-goers have heard moaning, gunshots, and drumming.
Please be respectful to all the soldiers who have died and are buried at this park.
There are many more hauntings in Saratoga County than the ones we've highlighted above - and maybe you can find out about some of them if you check out Saratoga Ghost Tours.
Reserve Your Spot at These Saratoga Ghost Tours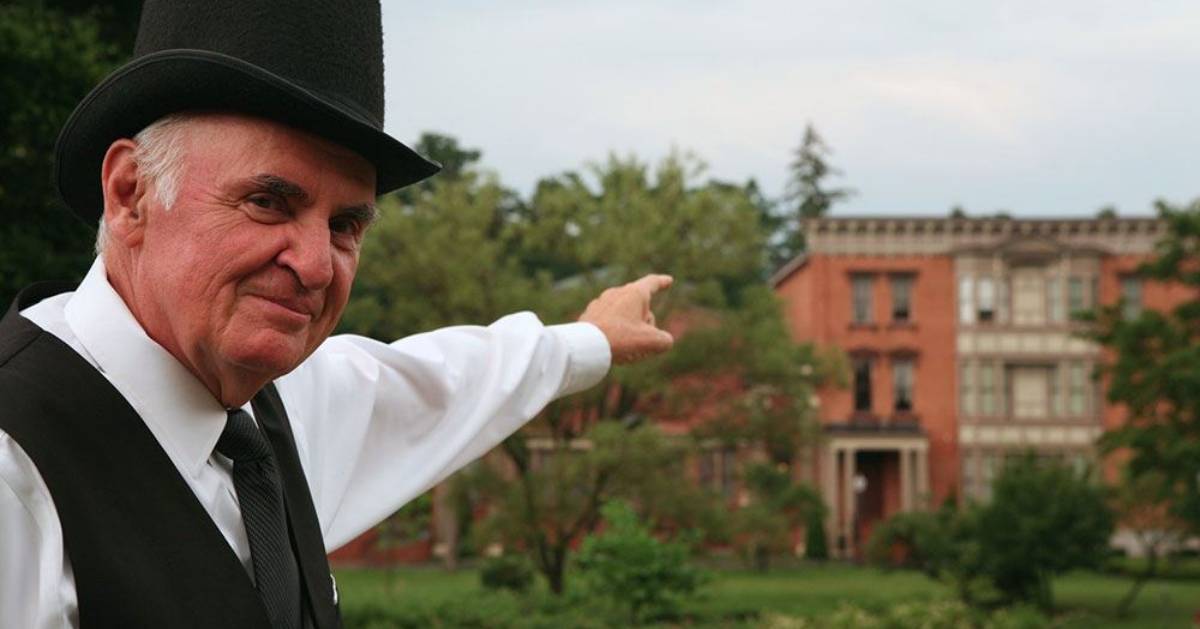 Saratoga Springs and the surrounding area are a haven for spooky stories and haunted happenings, prompting the authorship of books like Haunted Saratoga and Haunted Saratoga County, and drawing the attention of the series Ghost Hunters.
Haunted Saratoga Ghost Tours
Joe Haedrich, pictured above, runs Haunted Saratoga Ghost Tours, and he's also the author of Haunted Saratoga. Their season runs May through the beginning of November, and these 90-minute walking tours are taken at a leisurely pace. They're held every Friday and Saturday evening at 7pm. Space is limited, and these are popular, so get your tickets as soon as you can or ask about a private tour!
Ghost Tours at the Canfield Casino
The Saratoga Springs History Museum hosts ghost tours at the Canfield Casino. They are available on most Mondays, Wednesdays, and Fridays in July and August, but they also host a special Halloween VIP Ghost Tour in October! In 2022, the tour will be held on October 28th. Again, space is limited and tickets go fast.
Ghosts of Saratoga Trolley Tours
Experience Saratoga's paranormal side during an upcoming Ghosts of Saratoga Trolley Tour, hosted by the Saratoga Springs Heritage Area Visitor Center and the Saratoga Springs History Museum/Canfield Casino. Each 90-minute trolley tour will bring guests to various ghostly locations in Saratoga, including the second floor of the Canfield Casino. Advanced reservations are required, and the dates are October 19, October 20, and October 25, 2022.
View all Saratoga area Halloween events »
Get Scared & Have a Frightfully Good Time at Area Attractions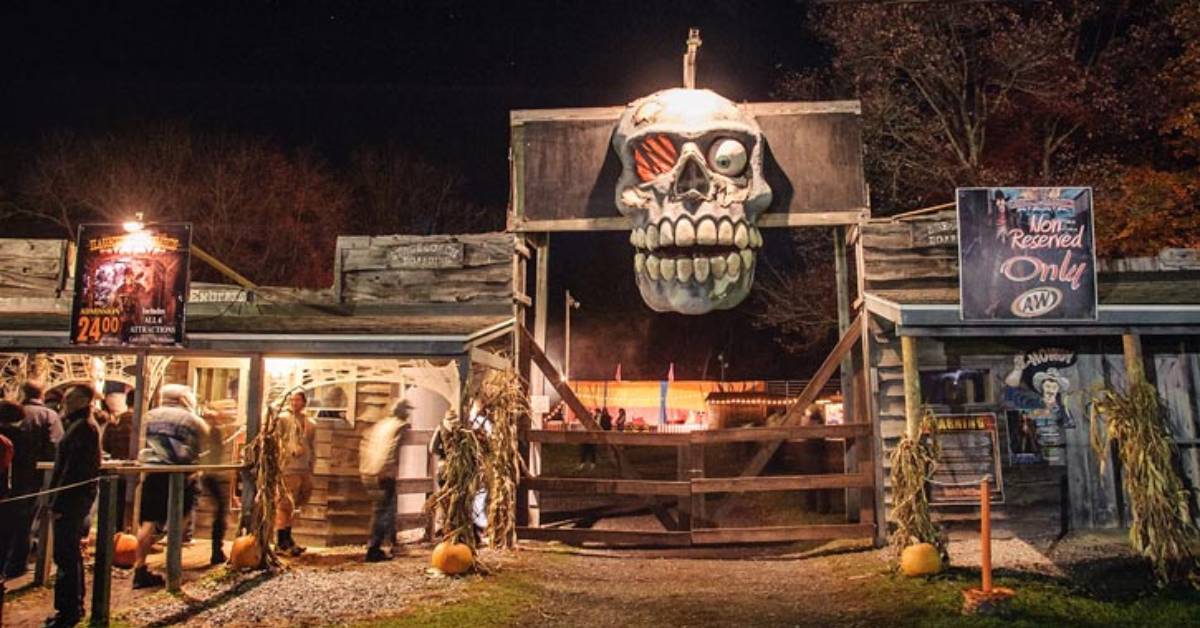 Double M Haunted Hayrides
Double M Haunted Hayrides in Ballston Spa has been a Halloween season tradition for over three decades. Join them this year for a spooky hayride through the woods and a trip to a variety of terrifying attractions. Opening night is September 24, 2022, and after that, they will be open on select dates in October.
Haunted Corn Maze at Schuyler Farms
Discover what lurks in a corn maze at night at Schuyler Farms in Schuylerville. Their haunted attraction is open every Friday and Saturday night through October. The farm also features other family-friendly activities, including zip lines, a petting zoo, and pumpkin picking.
Pay a Visit to Notable Graves & Perhaps Uncover a Spirit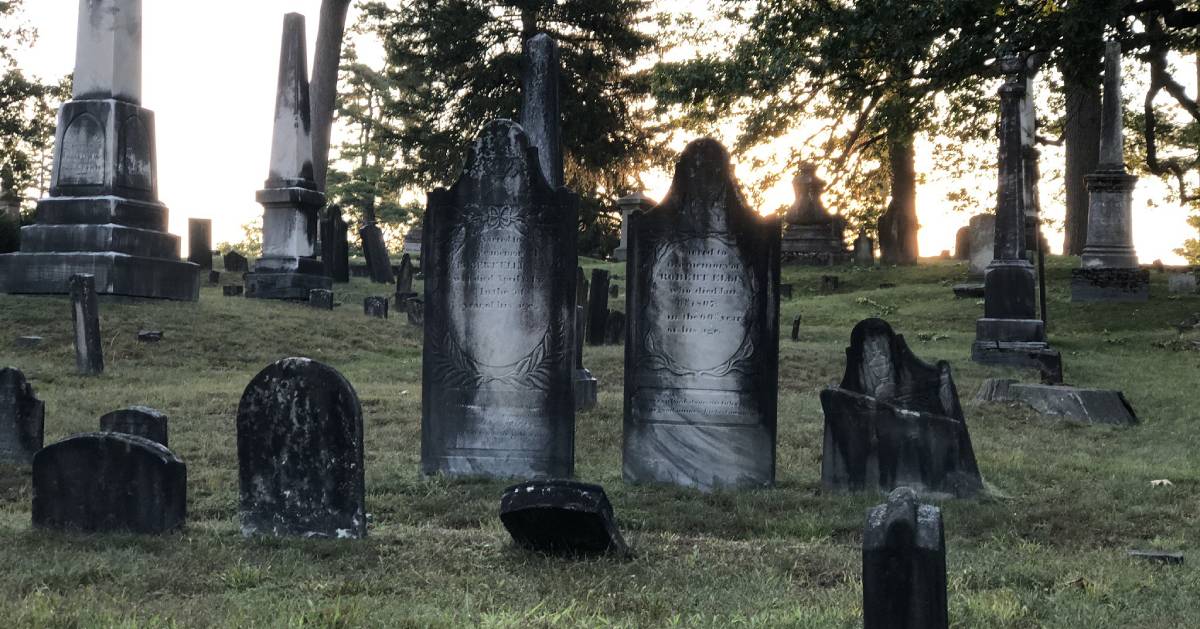 Greenridge Cemetery is the final resting place for many members of prominent families in the community over the years. It's open to visitors from dawn to dusk and is home to the first three notable graves in the Saratoga area that we list below. You can see a map of the cemetery here.
In general, please be respectful when visiting cemeteries, only doing so between dawn and dusk. While you may or may not see a ghost at a cemetery, one thing is likely: that you feel the energy of these fascinating individuals.
George Sherman Batcheller
July 25, 1837 - July 2, 1908: Greenridge Cemetery, Saratoga Springs, Plot K - 035
Yes, the Batcheller of the reportedly haunted Batcheller Mansion. This Civil War soldier and lawyer was elected as a member of the New York State Assembly at 21 and was a relative of Roger Sherman, a signer of the Declaration of Independence.
His great mansion was built in 1873 by Albany architectural firm Nichols & Halcot with three floors, eleven bedrooms, five bathrooms, two steam-vapor furnaces, a music room, a library, and the whole home was illuminated by gas light.
Charles F. Dowd
April 25, 1825 - November 12, 1904: Greenridge Cemetery, Saratoga Springs, New Lot East Hillside
Charles F. Dowd was known for work on train travel and the time system; local time was calibrated to the sun's noon mark at the time, which produced a variety of time standards. Dowd was the first person to suggest time zones for the country. He was also co-principal with his wife at the Temple Grove of Ladies Seminary, which is now Skidmore College. Dowd died ironically by a railway train when crossing a street.
Buddy Ensor
April 27, 1900 - November 13, 1947: Greenridge Cemetery, Saratoga Springs, New Lot XNA
Horse racing fans, this is the grave you might want to visit. Hall of Fame Jockey Buddy Ensor was a horse racing legend in 1920, described by The New Yorker as "one of those natural riders who come up once in a generation." Unfortunately, he was prone to alcohol abuse and misconduct that led him to getting his license suspended by the Jockey Club. He rode again, but not for long, and passed at the age of 47.
Ensor's now-deceased daughter (who passed in 2016), Elaine Mann, served as Executive Director of the National Museum of Racing for many years.
Sergeant Thomas A. Baker
June 25, 1916 - July 7, 1944: Gerald B. H. Solomon Saratoga National Cemetery, Schuylerville, Section 8, Plot 530
There are over 14,000 military graves at this Schuylerville cemetery, and only three are marked with the Medal of Honor; Thomas A. Baker is one of them. Baker was awarded the World War II Congressional Medal of Honor for conspicuous gallantry and intrepidity at the risk of his life above and beyond the call of duty at Saipan, Mariana Islands, on July 7, 1944.
Baker continued to fight even when wounded, his ammunition ran out, and his weapon was no longer usable. A comrade attempted to drag him to safety but was wounded himself. Baker asked to be propped up against a tree to die in dignity rather than risk more of his fellow soldiers' lives. He was given a gun with eight bullets and reportedly eight Japanese soliders were found in front of him when his body was discovered. He was 28.
George "Speck" Crum
1822 - July 22, 1914 (discrepancy with birth year, some sources indicate 1828 or 1831): Malta Ridge Cemetery, Malta, Lot #79, 7 burial plots north of the driveway
If you're a Saratoga foodie fan, you may have heard this story: A chef at a restaurant on Saratoga Lake in August of 1853 had to deal with an unpleasant customer. Commodore Cornelius Vanderbilt, then one of the richest men in the country, complained that his potato wedges were too thick. He continued to send them back after the chef made them thinner and thinner, until finally the chef sliced them so thin you could almost see through them. He deep fried them, sprinkled them with salt, and Vanderbilt couldn't get enough.
What you may not know is that the chef was named George Crum, a half African American, half Native American man who is credited with the invention of the potato chip. Unfortunately, he never patented the dish, and so accounts differ as to whether it was truly he. Crum went on to open his own restaurant, Crum's House, on Malta Avenue with "Saratoga Chips" on every table. (Find Saratoga Chips on Facebook for delicious chips that serve as an homage to the man behind the fabulous food item.)
Colonel Elmer E. Ellsworth
April 11, 1837 - May 24, 1861: Hudson View Cemetery, Mechanicville, Memorial ID 4668
Colonel Elmer E. Ellsworth is known as the first noteworthy Union officer to die in the Civil War at the age of 24. Ellsworth dreamed of being a soldier ever since he was a child. After being rejected by West Point, he ended up studying law and French military methods. In 1860, he joined the law office of Abraham Lincoln and worked on his election for presidency.
Ellsworth was sent to Alexandria, Virginia at the beginning of the Civil War to evict Confederate supporters. No one fired as the Union soldiers entered the town. Ellsworth noticed a Confederate flag flying from the top of the city's largest hotel and went to personally remove it. On his way down the stairwell afterwards he surprised the hotel manager who fatally shot him.
An interesting note with the body: Ellsworth was moved around considerably after his death, going through more than one "mourning train" in different locations. Because of this, some believe that he was one of the first famous people in the country to be successfully embalmed, which was a new technique at the time.
How will you embrace the spirited nature of Saratoga this year? Whether you dine at a restaurant rumored to harbor ghosts, visit a grave to remember those who have passed, or take the kids for a drive through the spookiness happening at Ellms Family Farm, we hope you have a hauntingly good season in Saratoga County!
This article is sponsored by Saratoga County Tourism. Note: The opinions expressed in this article are those of the authors. They do not necessarily reflect the opinions or view of Saratoga County Tourism or its members.
Sources:
Clifton Park North Pennysaver: The Ghosts of Saratoga And Beyond
Graves of Upstate New York: A Guide to 100 Notable Resting Places by Chuck D'Imperio
The Olde Bryan Inn: Spirits at OBI - Not just from the Bar!
Only in Your State: This Haunted Hike In New York Will Send You Running For The Hills
Saratoga Living: Tales From Saratoga's Tombs: The Famous and Infamous Rest In Our Midst
Saratoga Today: Haunted Saratoga - Arcade Building, Adelphi Hotel, Longfellows Restaurant
Saratoga Today: Haunted Saratoga - Restaurants: The Olde Bryan Inn, Hatties, Mercantile Restaurant, Parting Glass Pub