Buy Local At The Saratoga Farmers Market!
For fresh, healthy organic produce, buy local from area farmers markets. Learn which foods you should put on your grocery list for your next trip.
(Please note: it is also important to buy organic meats, eggs, and dairy.)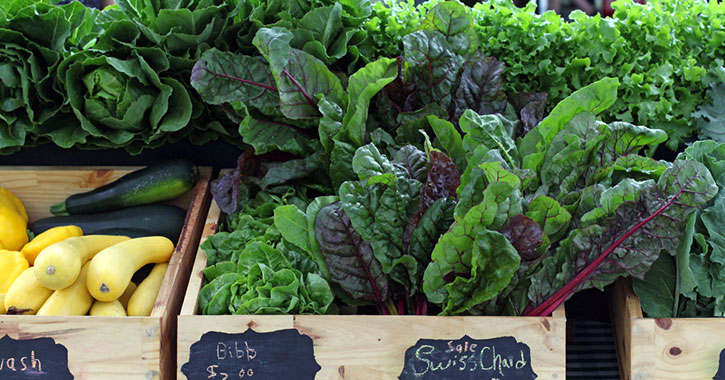 Local Fruits & Vegetables
Put these fruits and vegetables at the top of your "Buy Organic List." They typically contain high levels of pesticides when not purchased organically.
Apples
Peaches
Nectarines
Strawberries
Grapes
Celery
Spinach
Sweet bell peppers
Cucumbers
Cherry tomatoes
Imported snap peas
Potatoes
Optional Produce
Looking for safe non-organic produce? These fruits and veggies are relatively healthy, even when not produced organically.
Avocados
Sweet corn
Pineapples
Cabbage
Sweet potatoes
Onions
Asparagus
Mangos
Cauliflower
Kiwi
Grapefruit
Cantaloupe
Here's a tip: Terms like 'natural,' 'free-range,' and 'hormone-free' do not mean the same as organic. They are frequently used by the food industry, and the USDA has no certification standard for them.
What's in season when: It's important to know which fruits and vegetables are in season in Saratoga! We've broken down our foods from the list above into the best seasons to purchase them.
Fall: Apples, grapes, potatoes, cabbage, sweet potatoes, cauliflower
Winter: Celery, kiwi
Spring: Snap peas, onions, asparagus, grapefruit
Summer: Peaches, nectarines, strawberries, peppers, cucumbers, tomatoes, avocados, corn, mangos, cantaloupe
Year-round: Spinach