Tips On Adding Water Features To Your Saratoga Home's Landscaping
Own a home in Saratoga? Landscaping with water features can spruce up any backyard! Bring new life to your garden by incorporating still or flowing water into your landscape. Water features also attract birds, bees, frogs, dragonflies and other wildlife that are natural predators to garden pests--a definite plus for any backyard!
Water features can range from elaborate waterfalls and garden ponds to something as simple as a bird bath. Find a water feature perfect for your backyard! Contact local suppliers and Saratoga NY area landscaping companies for help with your new project.
Decide on a Water Feature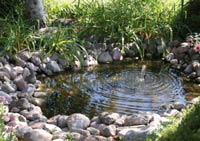 Many families opt for a backyard gardenpond to enhance their landscape. Ponds are very attractive garden features and can range from the very simple to the very elaborate, depending on your preferences. There are many great kits you can buy to create an attractive garden pond, or you can give your landscaper a call to ensure a worry-free project.
Fountains and waterfalls are visually intriguing, and either one would make a great addition to your outdoor patio or landscape. You could even put one in the center of your garden pond! They offer the soothing sound of rushing water to your backyard--perfect for that restful garden retreat.
Landscaping with water features doesn't have to be elaborate! Birdbaths are perfect little water features for a small space or limited budget. They are inexpensive to buy, easy to set up and require little upkeep. Remember to keep the bath away from your frisky feline's reach!
Got a wet spot in your yard? Every time it rains, you may have an area in your yard that turns into a squashy marshland. This may mean you have a natural spring in your yard (or perhaps a few of them). Natural springs are abundant in Saratoga! Landscaping with water features can transform that marsh into the main attraction! Give your landscaper a call to help you locate and channel the spring (and avoid the septic and buried lines) to create a natural stream or brook running through your backyard!
Enhance It With Plants and Stones
Add character to your water features! Landscaping and hardscaping around your new water feature is an important part of making it look natural and attractive in your backyard.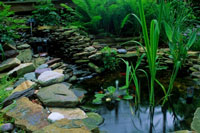 Plant some perennials in and near the water feature to create an illusion of a thriving colony in your water feature. Choose plants that make for great foliage when they're not in bloom. Irises and variegated moor grass are great choices for waterside perennials. Lotus and water lilies will grow right in the water--also very attractive options.
Jungle plants can transform your backyard into a mystical, tropical paradise. Jungle plants... in Saratoga? Landscaping with water features in the Northeast has its tricks! Yes, there are many tropical plants that will thrive in Saratoga's hot, humid summer, and even a few that are hearty enough to last through the winter. Check with local landscapers and garden centers to determine which ones would be right for your backyard or garden pond.
Lining your water feature with natural rock or natural-looking stone is another attractive option. Strategically positioned boulders make for perfect observation points around your water feature. Keep in mind that boulders look more attractive when they appear in odd numbers: 1, 3 or 5.
Lighting really enhances the look of any water feature and extends its dramatic visual impact into the night hours. Backlighting a waterfall, adding a spotlight to your fountain or installing underwater lighting in your garden pond makes a striking impression. You'd be surprised how a little illumination can make your water feature look even more spectacular.
Stay Consistent Throughout Your Backyard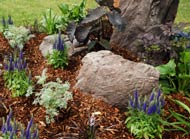 No matter what type of water feature you decide to create or what type of landscaping and hardscaping you choose, incorporate some of the same elements throughout the rest of your yard to tie it in.
Mimic the same stone and plants that you used in creating your water feature throughout the rest of your backyard in flower beds, outcroppings, around trees and more. Take a few of the flowers you used near the water feature and pot them on the corner of your patio or back deck. Tie in similar colors with decorative accessories and vases on an attractive bistro table.
Call a Saratoga landscaping professional for more water feature ideas and advice.
Looking for more home and garden tips to enhance your home in Saratoga? Landscaping With Water Features is just one of many helpful articles in our Saratoga home and garden section!