Sam the Bugler at Saratoga Race Course
Editor's Note 9/3/18: After a 25-year career at Saratoga Racetrack, Sam the Bugler retired at the end of the 2018 summer meet.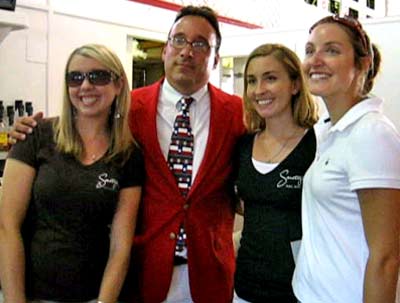 Sam the Bugler is an official celebrity here in Saratoga, and we were lucky enough to catch up with him at the Race Track this year for a little entertainment.
We learned that Sam is skilled at a variety of different tunes on the bugle, not just his world-famous "Call to the Post." He played many special request songs for us, including Elvis's "I Can't Help Falling in Love with You."
As it turns out, I don't think Sam could help falling in love with us! He spent a long time lavishing us with compliments, wine and Ginger Ale while giving us an impressive (and delightful) bugle serenade. Of course we were all smiles and giggles, star-struck by the famous Race Track bugler.
We got around to asking a few questions we've always wondered. Our Web Editor Destiny Malone asked Sam if it got hot having to "wear that big red coat all day". And she sure learned that it was indeed hot when Sam let her try the jacket on for size! Next, he handed her the bugle, and the look was complete. Hey, she might even have a future at NYRA if Sam is ever looking for a replacement!
He continued to chat with us for quite a while, wondering what else we wanted to know about him. His ask-me-anything attitude had us throwing out questions left and right. It seemed he had a witty response for each one.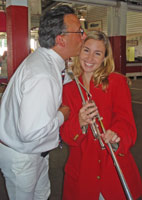 One question in particular earned us each a kiss from Sammy! Maybe we were being naive, but we swear it was completely innocent when we asked him, "Do your lips get tired from practicing and playing all season?" He gave us all a smooch on the cheek and joked, "My lips never get tired!"
What a wonderful visit with Sam the Bugler at Saratoga Race Track! When racing season is over and the bugle Call to the Post is a distant memory, we will never forget Sam's charming entertainment and skillful bugle serenade. Thanks again, Sam. We will miss you at Saratoga!
More of Sam The Bugler...
10 Questions With Sam Grossman