City Of Saratoga Springs NY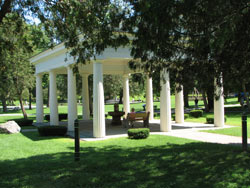 Discover everything there is to know about Saratoga Springs NY. History, culture and attractions abound in this popular tourist hotspot, from the Saratoga Racetrack to its age old mineral baths, Victorian culture and more.
Saratoga's springs are among the few naturally carbonated waters in the nation.Learn what it's like to soak in these healing waters.
The historic city of Saratoga Springs NY started out as a quiet little settlement with beautiful scenery and magnificent natural springs.
As more and more people learned of its healing mineral springs, the area quickly grew into a luxury resort city with businesses and accommodations popping up at every corner.
High-society from all over the world made a point to visit the famed "Spa City" and experience the springs for themselves. Learn more about the history.
Ever wonder where to find Saratoga's mineral springs and fountains? They are hiding in plain sight! Read our guide to finding Saratoga mineral springs.
Today, Spa City is still popular for its rich mineral baths and fabulous culture, but the Saratoga Race Course steals the show every summer with its live Thoroughbred horse racing.
Sports Illustrated named the Saratoga Race Course one of the top 10 sports venues of the 20th century, right up there with Yankee Stadium, Wrigley Field and others.
Come see what others find so alluring about the city Saratoga Springs NY! You'll find great restaurants and bars, the best downtown shopping venues, Saratoga Springs hotels and lodging options, convention halls, attractions.. the list goes on and on.
Spa City is always booming with business, racing and tourists. Discover the many things to do in Saratoga Springs!