Your Family-Friendly Guide to the Saratoga Race Course
Planning a family vacation or day trip to Saratoga Springs during Track season? Saratoga Race Course can be a fun summer outing for kids and parents alike! Find out the best days to visit, where to sit, what to see and do, where to eat, and where to stay to make sure everyone in your family enjoys the visit.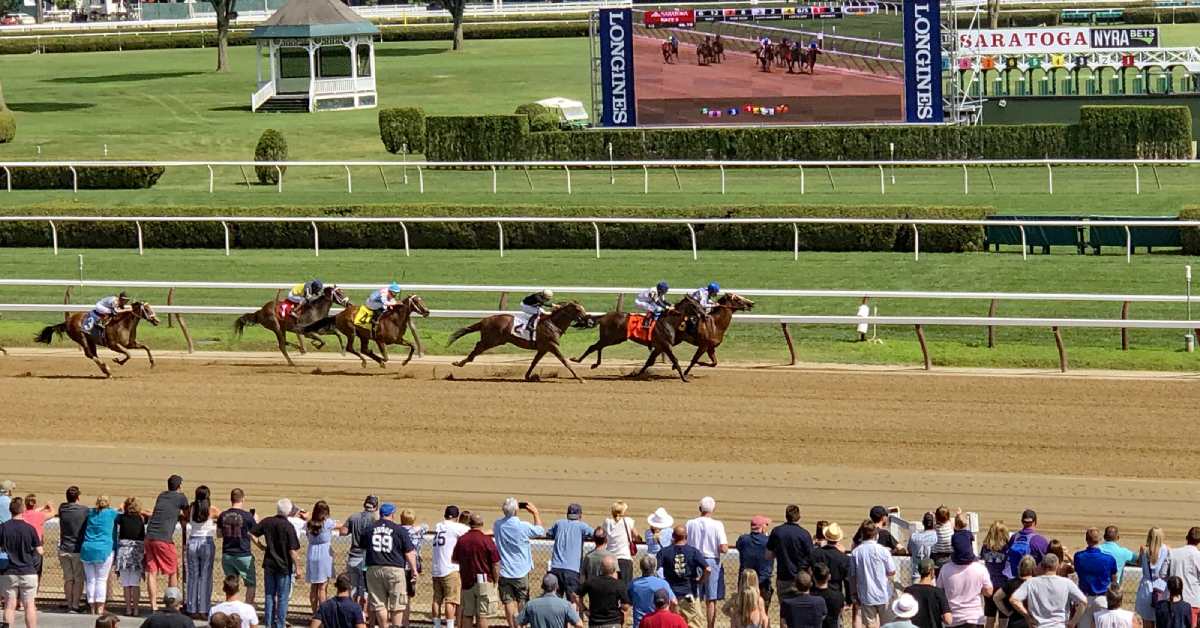 When to Attend
Although you can take kids to Saratoga Race Course any day it's open, Sundays are a great choice. Every Sunday, the Track hosts Berkshire Bank Family Sundays at the Berkshire Bank Family Zone, which features free family-friendly activities, games, attractions, and more.
Where to Sit
There are a lot of seating options at the Track, but your best bets are the Grandstand, the Trackside Apron, or the backyard. Admission at all three locations is free for kids 12 and under, as long as they're with a paying adult.
Claim a picnic table and let the kids explore the excitement of the backyard. You can watch the races on the TV screens or head out to the rail to see them up close. You'll also be in close proximity to attractions like the playground, merchant tents, and paddock, making it easy to keep the kids entertained.
The atmosphere and attire in the Grandstand is more relaxed than the Clubhouse (which has a dress code -- no tank tops, cut-offs, or short shorts) while still offering a great view and protection from the elements. Be sure to bring hats and sunscreen if you sit in the Trackside Apron, as you'll have a close-up view of the races, but will be in the direct sunlight.
What to Do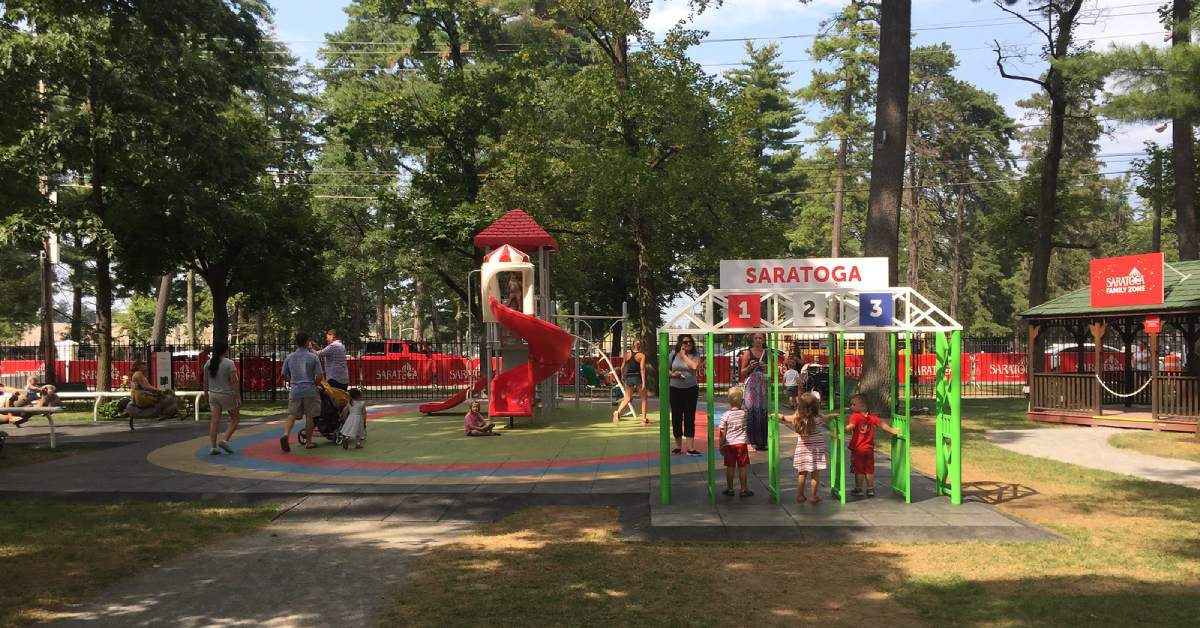 Although watching the races might be the main attraction of the day (and something your kids will probably enjoy), there are plenty of other things to do.
Come to the track early in the morning to watch the horses work out. Admission is free in the mornings -- just be sure to leave before 10 am (a perfect time to explore Downtown and grab lunch) and then return before post time at 1 pm.
Take a break from watching the races and head out to the paddock, located in the backyard, to watch the horses and jockeys as they ride along Champions Way towards the track before the start of each race. While you're at the paddock, stop by Big Red Spring to sample some of Saratoga's famed spring water.
For an activity geared specifically towards kids, visit the Berkshire Bank Family Zone. Children can have some fun at the equine-themed playground, which includes a playset with slide, "horses" to ride, and a miniature starting gate and race track.
Where to Eat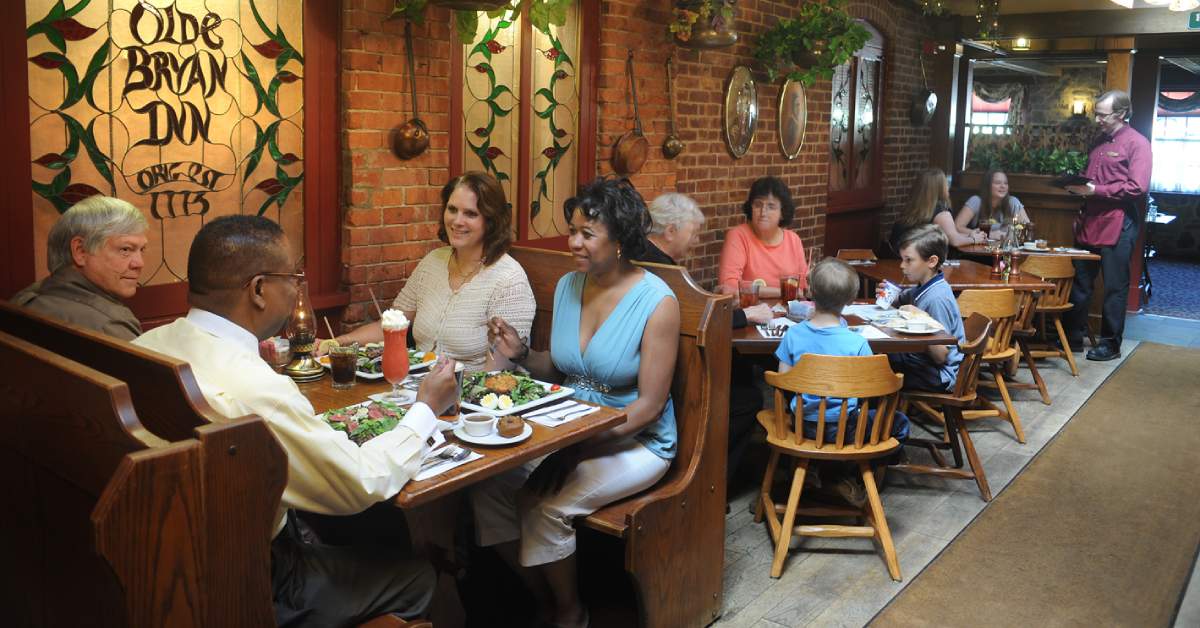 You can eat at the Track itself -- they have many concession stands, various dining options (it's wise to make a reservation and check on the dress code beforehand), and their signature daily Clubhouse Breakfast buffet, overlooking the horses' morning workouts on the track.
Don't miss out on everything Saratoga has to offer, however. Get out into the city and explore! Try one of these kid-friendly local restaurants for breakfast, an early lunch, or dinner after the track.
Enjoy a breakfast of pancakes, waffles, or eggs at Sweet Mimi's Cafe & Bakery. They also sell freshly-baked cookies, muffins, breads, cupcakes, scones, brownies, and other fare. Arrive early on the weekends to avoid the crowds.
Have lunch or dinner at a Saratoga favorite that traces its history back almost 250 years. Olde Bryan Inn, a cozy colonial-era venue, has a full kids menu and plenty of unique fare and daily specials for adults to enjoy.
Feel like BBQ for lunch or dinner? Dizzy Chicken Woodfired Rotisserie serves healthy takes on chicken, pulled pork, brisket, and ribs. There's something for everyone in the family to enjoy, including salads, mac & cheese, and boneless Dizzy Bites.
Have authentic Mexican food for dinner at Cantina, located on Broadway. Their kids menu is a mixture of kid-friendly Mexican fare and classic children's menu items, like chicken tenders. If you're looking to cool off after a long day at the races, they also serve fried ice cream.
For an Italian dinner, go to Augie's. This local favorite serves its dishes family-style, so plan to select a few entrees everyone will love and share them around the table (or end up with enough leftovers for another meal!)
Where to Stay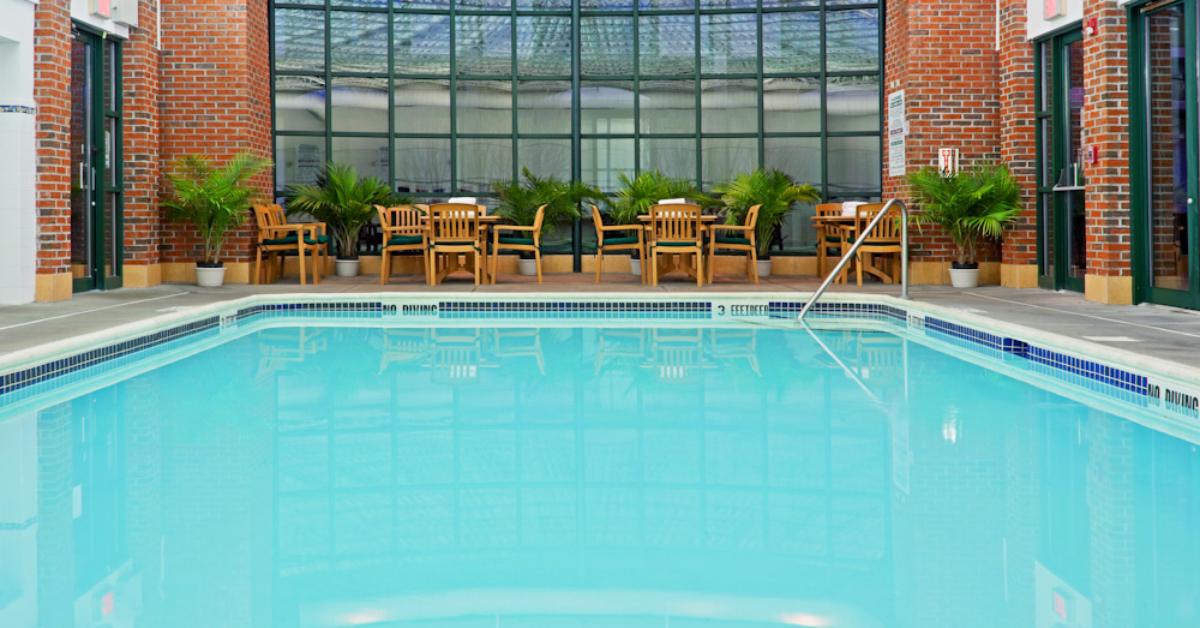 Holiday Inn Saratoga Springs, located 1 mile away on the edge of Congress Park, has indoor and outdoor pools, a game library you can borrow from, and a free childrens menu at their on-site restaurant.
Residence Inn by Marriott is 5-10 minutes away and a great option for larger families. In addition to spacious suites (some with multiple rooms and bathrooms), they also provide free breakfast, an indoor pool, an outdoor BBQ and patio, a basketball/tennis court, and a free shuttle to Downtown.
Hyatt Place Saratoga Malta (also in Malta and right off I-87) is perfect if you're looking for your home away from home. They offer several kinds of suites, a 24-hour cafe, and an indoor pool.
Whether you're in Saratoga for a vacation or just spending the day at the Track, there are plenty of ways to make the experience fun for everyone in your family, regardless of their age.