Discover the Best 48-Hour Itinerary for a Snowy Winter Getaway to Saratoga Springs
Let it snow, let it snow, let it snow in Saratoga Springs! Each year, the Saratoga area receives plentiful snowfall that opens up a new world of activities, such as downhill skiing, snowshoeing, and snow tubing. Do you love snowsports, warm, crackling fireplaces, and winter fun? Make plans for an unforgettable getaway to Saratoga with help from this 48-hour snowy winter itinerary.
Friday Evening: Check In & Rest Up for a Fun-Filled Weekend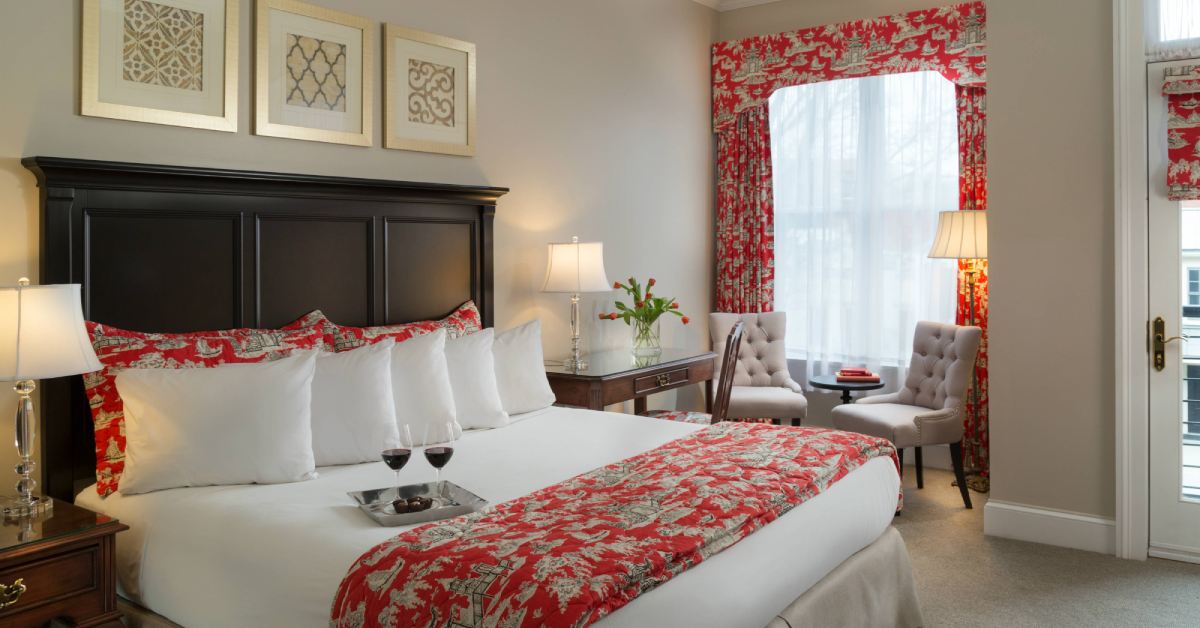 Comfortable lodging is one of the most important parts of any getaway, and for this 48-hour itinerary, we're highlighting three local properties in and near Saratoga Springs.
If you're spending the weekend in Saratoga, the Brentwood Hotel is a great option. This boutique hotel features 12 modern yet charming rooms, each with custom built, pine wood beds and plush mattresses. The hotel also has a small bar on-site, perfect for cozying up with a cocktail after a long day of exploring.
Next is Bluebird Spa City Motor Lodge, a cozy haven in the heart of Saratoga Springs. Thanks to its central location, this transformed vintage motor lodge is the perfect spot to stay when you visit. You'll feel serene bliss in the Lodge's rooms, which are reminiscent of a modern arts studio, and the stunning atrium and outdoor rooftop seating area are ideal spots to relax in style after a long day on the town. The Bluebird Spa City Motor Lodge also offers coffee on tap and a number of pet-friendly rooms.
Another excellent lodging property to stay at this winter is Saratoga Arms, a top-rated hotel in a lovingly restored 1870 Second Empire brick building. Conveniently located in downtown Saratoga, Saratoga Arms features 31 unique rooms and suites. You can book one with a fireplace, a double whirlpool tub, or both! Plus, guests can start their morning off right with a complimentary farm-to-table gourmet breakfast.
Explore other lodging options »
Saturday Morning & Afternoon: Hit the Slopes at One of the Region's Top Ski Resorts
The Adirondack Park is home to some of the Northeast's best ski resorts, and if you're a fan of downhill skiing or snowboarding, then you're going to love today's schedule. After you wake up and enjoy either a complimentary breakfast or find a local breakfast spot, it's time to pack the car and drive north of Saratoga toward the southern Adirondacks.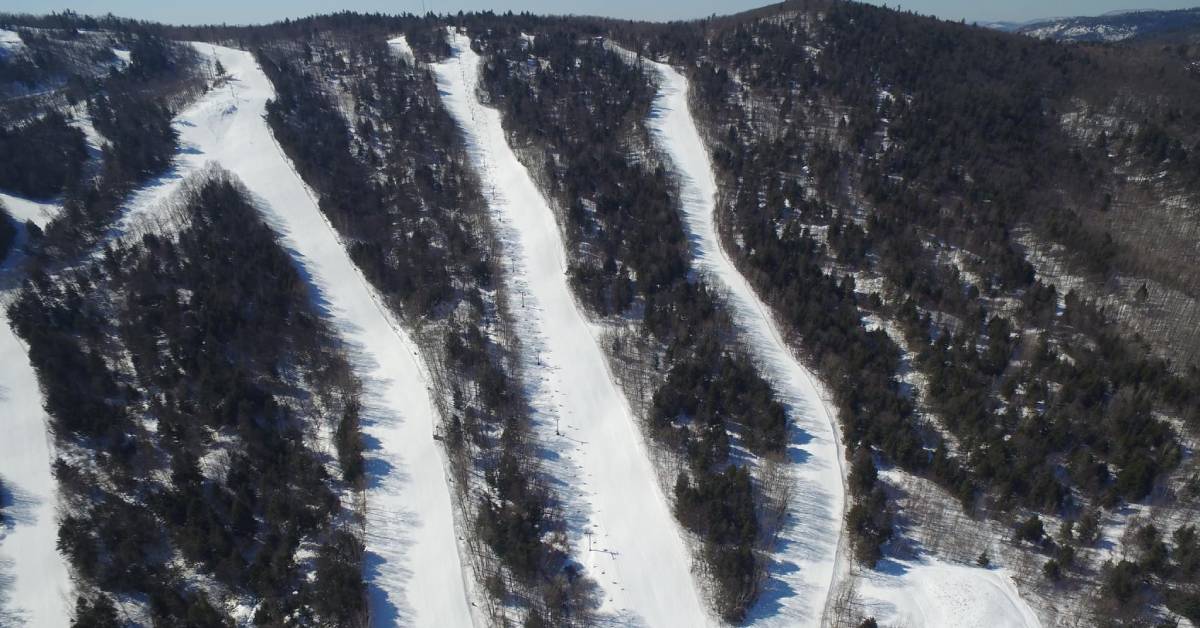 There are a few ski resorts that are worth the drive from the city, and one of the closest is West Mountain in Queensbury. Nestled in the Adirondack foothills about 25 minutes from downtown Saratoga, West Mountain is a medium-sized ski resort with 31 trails, a family-friendly snow tubing park, and 100% mounted snowmaking, so you can always look forward to an outstanding day on the slopes.
Daily equipment rentals are available, but due to the limited quantity, you may want to reserve your rentals ahead of time. When you need to refuel after an exciting morning of skiing and snowboarding, grab lunch at the West Express Cafe or West Mountain Bar & Eatery.
If you're in the mood for a longer drive, Gore Mountain in North Creek is about one hour north of Saratoga Springs. Gore is renowned for featuring the most skiable acreage in New York State, and there are over 100 trails to explore. You can also take advantage of their rentals, lessons, and on-site dining options.
Alternatively, you could drive east of Saratoga to Willard Mountain, a family-friendly ski area in the hills of southern Washington County. Willard is a great spot to ski or snowboard for a few hours, as well as ride down the snow tubing hill.
Late Saturday Afternoon: Explore a Snowy Wonderland at Saratoga Spa State Park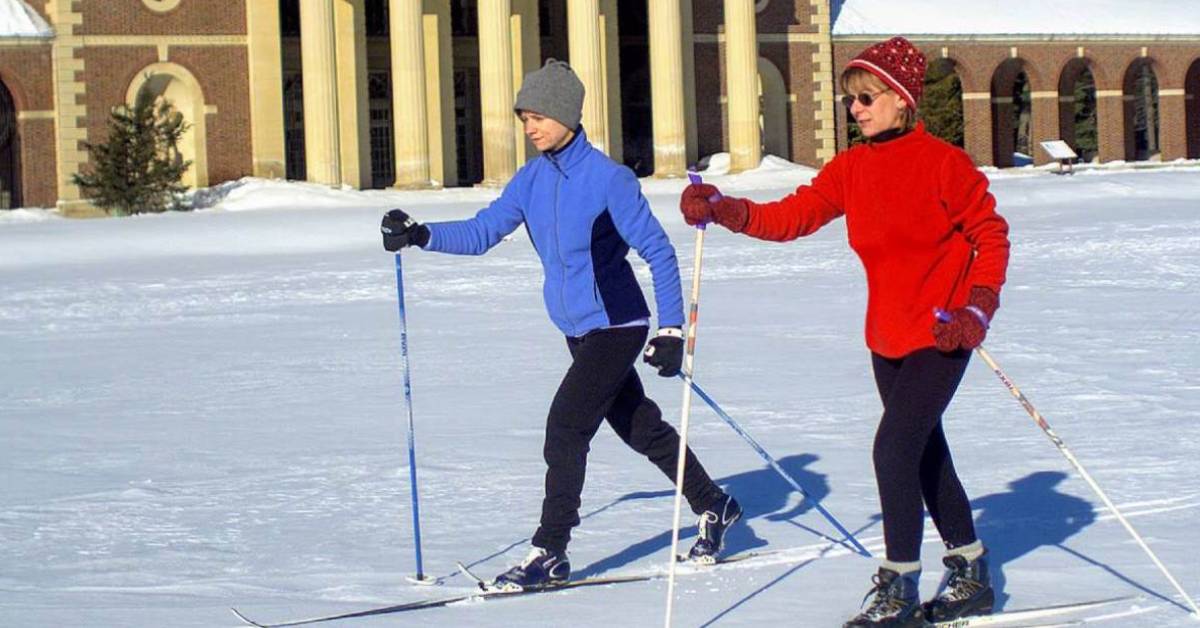 Depending on how many hours you spent at the ski resort, you may be ready to relax before having dinner. However, if you still have extra energy to burn, then take a drive to Saratoga Spa State Park. This beautiful state park transforms into a snowy wonderland each year, and visitors can go on a winter hike or a cross-country ski or snowshoe adventure. There are about 12 miles of trails to explore that wind through woods and will bring you past historic buildings.
Alternative Late Saturday Afternoon Suggestion: Warm Up With a Nice Cup of Coffee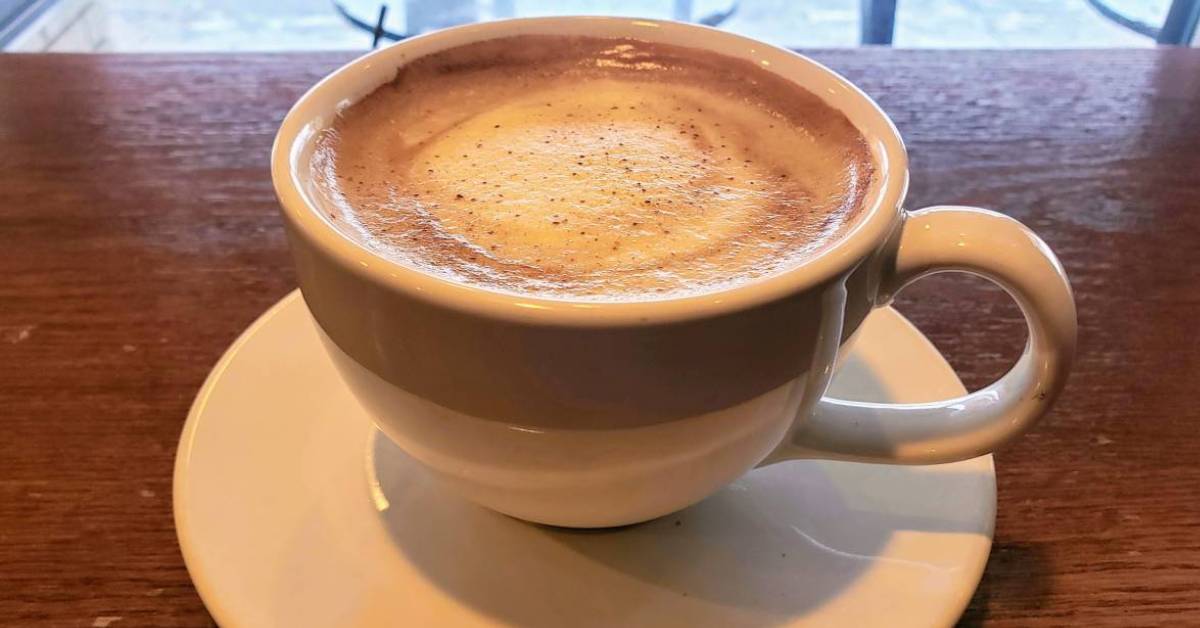 You've been outside almost all day, and by now winter's chill might be getting to you. Warm up quick by stopping at a local coffee shop in the Saratoga area. There are plenty of options to choose from, including Uncommon Grounds, kru Coffee, and more. Some places offer a wide selection of specialty coffee drinks that are perfect for a cold afternoon.
Find some of the best places for coffee in Saratoga »
Saturday Night: Dine By the Fire at a Local Restaurant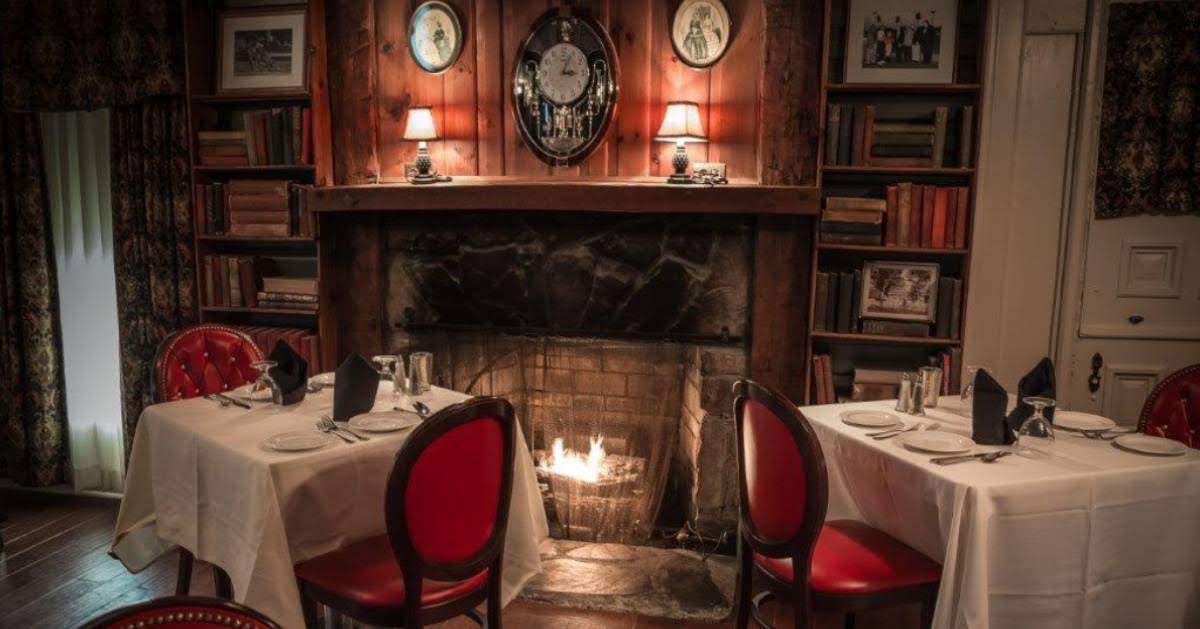 The evening has arrived, so let's end the day at a local restaurant that offers fireside dining. We have two recommendations to help you create the perfect evening.
Reserve a table by the fireplace at The Wishing Well Restaurant in Gansevoort, which is only nine minutes outside of downtown Saratoga. The Wishing Well is a fine dining restaurant with upscale American fare, and their dishes are modern, prepared with the freshest ingredients, and beautifully presented.
Tucked away in the adorable village of Round Lake—just 15 minutes from Saratoga Springs—is Lake Ridge Restaurant, an elegant spot with New American cuisine and an inviting, romantic atmosphere. This award-winning restaurant has three dining rooms, one of which has a fireplace, and a mahogany bar. Give them a call to reserve a spot by the fire and enjoy the incredible dishes and stellar cocktails at this chef-owned locale.
Sunday Morning: Eat a Hearty Breakfast Before Your Next Adventure
Breakfast is available at Saratoga Arms, but if you're staying somewhere else or would like to get out this morning, then check out the Country Corner Café in Saratoga Springs. This local favorite offers traditional options and more in a friendly café setting, from buttermilk pancakes to three egg omelettes and delicious breakfast combos.
Sunday Late Morning & Afternoon: Visit a Top Cross Country Ski & Snowshoe Destination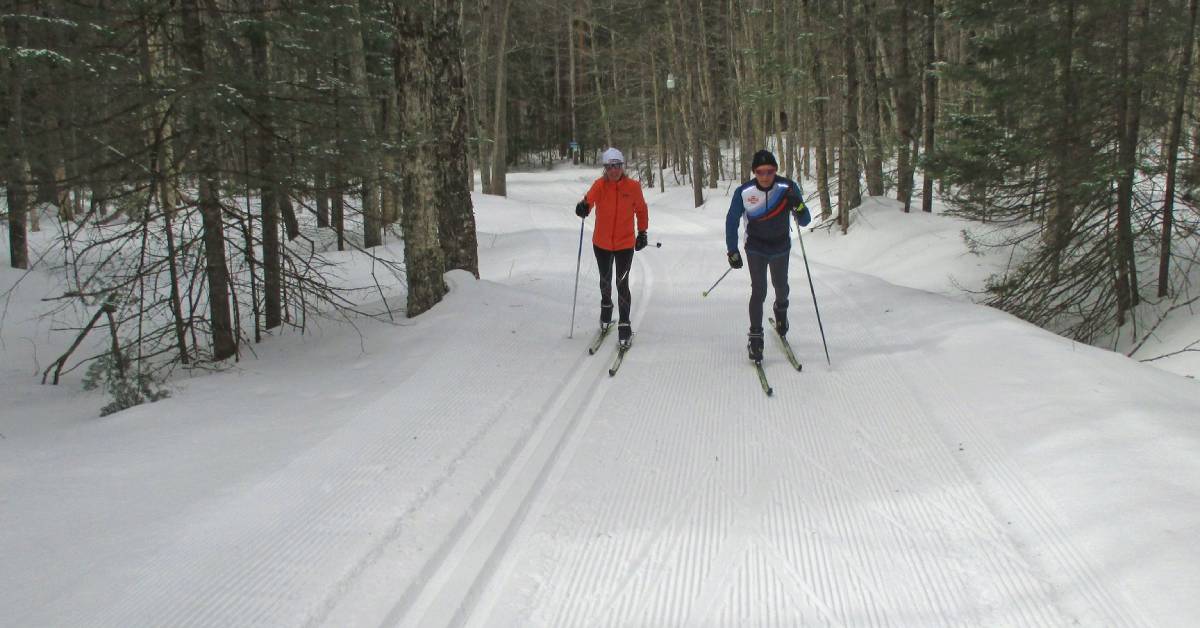 Today's main adventure will be a trip to Lapland Lake Nordic Vacation Center in Northville, which is only an hour west of Saratoga. Lapland Lake is a family-friendly Adirondack lodging property and XC Ski Center with 38 km of groomed cross-country ski trails and 12 km of marked and mapped snowshoe trails.
The trails are typically open to the public seven days a week throughout their core winter season, and to access them, you'll need to purchase a day pass or season pass. Single day rentals will be available, but because quantities are limited, advance reservations are recommended.
Sunday Late Afternoon: Celebrate a Successful Getaway at a Great Lunch Spot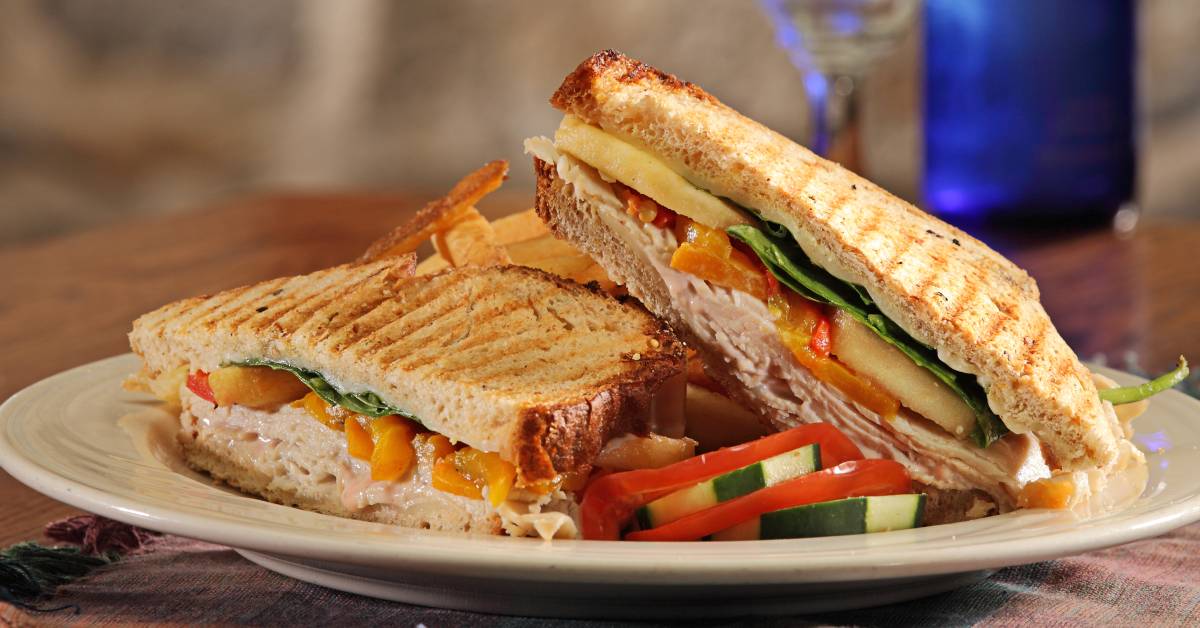 As your winter weekend getaway comes to an end, return to Saratoga Springs and celebrate this trip with lunch at The Olde Bryan Inn. This cozy restaurant is located in an old stone house, and they offer a variety of lighter fare for lunch, such as a cran-apple turkey panini, a spicy fried chicken sandwich, and a veggie Reuben.
When you're done with your meal, say goodbye to Saratoga and head back home. It's been a fun trip, and now you can start planning your next one to the region!