Historical Details
100 Years Of Health, History, Horses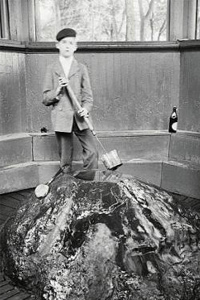 Saratoga Springs celebrated its Centennial in 2015 with many commemorative events and projects.
History Of The City
What is now Saratoga Springs has a known history spanning back to the 1770s. Many pioneers passed through the High Rock area, including General George Washington who drank from the High Rock Spring in 1783, but the first permanent resident is considered to be Alexander Bryan who decided to call the area "home" in 1787.
Meanwhile, Gideon and Doanda Putnam arrived in the Lower Village in 1789 and opened a Tavern and Boarding House in 1802 after the discovery of Congress Spring. It was Putnam who built Broadstreet, which would later become Broadway, as well as many iconic buildings, including the Grand Union and Congress Hall.
In 1819, the Town of Saratoga Springs separated from the Town of Saratoga and was officially incorporated as a village in 1826. On April 7, 1915, the Village of Saratoga Springs was officially incorporated into a city.
1915 Fun Facts
Woodrow Wilson was President
Babe Ruth hit his first home run
The New York Yankees started permanently wearing pinstripes
Ford manufactured its one millionth Model T automobile
AT&T became the first corporation with one million stockholders
The first transcontinental radio telephone message was sent
The US Coast Guard was created
Photo: High Rock Spring c.1905
Sources: City of Saratoga Springs, infoplease, HistoryOrb