Where to Go For All Your Favorite Apple Food, Drinks, and Specials in Saratoga County
Fall is apple season in Saratoga County, and there are all kinds of ways to enjoy this flavorful fruit. Whether you're a fan of cider donuts, apple pies, fresh cider, or fall cocktails, we've rounded up the best places to visit.
Satisfy Your Craving For Sweet & Delicious Apple Cider Donuts
Apple cider donuts are a quintessential fall treat that both kids and adults can't get enough of. After a relaxing day of apple picking or fall fun, eating a fresh donut or two is the perfect way to wrap up your adventure. Take a look at some of the top spots for apple cider donuts in the Saratoga area below.
Ellms Family Farm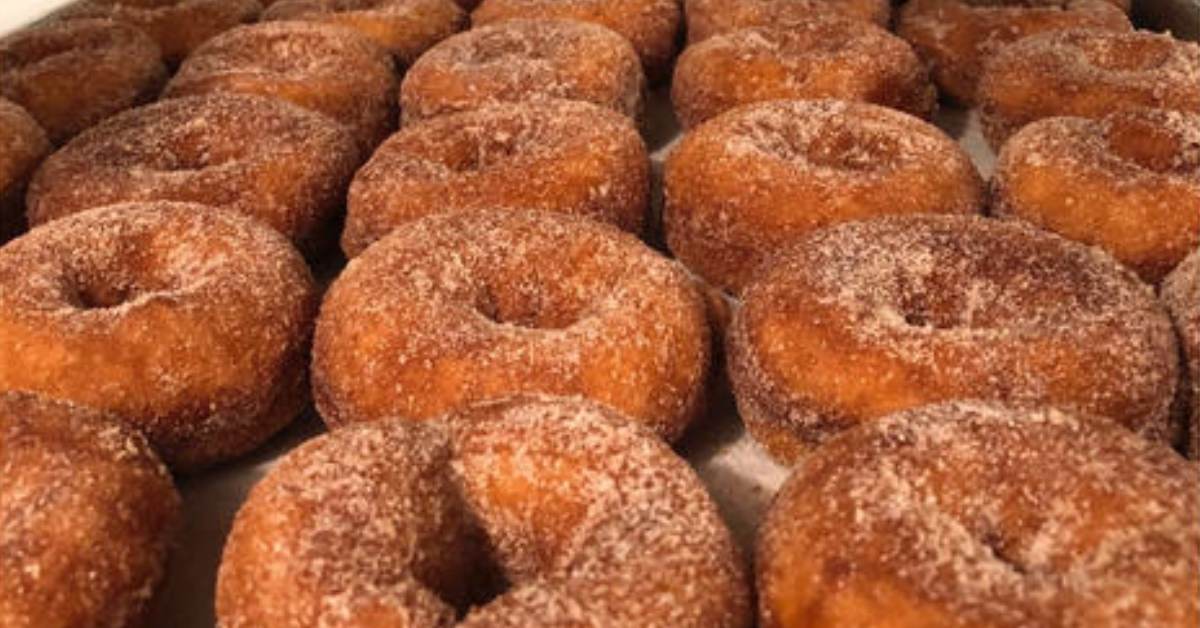 Featuring acres of family-friendly activities, Ellms Family Farm in Ballston Spa is a true fall destination in September and October. They offer over 40 attractions on the property, including corn mazes, apple cannons, a large jumping pillow, ziplines, and more. When you're ready to wind down, you can find a table and eat some of Ellms Family Farm's delectable apple cider donuts.
DeVoe's Rainbow Orchards
Get your apples, pumpkins, gourds, and cider donuts at DeVoe's Rainbow Orchards in Halfmoon. The family-owned farm spends countless hours baking the most delicious treats around, and as soon as you step inside the store, you'll smell sweet cinnamon and hot apples in the air.
Schuyler Farms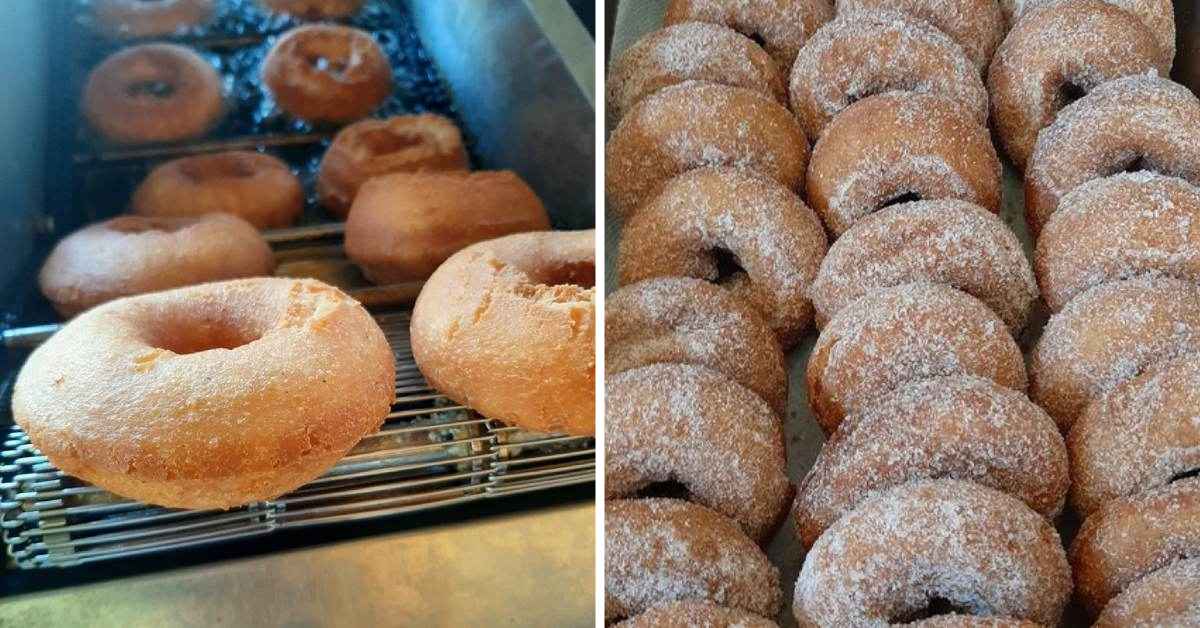 Round up the family and see what fall fun awaits you at Schuyler Farms. Located in the Village of Schuylerville, this farm welcomes visitors to get lost in the corn maze, take a hayride to the pumpkin patch, pan for real fossils and gemstones, and pick up a batch of freshly made apple cider donuts.
Sunnyside Gardens
When Sunnyside Gardens' fall season begins in late September, the local garden center becomes a hotspot for family fun in Saratoga Springs. Shop for pumpkins, mums, and flowers, go for a hayride, ride on their little blue train, listen to live music on select days, and eat some homemade cider donuts.
Riverview Orchards
Take a trip to Riverview Orchards in Rexford for all your fall favorites. You can go apple picking in their orchard, visit the bakery for homemade pies and apple cider donuts, and browse other local products in their gift store. While you're there, peer through the window and watch their award-winning donuts being made.
For more donuts, check out our full roundup of places to go in Saratoga County >>
Find Out Where to Buy Some of the Tastiest Apple Pies
Are you in the mood for a homemade apple pie? This scrumptious dessert is always a popular option this time of year, and you can buy one from these local bake shops and businesses.
Lakeside Farms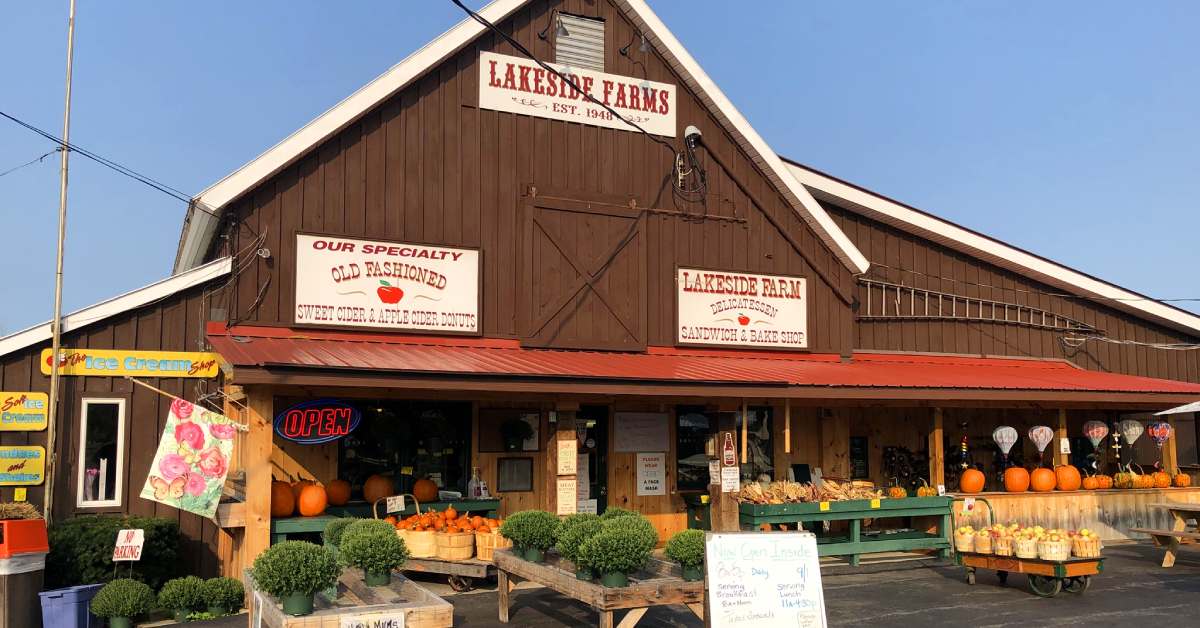 When fall arrives at Lakeside Farms in Ballston Lake, you'll be able to find all things apple, such as a large selection of pies and desserts, bags of apples, apple cider and donuts, and more. As noted by one Google reviewer, "The bakery is amazing and has a slew of pie choices available every day as well as many other baked goods."
Smith's Orchard & Bake Shop
Go beyond the traditional apple pie and see what's on the menu at Smith's Orchard & Bake Shop in Ballston Spa. Since expanding their store in 2006, the bake shop has been able to offer an even greater selection of desserts, which includes over 20 types of pie made with a regular or crumb crust. Order the apple cranberry, the apple peach, or even the apple raspberry pie.
Iron Roost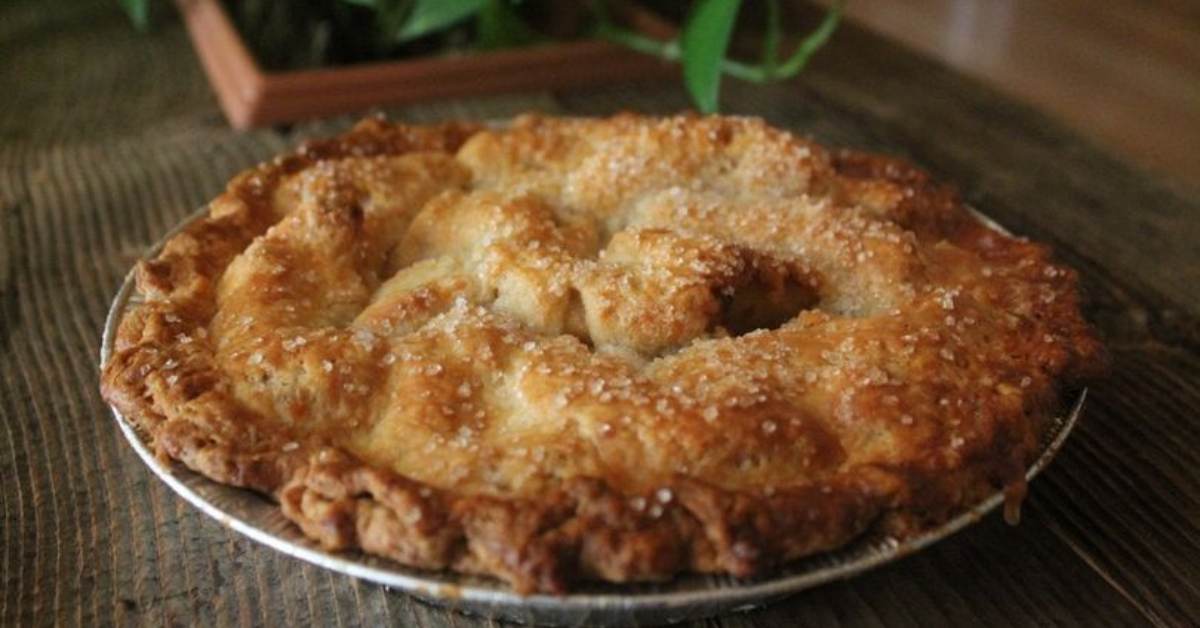 You may have visited Iron Roost in Ballston Spa for breakfast or lunch, but did you know that you can order scratch-made baked goods too? It's true! Their on-site bakery sells a wide variety of tarts and pastries, fresh breads, muffins, and of course, homemade pies. Choose from different flavors like apple double crust, apple crumb, and strawberry rhubarb crumb.
Fo'Castle Farm Country Store
The Fo'Castle Farm Country Store in Burnt Hills has everything you need during fall, including freshly made pies, pre-picked apples, cider donuts, pumpkins and gourds, and unique gifts (it's never too early to prepare for the holidays). We recommend stopping by for lunch at their cafe and picking out a pie to bring home with you.
Pour Yourself a Refreshing Glass of Cider From These Local Orchards
Nothing beats a glass of crisp apple cider during fall, and while there are many places to purchase this delicious drink, we've rounded up a few that are especially noteworthy.
Bowman Orchards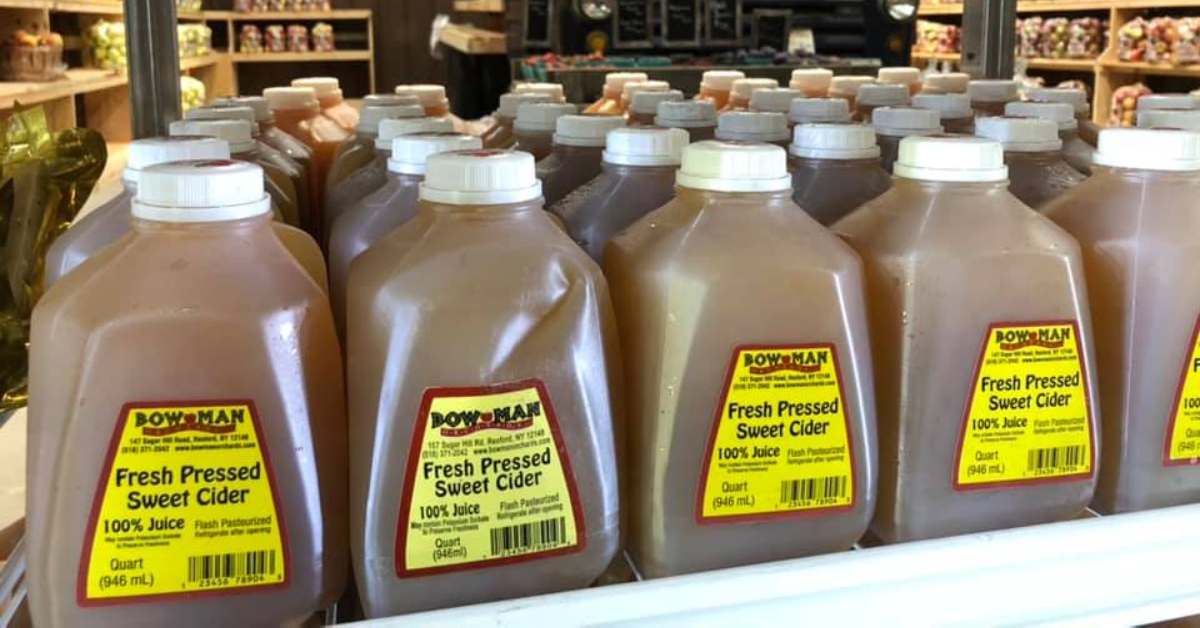 Located in Rexford, Bowman Orchards is a great place to visit for pick-your-own fruits and vegetables, as well as to get your apple cider fix. Their farm store sells fresh pressed sweet cider that one Google reviewer has described as "fantastic, local, and taste[s] fresh." They have also released a sparkling apple cider that's perfect on a fall day.
Saratoga Apple
If you're a fan of both regular and hard apple cider, then add Saratoga Apple in Schuylerville to your list of places to check out. The orchard's farm market is open year round, and you'll find everything from fresh apple cider to donuts, baked goods, produce, gifts, and more. Of particular note, Saratoga Apple is proud to offer their own semi-sweet hard cider and an old school, super dry hard cider called "Scrumpy."
Sip the Flavors of the Season at These Top Spots for Fall Cocktails
From spiked cider to the hot apple toddy, fall cocktails are the perfect drink to warm you up on a cool day. Discover some of our recommended spots for these flavorful cocktails in Saratoga County below.
The Wishing Well Restaurant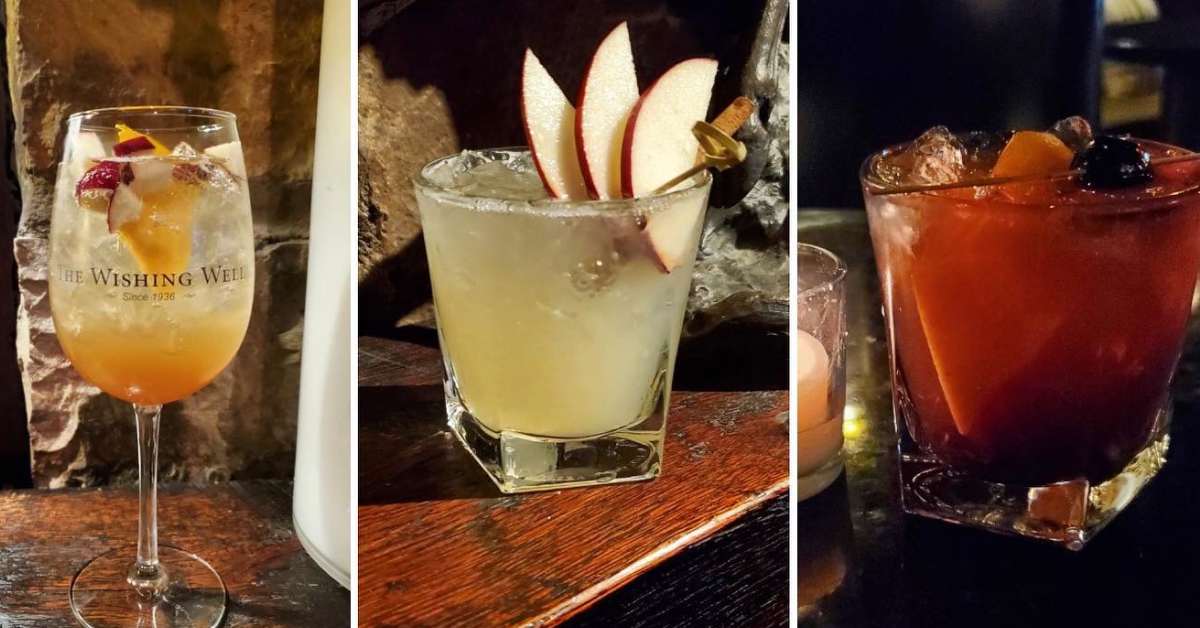 Fall is a popular season at The Wishing Well Restaurant in Gansevoort, and you can celebrate with them by ordering one of their specialty cocktails. Check out drinks like the fall apple margarita, the maple old fashioned, and the upstate apple martini.
Hamlet & Ghost
When it comes to craft cocktails, you can't go wrong with a visit to Hamlet & Ghost in downtown Saratoga. Hamlet & Ghost is best described as a cocktail bar with a modern/speakeasy atmosphere, and their fall cocktails are always expertly made. Stop by and see what their bar team has put together this year.
The Front Street Social Club
Fall cocktails at The Front Street Social Club in Ballston Spa are a highlight of the season, and you can look forward to specials like the spiced hot apple toddy, which features bourbon, muddled orange and cherry, bitters, winter spice syrup, and hot apple cider. They also offer American-Latin fusion cuisine, local craft beers, and more.
Peddlers Bar and Bistro
Peddlers Bar and Bistro is a Clifton Park hotspot for American cuisine, live music, and a variety of fall drink specials. In the past, they've served caramel apple cider, honey apple cider, and apple sangria specials. Come in and take a look at what's new on the cocktail menu.
Are you ready to savor the flavors of fall in Saratoga County? Hop in the car and explore these local hotspots!
This article is sponsored by Saratoga County Tourism. Note: The opinions expressed in this article are those of the authors. They do not necessarily reflect the opinions or view of Saratoga County Tourism or its members.
Looking for more than apple treats? Here are some great places for all things pumpkin »
Make plans for leaf peeping this season »