Celebrate the Season at the 2021 Saratoga Fall Festivities
Sponsored by: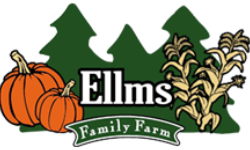 Enjoy Fun Fall Activities at Ellms Family Farm
Featuring acres of fun activities, Ellms Family Farm is a fall destination. Located a short drive from Saratoga in Ballston Spa, Ellms offers dozens of things to do, including corn mazes, a pumpkin patch, ziplines, pedal carts, a jump pad, and more! Learn More »
Editor's Note (7/29/2022): The following event details are from 2021. We will be updating this page for 2022 as info is announced.
In late October, the Spa City will come alive as the community celebrates the season at the 2nd Annual Fall Festivities. Presented by the Saratoga Springs Downtown Business Association (DBA), the Fall Festivities will feature a variety of fall-themed activities and live entertainment over two weekends: October 23-24 and 30-31, 2021.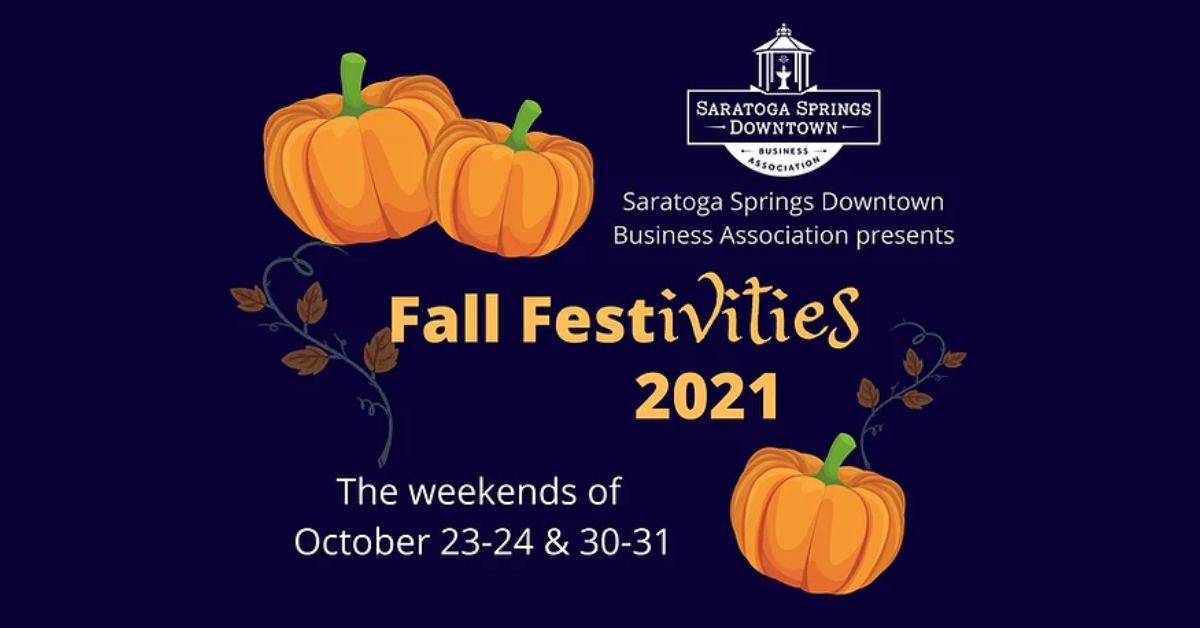 Enjoy the 2021 Fall Festivities
In October 2020, the Saratoga Springs DBA transformed their annual Saratoga Fall Festival into the Fall Festivities. Now in its second year, the fall celebration will include the return of the popular Great Saratoga Pumpkin Hunt and more! Check out some of the highlights below:
The Great Saratoga Pumpkin Hunt
Can you find the hidden pumpkins decorated with Historic Saratoga Springs landmarks? Check out downtown storefront windows, and see if you can find all 10!
Turn in your completed Pumpkin Hunt sheets to be entered to win a complete downtown Saratoga Springs prize package!
For more info, visit: https://www.saratogaspringsdowntown.com/fallfestivities
Costume-Friendly Festive Fun Run
Run around downtown Saratoga Springs while visiting each of the 10 locations of The Great Saratoga Pumpkin Hunt! Costumes encouraged.
Virtual Ghostly Stories of Saratoga's Past
Join Joe Haedrich of Saratoga Tours for another virtual look at today's Spooky Saratoga locations: https://www.saratogaspringsdowntown.com/fallfestivities
Children's Paint Your Own Pumpkin at Scallions Restaurant
Scallions Restaurant in downtown Saratoga will host a Paint Your Own Pumpkin Day for kids! Space is limited! Call Scallions at 518-584-0192 to pre-register! The event will be held on October 23, 24, and 30. (Masks required for this event)
Costume Party Photo Booth
Stop by On The Spot Photos (Spa City Motor Lodge parking lot) to have your picture taken in costume and be entered to win a $100 DBA gift certificate! Pets welcome!
A Gratitude Cards + Crafts Table With Coral & Blue Children's Stationery
Join Coral and Blue Paper Co. at PaperDolls of Saratoga inside Saratoga Marketplace on October 23 and 30 from 12pm-4pm. They will have a table with children's Thank You notes and art supplies so kids can write love notes to their teachers, coaches, family, and friends. Masks are required for this activity.
Restaurant Receipt Raffle
Dine at one of any participating restaurants for your chance to be entered to win a $100 DBA gift certificate. There will be four winners.
Just write your information on the back of your receipt, and drop it off on your way out! This event will run from October 23-31.
Participants include:
Live Entertainment
In addition, performers will be traveling up and down Broadway on all four days. Don't miss your chance to see Crazy Christine Balloons, Sean "The Prankster" Magician, Mr. Twisty, Sparkles the Juggler, and more!
Visit the Saratoga Springs DBA website for full details on the events »