Celebrate the Season at the 2022 Saratoga Fall Festival
On Saturday, October 22, 2022, the Spa City will come alive as the community celebrates the season at the annual Fall Festival. Presented by the Saratoga Springs Downtown Business Association (DBA), the Fall Festival will feature a variety of fall-themed activities.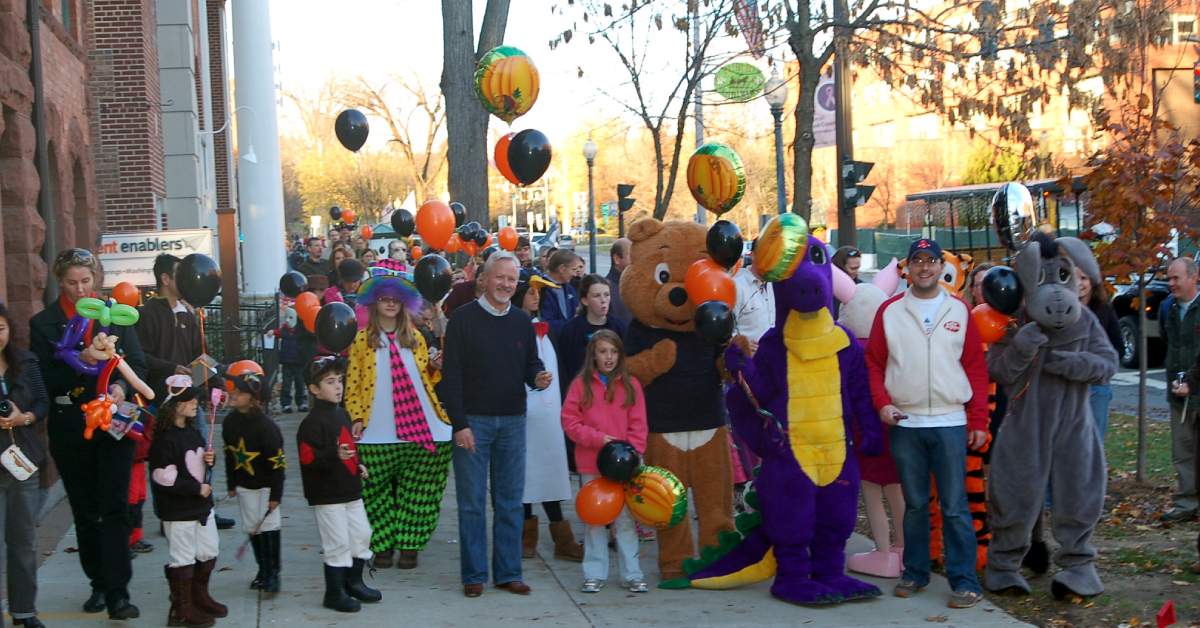 Have Fun at the 2022 Fall Festival
The Fall Festival will be held in downtown Saratoga, and from 12pm-4pm, children and their families are encouraged to dress up in costume and go trick-or-treating at participating businesses. As you explore downtown Saratoga, be sure to check out all of the following:
Social Media Costume Contest (Share a photo of yourself on social media. Use the hashtag #DBAFallFest2022 to enter for a chance to win a special prize)
Face Painting on Maple Avenue near Walt & Whitman Brewing
Kettle Corn at the Spa City Motor Lodge (Plus Live Entertainment!)
Star Radio & Prize Wheel at Fingerpaint
Fly 92.3 and B95.5
Traveling Entertainment: Hula Hoopers, Magicians, and Balloon Twisters
The Great Saratoga Pumpkin Hunt (See More Info Below)
Other event highlights will include:
Pumpkin Roll: 12pm-3pm
Pumpkin rolling is back! Participants are welcome to grab a pumpkin from one of the volunteers from the Rotary Club of Saratoga Springs and enjoy pumpkin rolling at the top of Caroline Street and Broadway. At the bottom of Caroline and Maple, participants can pick up their prizes.
Read Aloud | Saratoga Public Library Patio: 1pm and 2pm
Take the kids to the Saratoga Springs Public Library for a fun Read Aloud event. Children's authors will read from their captivating books.
Graphic Novel Workshop | Northshire Bookstore: 2:30pm-3:30pm
Reserve a spot in this graphic novel workshop at Northshire Bookstore, which will feature Upstate NY cartoonist Ira Marcks.
Side Walk Parade | Hamlet & Ghost | 3:30pm-4:00pm
Don't miss the Side Walk Parade! Participants will line up at Hamlet & Ghost, and then volunteers will lead everyone up Caroline Street, left on Broadway and then to Congress Park.
Hocus Pocus Movie | City Center Parking Garage: 6pm-8pm
Enter the Saratoga Springs Parking Garage at 38 High Rock Avenue, the ground floor, for a free movie screening of the Halloween classic Hocus Pocus. Dress warm and bring chairs and blankets.
Participate in the Great Saratoga Pumpkin Hunt
Can you find the hidden pumpkins in downtown Saratoga this year? The Great Saratoga Pumpkin Hunt is a two-week scavenger hunt that will run from October 15 - 30, 2022. The winner will be chosen on Halloween and receive a special prize.
To join in the activity, all you have to do is solve riddles and find the 10+ pumpkins hidden inside participating local businesses. Players will be given a list of clues and access to a printable checklist (you will also be able to pick up a checklist at participating businesses). Learn more: https://www.saratogaspringsdowntown.com/single-post/fall-fest-the-great-saratoga-pumpkin-hunt
Visit the Saratoga Springs DBA website for full festival details »