Saratoga Performing Arts Center (SPAC)
Saratoga Performing Arts Center (SPAC), is a world-renowned amphitheater that hosts classical events, rock concerts, special events, and more.
More Info: Who's Playing? | Seating | Directions | Tickets & Box Office Hours | What To Bring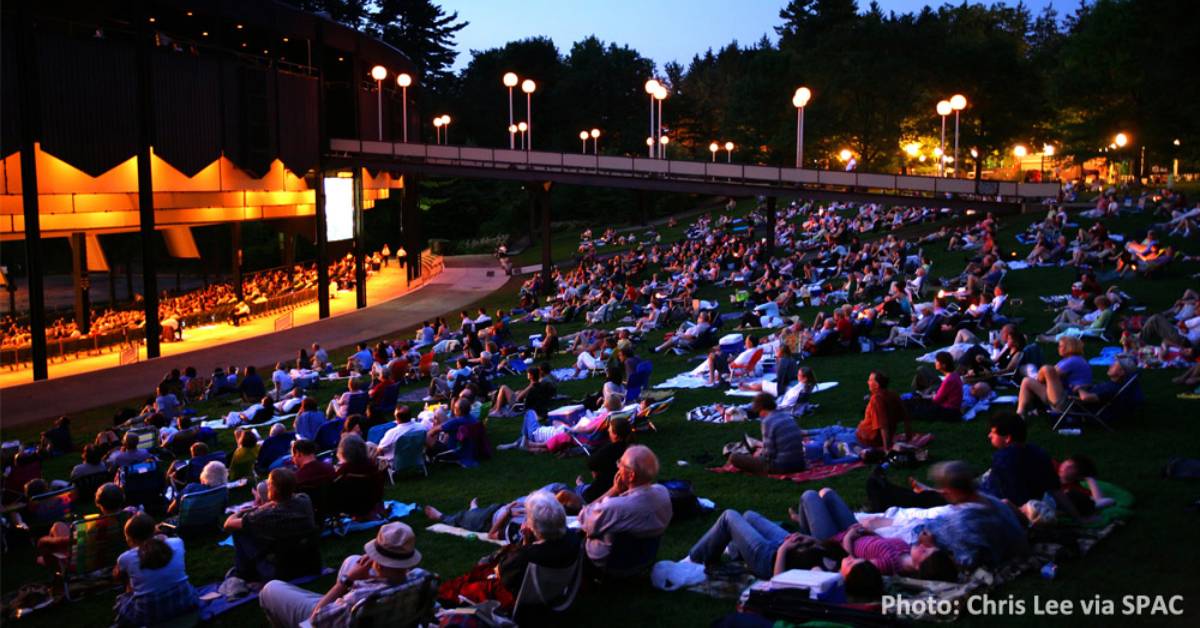 About SPAC
Located in Saratoga Spa State Park, SPAC is one of the most beautiful venues in upstate New York. Surrounded by healthy forests and mineral springs, the Performing Arts Center blends nature and modern sophistication to create a unique and ethereal experience.
The renowned New York City Ballet and Philadelphia Orchestra make their summer homes here, and popular performing artists from a variety of musical genres play to sold-out audiences each year. Top annual events, like the Freihofer's Jazz Festival, are held at SPAC each year too.
See upcoming events and performances here »
Amenities
Amphitheater: The multi-tier amphitheater provides an acoustically ideal, vibrant, and resonant sound no matter where you sit. View SPAC's Seating Chart »
Lawn: In addition to the enclosed amphitheater, the popular and economical lawn area allows you to bring your own low-backed chair or a picnic blanket and relax beneath the stars while enjoying a night of music or dance. The lawn is sloped and features large screens optimally placed to ensure that you see the performance as well as if you had 5th row seats. Kids ages 15 and under are admitted onto the lawn for free at SPAC classical events (except for movie nights) when they're accompanied by a paying adult who has a lawn ticket.
Patrons Club Dining: Prior to SPAC performances, diners enjoy gourmet meals in the historic Beaux-Arts style Hall of Springs. This area is restricted to SPAC members only.
Jazz Bar: In the Hall of Springs, the elegant Jazz Bar provides pre-performance cocktails and becomes a social scene with live jazz music and dancing following certain classical programs.
Private Patrons' Terrace: Exclusive to SPAC Patron members and above, this perk offers complimentary wine, beer, and snacks before ballet and orchestra evening performances and during intermission.
Saratoga Performing Arts Center: Fun Facts
Employment. There are over 200 seasonal employees that work at SPAC during the summer months.
Record. The popular Dave Matthews Band currently holds the record for the most sold-out performances at SPAC.
Shape. SPAC's amphitheater is shaped like a curved bowl and rises 100 feet high.
Floor. The stage floor at the Saratoga Performing Arts Center was specifically engineered for the New York City Ballet.