Parking at Saratoga Race Course
Go To: Tickets & Seating | Schedule | Food & Drink | Dress Code | Directions | Giveaways | FAQ
Wondering about Saratoga Race Course parking? As you drive nearer and nearer to the Saratoga Race Course you will see many parking signs all over the place as there are a variety of places to park near the track. Keep in mind, it's very difficult to find a good parking spot at the Saratoga Race Course unless you show up really, really early, so plan to have a lengthy walk to the gate.
Tip 1: As a general rule, the closer to the track you get, the more you will pay for parking.
Tip 2: If you see a spot, grab it. The Saratoga Race Course is not the place to go hunting for a better spot.
Tip 3: Expect to spend a long time in traffic before reaching the track as traffic usually gets very congested.
Tip 4: Watch out for pedestrians, small children and pets when parking at the Race Course. If you have little ones, a stroller is a good idea.
Tip 5: You may want to wait until after your day at the track to wash the car because much of the parking available is on dirt lots, grass or gravel. The Preferred Parking near Oklahoma Track is the only asphalt lot.
Tip 6: The farther away you are willing to park (and who doesn't love a nice walk from the car to the main gates) the easier it usually is to get back on the main roads when racing is done.
Tip 7: Avoid parking altogether and opt for ride sharing. There's a designated drop off/pick up lot for ride shares located just across Union Avenue from the track providing hassle-free access.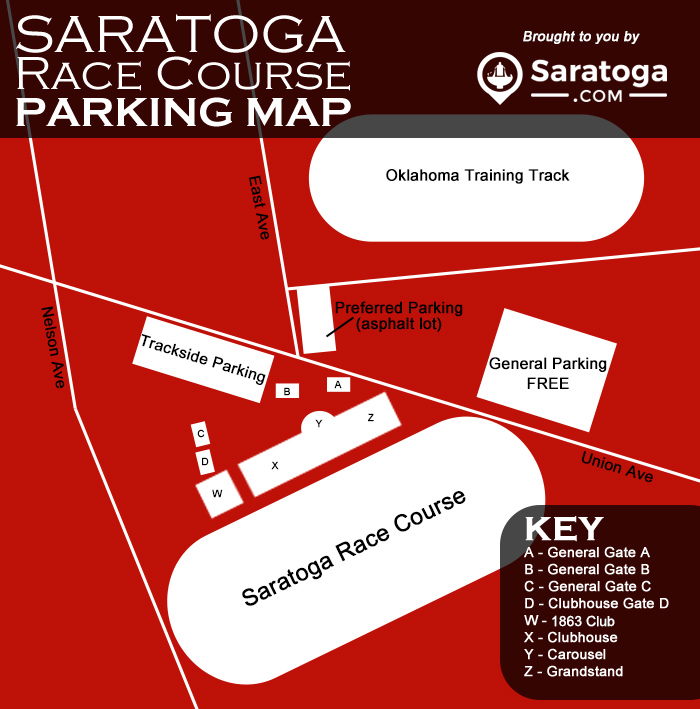 Saratoga Race Course Parking 2023, As Shown In The Map Above
General Parking: Off Union Ave (expect a long walk to the gate)
The General Parking area is located to the northeast of the Race Course, on the opposite side of Union Avenue from the track. Depending on where you're able to find a spot within this area, you can expect a long walk to the track. The first entrance gate you'll come to is Gate A, which provides easy access to the Grandstand.
Oklahoma Parking: Preferred East, Madison, and the Rec Hall
There are three preferred parking lots: East, which is located on the corner of Union and East Avenues, just across from the track's main entrance; Madison, which is located at the western end of the Oklahoma Training Track; and Rec Hall, which is near the General Parking area and is the longest walk to the track of the three preferred lots.
Advance - Wed - Thurs, $8; Fri - Sun, $10; Whitney and Travers Days, $15
Day-Of - Wed - Sun, $12; Whitney and Travers Days, $15
Trackside Parking
The priority Trackside Parking area is located on the same side of Union Avenue as the Race Course, so guests don't need to worry about crossing the street. The walk to the gate is also much shorter than it is from the General Parking and Preferred Parking lots. The Trackside Parking lot is closest to Gate B, but Gates A (General Gate), C (General Gate), and D (Clubhouse Gate) can be easily accessed as well.
Advance - Wed - Thurs, $12; Fri - Sun, $15; Whitney and Travers Days, $20
Day-Of - 6:30am - 9:30am Wed - Sun, $10; After 9:30am Wed - Sun, $15; Whitney and Travers Days, $20
1863 Club Lot
Advance - Wed - Thurs, $15; Fri - Sun, $20; Whitney and Travers Days, $25
Day-Of - Wed - Sun, $20; Whitney and Travers Days, $25

Note: All 1863 Club parking must enter through Gate #10 off Nelson Avenue

Lawn Parking
Many area residents will offer parking on their lawns for varying fees. These areas are not identified in the map above because they change daily depending on when property owners decide to make them available.
Handicapped Parking
Accessible parking spaces are available in all NYRA lots. Guests with disabilities can take advantage of designated parking spaces, including those that are van-accessible. To park in these spaces, vehicles must display a current state-issued disability placard or license plate.
« Go back to Saratoga Race Course Guide
For more Saratoga Race Course information, visit SaratogaRaceTrack.com or the NYRA website.