Saratoga Race Course Dress Code
Go To: Tickets & Seating | Parking | Schedule | Food & Drink | Directions | Giveaways | FAQ
Dress Code & Traditions at the Racetrack in Saratoga
The dress code varies at Saratoga Race Course depending on where you are planning to sit. Regular grandstand dress code policy is very casual, and most people wear t-shirts, shorts, tanktops, etc., but there are also some strict dress code policies at the track where you are required to dress more conservatively.
The summer hats and sundresses of yesteryear are still very much a tradition at this famed racetrack. Even when not required, many choose to honor these cherished traditions when heading to the track.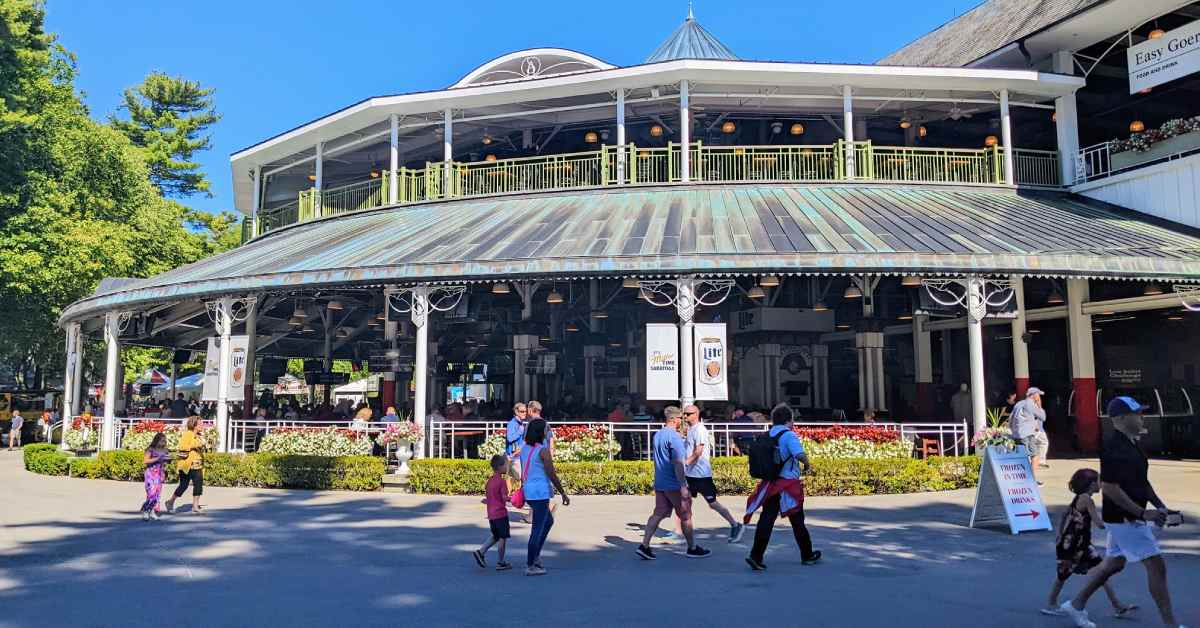 Here are the basic rules for the dress code currently in place at Saratoga Race Course.
Grandstand: Informal attire. Shirts and shoes required.
Clubhouse: No short shorts, cut-offs, tank tops or abbreviated wear.
Box Seats: No jeans, shorts, rompers, or abbreviated wear permitted. Gentlemen: suits or sports jackets required (ties are not required). Ladies: dresses, skirts or slack outfits.
The Porch, Club Terrace & The Easy Goer: Neat Casual Attire. Gentlemen: No tank tops; no short shorts, cut-offs or abbreviated wear. Proper attire at management's discretion.
Turf Terrace: Gentlemen: collared shirts required. Ladies: dresses, skirts, or slack outfits. No shorts, t-shirts, jeans, sneakers, or flip-flops. Children ages 3-12: neat casual. Management at the racetrack reserves the right to determine "neat casual" attire.
The Rail (1863 Club): Jackets and blazers are optional. Cargo shorts, halter tops, midriff tops, athletic wear, t-shirts, frayed or torn denim or shorts, and tennis shoes are not permitted. Vests, shirts with collars, polo shirts, dresses, sweaters, pantsuits, dress jeans, dress shorts, and slacks are appropriate. The dress code does not apply to children under the age of 12, but is encouraged.
Legends Hall & Suites (1863 Club): Neat casual attire. No short shorts, cut-offs, or abbreviated wear. Gentlemen: no tank tops. Collared shirts required. Suits or sports jackets are optional.
The Cutwater Stretch: Jackets and ties are not required. Stylish casual attire encouraged.
If you are not sure what to wear, please contact the Race Course directly at 518-584-6200.

« Back to the Saratoga Race Course Guide
For more Saratoga Race Course information, visit SaratogaRaceTrack.com or the NYRA website.