The Tradition of Fancy Hats at Saratoga Race Course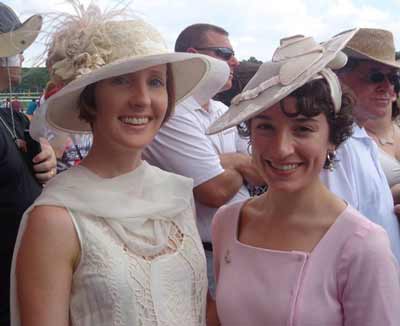 In keeping with its Victorian roots, Saratoga Springs NY embraces the well-known tradition of wearing fancy and elegant hats to the races.
Saratoga Race Course is the oldest thoroughbred track in the nation, with a prestigious racing history dating to the 1800's. As you would expect however, in keeping with the fun and excitement of Saratoga Springs, when it comes to hats, "fancy" is in the eye of the beholder!
First-time visitors to the track are eager to absorb the Victorian splendor of Saratoga and the elegant turn-of the-century feelings that it evokes. They may be surprised to observe that among the many gracious hats with elegant plumes or tulle worn by lovely ladies, they may see a scaled-down version of an antique carousel gracing the top of one track-goer's head instead!
Perhaps a sculpture of a brightly colored polo pony looks down from atop the curly locks of a well-dressed 8-year old…or a model of the Saratoga Race Track carefully recreated (right down to the signature Clubhouse roof) perches precariously on the top of an elderly patron's updo!