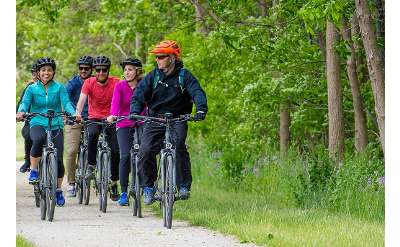 Saratoga Bike Tours
Saratoga Springs, NY
Learn about Saratoga's rich history and culture on this exciting tour with Saratoga Bike Tours. The tour route is flat and the ride is leisurely, so hop on and pedal through Saratoga Springs' history!
West Mountain
Queensbury, NY
West Mountain in Queensbury, NY, is a year-round recreation destination offering skiing, snowboarding, and tubing during winter and aerial treetop adventures, mountain biking, and more outdoor fun from late spring into fall.
Evergreen Bicycle Works
Fort Edward, NY
Located just minutes from the Feeder Canal/Champlain Canalway Trail in Fort Edward, NY, Evergreen Bicycle Works is a local bike shop that offers new bikes, bike rentals, and professional repair services.