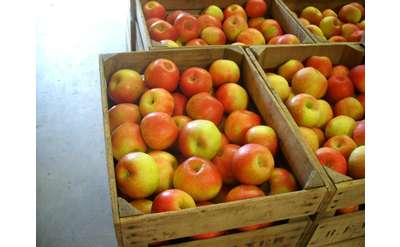 Bowman Orchards
Rexford, NY
We invite you to enjoy nature's beauty on ninety-eight tree-filled acres. Over 46 varieties of apples being grown with new ones each year. Most are available for your family to enjoy picking. We also have strawberries, pumpkins, pears, peaches & more
DeVoe's Rainbow Orchards
Clifton Park, NY
DeVoe's Rainbow Orchards is an apple orchard and country store offering u-pick apples, fresh produce, baked goods, gift baskets, and during the summer, incredible ice cream at Rainbow Delights! Create lifelong memories at this local family farm.
Riverview Orchards
Rexford, NY
Pick your own apples at Riverview Orchards, located in Rexford, NY. In addition to the orchard, the property features a well-stocked country store.
Saratoga Apple, Inc.
Schuylerville, NY
Open all year, Saratoga Apple is the place to go to pick your own apples or get a variety of other farm products. The Darrows have been growing apples for five generations, using low-spray techniques and micronutrient fertilization.