How To Place A Bet At Saratoga Race Course
Go To: Tickets & Seating | Parking | Schedule | Food & Drink | Dress Code | Directions | Giveaways | FAQ
During your first trip to Saratoga Race Course, the thought of placing a bet may be exciting, but also a little intimidating. You may be worried about locating the clerks, using the right racing terminology, or even how much to bet based on the odds.
To help out first-time betters or those who may not have been to the track in awhile, we've put together this handy guide to placing a bet at Saratoga Race Course. Once you read through the steps, you'll realize it's not as confusing as it seems!
*NOTE: You must be 18 or older to wager at Saratoga Race Course.*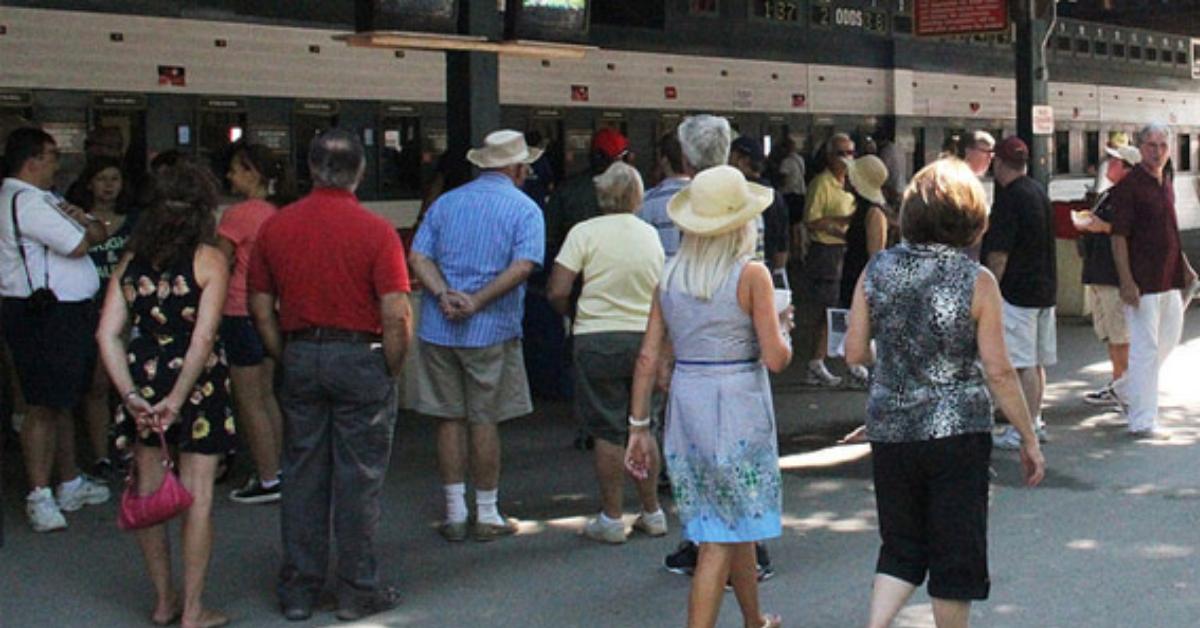 Step 1: Study Up!
People joke that they make bets on horses based on the color of the jockey's silks, or because you like the horse's name. So certainly you don't have to become an expert who reads The Daily Racing Forum or studies the charts. However, short of winging it completely at the betting window, it's good to understand that a lot about betting is based on being prepared to make the best bet you can. Veteran gamblers spend hours studying past results and examing race conditions and betting odds. We say that being prepared before hitting the clerk's window or touchscreen machine enhances the track experience. Here are five pieces of information you need to know before you make that bet:
Name of the racetrack
Race number
Dollar amount of your bet
Type of bet
Number (NOT name) of the horse(s) you're betting on
Some of these are more confusing than others, so we've clarified them below!
Types Of Bets
Straight Wager Bets:
Win: Pick a horse to finish first
Place: Pick a horse to finish first or second
Show: Pick a horse to finish first, second, or third
Exotic Wager Bets:
Exacta: Pick the first and second place finishers in the exact order
Trifecta: Pick the first, second, and third place finishers in the exact order
Superfecta: Pick the first, second, third, and fourth place finishers in the exact order
Multi-Race Bets:
Daily Double: Pick the winner in two consecutive races
Pick Three: Pick the winner in three consecutive races
Pick Four: Pick the winner in four consecutive races
Pick Five: Pick the winner in five consecutive races
Pick Six: Pick the winner in six consecutive races
Calculating Your Payout
Payouts are determined by the number of horses in the bet, the odds, and the wager amount. Exotic and multi-race bets are more complicated to figure out, but calculate your straight wager bets as follows:
Use the odds as a fraction and divide it to get a decimal (ex. 5/1 odds = 5 and 7/2 odds = 3.5)
Multiply that decimal by your wager amount (ex. 5 x $2 or 3.5 x $20)
Add your wager amount to the product you got in the step above (ex. $10 + $2 or $70 + $20)
Step 2: Find The Betting Windows
Once you've figured out all of the relevant information, including how much money you'd like to wager based on your desired payout and which type of bet you'd like to place, it's time to make a wager. This is where you have the option to use a live teller or make use of the self-service terminals located throughout the racetrack.
At Saratoga Race Course, you can find live teller wagering windows and self-service terminals throughout the racetrack. A large bank of mutuel windows is located under the Clubhouse, which is in between the Grandstand and the At The Rail Pavilion. Head to the nearest window or terminal and give the clerk the five pieces of information you gathered in Step 1. You would say, for example, "At Saratoga, Race 3, $5 to win on number 6."
Touch-Screen Betting
Automated betting can also be done through self-service touch screen terminals. To use these machines, you can insert a betting voucher, or winning mutuel ticket, or in some cases cash. More veteran track goers can also use a NYRA Cash Card or NYRA Bets Account Card, which is convenient for those who prefer to bet in a more private setting. The only word of caution with touch-screen wagering is to double check your ticket before leaving the window or the self-service terminal.
Vouchers can be purchased at all windows; vouchers and NYRA Cash Cards can be purchased at voucher selling windows.
Step 3: Watch The Race
Enjoy the race, and keep track of which horse(s) you've bet on!
If your horse wins, proceed to Step 4. If not, return to Step 1.
Step 4: Claim Your Bet
Return to the window where you placed your bet, and present your winning ticket to the clerk. You'll receive your cash winnings on the spot. Same goes for the touch-screen windows. As soon as the race results have been deemed official by track personnel, the payoffs will be posted on TV terminals and on the big board on the track's infield.
If you win big, be sure to tip the clerk - it's a polite move to make.
Hopefully, you're now a believer that placing a bet at Saratoga Race Course really isn't so complicated. For those visual learners out there, we've created a simple infographic that explains all of the above information. See the infographic »
Do you have other questions about Saratoga Race Course? Check out our FAQs section and see if the answers are waiting for you!
« Return to our Saratoga Race Course guide
For more Saratoga Race Course information, visit SaratogaRaceTrack.com or NYRA's website.