Marylou Whitney: Saratoga Philanthropist & Socialite
Since the 1950s when she first started visiting the Cady Hill estate of Cornelius V. Whitney (her late husband), Marylou Whitney was an influential philanthropist in Saratoga Springs, NY.
Dubbed the "Queen of Saratoga," Whitney contributed a lot of time and resources to help make Saratoga the charming city it is today.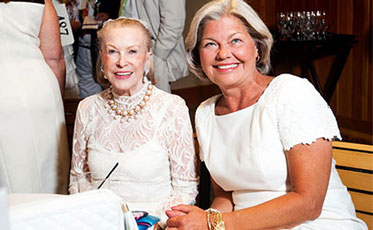 Photo Credit: Heather Bohm-Tallman Photography
From Small Beginnings
Born in December 1925 in Kansas City, MO, Marylou Whitney began her life as Marylou Schroeder, the daughter of accountant/bank officer H.R. Schroeder. After the death of her father when she was just 19 years old, Whitney moved to New York City to become an actress.
During her time there, she entered into a relationship with Frank Hosford, a member of the wealthy John Deere family. They married in 1948, and Whitney had four children with him: Marion Louise, Frank, Henry, and Heather.
Although the couple divorced years later, Marylou Whitney would soon marry another man, Cornelius V. Whitney, in 1958. C.V. Whitney was a member of one of the nation's richest families, but he was also a co-founder of Pan American Airlines.
The couple had one daughter, Cornelia, and owned two main properties. Marylou Whitney owned a farm in Lexington, KY, but her favorite place was C.V. Whitney's 135-acre Cady Hill estate in Saratoga Springs.
Life in the Spa City
Marylou Whitney spent much of her time at the estate in Saratoga Springs, quickly becoming known as one of the area's socialites. Her love for the city and the local community was on full display as she worked tirelessly to help the area thrive.
One of her most well-known efforts was co-founding the National Museum of Dance and Hall of Fame and raising funds for its grand opening in 1986. In addition, she and her husband were part of a group of founders of Saratoga Performing Arts Center (SPAC).
Unfortunately, in 1992, C.V. Whitney passed away, leaving Marylou Whitney with an estimated $100 million estate. His death was devastating, and it wouldn't be until October 1997 that she would marry another man, John Hendrickson, a former aide to Governor Walter Joseph Hickel of Alaska.
Philanthropic Efforts & Well-Known Socialite
After her marriage to Hendrickson, Whitney continued to play an important role in the Saratoga community. Whitney and her husband created the Saratoga Backstretch Appreciation Program in 2008. This program includes various social events for the workers and their families throughout the racing season at Saratoga Race Course. Individuals and businesses help finance the events.
In 2011, a rose garden in Whitney's honor was unveiled in Congress Park. The long-stemmed pink roses were created especially for Whitney and took 10 years to perfect. Hendrickson bred and named the rose after her as a token of his love and appreciation.
Whitney is also famous for having thrown a lavish themed gala every summer the night before the running of the Whitney Stakes at Saratoga Race Course. Past themes have included Breakfast at Tiffany's, The Wizard of Oz, and the Wild, Wild West. Whitney started this tradition when C.V. Whitney told her to liven up the town.
Marylou Whitney's Legacy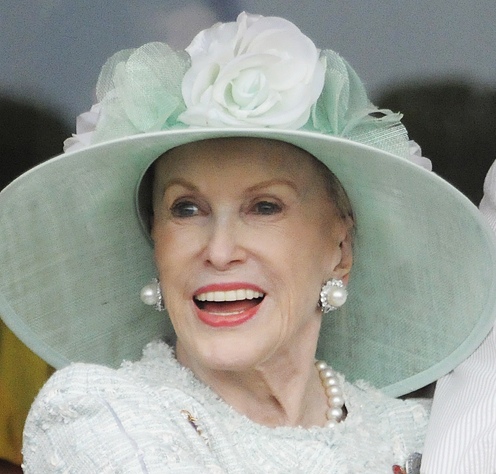 Photo provided by NYRA
Whitney passed away at her Saratoga home on July 19, 2019 at the age of 93. She was survived by her husband John and her five children.
In the last decade of her life, Whitney was honored with several accolades, including the Eclipse Award of Merit (2010), membership in the Jockey Club (2011), and a place on the Saratoga Walk of Fame (2015). Shortly after her passing, she was inducted into the National Museum of Racing and Hall of Fame.
She and her husband John had donated the cost to build Centennial Park (opened in 2015) to celebrate Saratoga Springs' 100th anniversary. The City of Saratoga Springs mourned her passing and honored her legacy by officially renaming it the Marylou Whitney Park.
NYRA also renamed the Saratoga Race Course's Clubhouse entrance the Marylou Whitney Entrance, with jockey statues placed on either side dressed in her signature Eton blue and brown silks, in honor of her colt Birdstone's Belmont and Travers victories in 2004.
Whitney has left an indelible mark on Saratoga. She is recognized as not only an influential force in keeping the Track from closing in the 1970s during a drop in attendance, but also for her efforts to reinvigorate tourism in Saratoga Springs.
For many years to come, Whitney's legacy will be remembered as one of a successful owner and breeder, a generous philanthropist, a patron of the arts, and a pillar of both the Saratoga and horseracing communities.
Sources:
http://www.nytimes.com/1997/01/10/nyregion/marylou-whitney-life-at-the-gallop.html
http://people.com/archive/galloping-gal-vol-48-no-11/
https://www.americasbestracing.net/the-sport/2017-marylou-whitney-saratoga-icon
Press Release, July 19, 2019, Owner, breeder and philanthropist Marylou Whitney dies at age 93
Press Release, July 29, 2019, NYRA and City of Saratoga Springs to honor legacy of owner, breeder and philanthropist Marylou Whitney