2013 Saratoga Fab Five Awards - Results!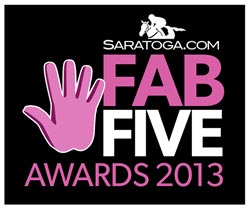 It's what you've been waiting for: the results to the Second Annual Saratoga.com Fab Five Awards!
We asked locals and visitors to tell us all their faves in Saratoga, so we could reveal to you the best places and things to do in Saratoga as voted on by fans.
Congratulations to all our Fab Five winners!
The 2013 Fab Five Winners By Category
1. Breakfast Spots
Country Corner Café | Mrs. London's Bakery and Cafe | Compton's Restaurant | Uncommon Grounds | Iron Roost
2. Lunch Spots
Comfort Kitchen | The Local | The Bread Basket | Putnam Market | Hungry Spot Cafe
3. Dinner
One Caroline Street Bistro | Olde Bryan Inn | Mrs. London's Bakery and Cafe | Chianti II Ristorante | Forno Bistro
4. Brunch
Max London's | Hattie's Restaurant | Prime at Saratoga National | Mouzon House | Ravenous
5. Coffee Shops
Uncommon Grounds | Saratoga Coffee Traders | Starbucks | Spot Coffee | Dunkin' Donuts
6. Restaurants
One Caroline Street Bistro | Max London's| Chianti II Ristorante | Forno Bistro | Maestro's at the Van Dam
7. Happy Hour
Max London's | Boca Bistro | Maestro's at the Van Dam | Saratoga City Tavern | Gaffney's
8. Drinks List
9 Maple Ave. | Max London's | Bailey's | The Mouzon House | The Henry Street Taproom
9. Ice Cream Shops Six winners in this category due to a tie
Plum Dandy | Dairy Haus | Ben and Jerry's | Humpty Dumpty Ice Cream | Stewart's | Eugenio's Gelato
10. Late Night
Thirteen | Saratoga City Tavern | Esperanto's | Desperate Annie's | Gaffney's
11. Places to Eat with Kids
Circus Café | Cantina | Olde Bryan Inn | Plum Dandy | Stadium Cafe
12. Bars
9 Maple Ave | The Saratoga City Tavern | The Local | Gaffney's | Max London's
13. Catering Seven winners in this category due to a tie
Kim Klopstock & Lily and the Rose | Spring Street Deli | Longfellow's Hotel, Restaurant & Conference | Black Diamond | Hattie's | Panzas | Mazzone
14. Men's Shops
Trendsetters Barbershop | JoS A. BankEddie Bauer | Banana Republic | Saratoga National Clothing | La Sartoria of Saratoga
15. Women's Boutiques
Lola Accessory Boutique | Piper Boutique | Spoken Boutique | Lucia Boutique | Violet's & Stella's of Saratoga
16. Gift Shops
Impressions of Saratoga | Lola Accessory Boutique | Pangea | Silverwood | Saratoga Olive Oil
17. Accessories Shops
Lola Accessory Boutique | Lucia | Piper Boutique | Rockabella Boutique | Violets & Stella's of Saratoga
18. Home Décor Shops
Pangea | Home Essence | Silverwood | Pipits of Saratoga | Accents
19. Attractions
Saratoga Race Couse | The Carousel | Congress Park | SPAC | Victory Pool
20. Hair Salons
Fresh & Co. | Fusion The Salon | Swagger | Sanctuary Spa | The Strand Hair Studio
21. Spas
Fresh & Co. | Sanctuary Spa | Crystal Spa | Spa Cascada | Roosevelt Baths and Spa
22. Local Bands Six winners in this category due to a tie
Audio Stars | Dao Jones | Garland Nelson | Phantagram | Soul Session | Dead Horse Beat
23. Attractions for Kids
Carousel at Congress Park | The Children's Museum at Saratoga | Congress Park | State Park Geysers | Circus Cafe
24. Attractions for Teens
SPAC | Congress Park | Skidmore College | Uncommon Grounds | Plum Dandy
25. Places for Girls Night Out
Saratoga Paint & Sip | One Caroline Street Bistro | Saratoga Tavern | Sperry's | Max London's
26. Places for Guys Night Out
Tarks | Henry Street Taproom | The Saratoga City Tavern | Stadium Café | The Irish Times Pub & Restaurant
27. Annual Events
Saratoga Chowderfest | Travers Stakes | Ballet Gala | Saratoga Brewfest | Victorian Streetwalk
28. Wildcards
Berrylicious Bouquets | Saratoga Cycling Studio | NOA Fitness and Pilates | American Dance Studio | Rockabella Boutique